Weekly Snap: New Music, New G.I. JOE Movie, and the Army of The Dead!
Did you miss me? Cause I missed all of you! Thanks for holding it down, while I took a much-needed vacation! And apparently, I missed a gang of new projects coming out in the last two weeks! So, without further ado, let's jump right into it!!!
New Music!!!
From J. Cole dropping a jewel of an album to the late great DMX blessing us with one final album, hip hop heads will have plenty to bump their heads to. I have been a big fan of DMX since the late '90s, with hits like "What's My Name", "Party Up", "Who We Be", and many others! So when he passed, I was gutted. But now, fans have a chance to hear the Dog growl one last time. As far as J. Cole, he has been constantly upgrading his wordplay. "False Prophets" is what really made me take notice of his skill. I can't wait to hear more of his material!
New Movie Trailers
So, we getting a new G.I. JOE movie, with Snake Eyes as the lead?! Yes, please! Snake Eyes: G.I. JOE Origins recently gave us a short teaser, but it instantly grabbed my interest! What I did notice was that Ray Park isn't playing the titular role, Henry Golding is. I understand the change of casting since Park is Caucasian and Golding is Asian. I just hope that the movie lives up to the hype the trailer shows. Also, I hope that the movie explains why Snake Eyes is silent in the other two movies, as opposed to this one!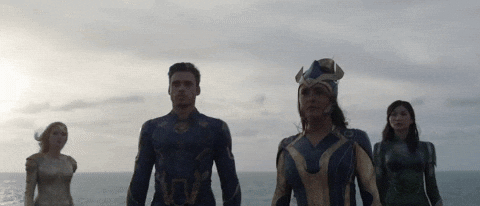 In the world of the MCU, we finally have the full trailer of Eternals, with Salma Hayek and Angelina Jolie! From the looks of it, we will get more backstory of these characters and possibly some existing ones, too (Thanos, anyone?). But my main question is….where the hell were they when Thanos came? Or Loki? Or Ultron? Hopefully, we'll get some answers in the movie.
New releases!!
From Army of The Dead, the fourth and sadly final season of Netflix's Castlevania, the final episode of Black Lightning, new episodes of The Bad Batch, and A Quiet Place 2 dropping in theaters, we have a lot of shows and movies to watch as the year heats up! I'm glad that Netflix gave director Zack Snyder full control for Army of The Dead (pay attention, Warner Brothers!) I'm still a season behind on Castlevania, and Black Lightning, so I'm playing catch up! But, from what I'm hearing, I have a lot to look forward to! As for A Quiet Place 2, I haven't even seen the first one, and there's no telling when theaters will open back up in my home city. So, I'll have to go out of town to see the sequel (damn you, COVID-19!)
That's it for now! Thanks again for patiently waiting for me to drop new material! I hope it will be worth the wait! Till next time, fellow blerds!!!
(Rest in Peace, Dark Man X, aka Earl Simmons...)