Darth Vader Respect Post. "You don't know the power of the Dark Side"
Darth Vader. One of the most powerful and most feared villains on pop culture. Most recently, fans were believing that recent MCU bad guy Thanos had taken the top spot of the most iconic villain in history. And while the Mad Titan certainly showed why he's such a force to be reckoned with, I feel that with the recent Obi-Wan Kenobi series, as well as recent comics and video games, it's time to showcase why Darth Vader's perhaps the best antagonist of all time.
First off, he wasn't always an evil half-man/ half-machine wizard with a laser sword. Born a slave, Anakin Skywalker was strong with The Force, taking the notice of Jedi Master, Qui-Gon Jinn. Believing him to be the "Chosen One", Jinn brought Anakin to the Jedi Temple to gain permission for his training. At first, the Jedi Council flat out denied Jinn's request, saying that he has too much emotion and that he's too old, and he's too emotional. Fast forward to Jinn's death and young Anakin is a padawan under Obi-Wan's tutelage. From there, Anakin became a hero of The Clone Wars, one of the best warriors in the Jedi Order and one of the most powerful. However, he was still a slave to his emotions, breaking the Jedi Code and falling in love with Senator Padme Amidala. When he secretly married her, only a few know of it. In addition, most members of the Jedi Council didn't approve of Skywalker's tactics or attitude. If it wasn't for Obi-Wan and his own padawan learner, Ashoka Tano, Skywalker would've felt completely isolated within the Order.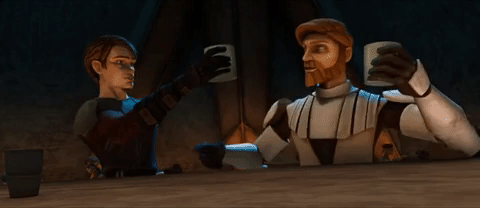 Towards the end of The Clone Wars, Anakin had visions of his wife dying, and wanted to know how to stop it. He first went to Yoda about them, who told Anakin to "let go of what you fear to lose". But that didn't help him much. He then was told by father figure (and secretly a Sith Lord) Chancellor Palpatine that the ancient Sith Lord, Darth Plagues found a way to use the Force to prevent death. It became an obsession, for Skywalker to keep Padme' alive. Meanwhile, he was being groomed by Palpatine to become his next apprentice. When Palpatine revealed to Anakin that he was the Sith Lord that the Jedi were hunting, Anakin was left with a choice; arrest or kill the only man who could save his wife or let him live and learn his secrets. When the time came, Anakin sliced off Mace Windu's hand (after barely defeating Palpatine in a duel) and sealed his fate. Choosing love over duty, Anakin became Palpatine's apprentice and the newly dubbed Darth Vader.
From there, Anakin led the attack on the Jedi Temple, killing his fellow Knights, even children in the promise of gaining more power. When finally confronted by Padme', she was heartbroken. Begging Anakin to stop, he saw red when Obi-Wan arrived on the scene. Thinking she set him up, Anakin Force-Choked his own wife! Leaving Obi-Wan no other choice, he and Anakin locked blades on a volcanic planet. After the long battle, Obi-Wan was the victor (gaining the high ground and slicing off Anakin's remaining limbs!). As he was burned severely, he screamed that he hated Obi-Wan, while Kenobi tearfully said that he was Skywalker's brother and that he loved him. Leaving him to die, Anakin was a burnt and broken version of himself. After being "rescued" by Palpatine, Anakin was rebuilt with subpar mechanics, and after believing that he killed both Padme and his child, Darth Vader was truly born. From there, we got the Jedi/Rebel killing Sith Lord, and the most terrifying figure in the galaxy.
There's a reason why Vader is one of, if not the best villains in pop culture. With the recent Obi-Wan Kenobi series, we've finally seen a full-powered version that won't relent. Who instills fear and dread whenever you hear his breathing machine. And thanks to the movies and shows, we also see how you don't win against Vader. You merely survive. Unless you have plot armor, then that's different. As Vader, Anakin has essentially killed off any emotions other than his constant rage, which fuels him to go on. Rage of his failure on Mustafar, depression at being trapped in a metal body, and despair at losing his loved ones. It's that same rage that gives him so much power, with the Dark Side.
From Force Choking subordinates for the slightest of errors, to teaching Inquisitors how to fight by severing limbs, to killing 100 Rebels single-handedly, Darth Vader is certainly one of pop culture's greatest (and most tragic) villains ever. It's his rage that kept him going until he found out that his son, Luke was still alive. When Luke first tries to bring Vader back to the light, Vader briefly hesitates. He's reminded of how much Luke sounds like Kenobi, at one point. But he quickly pushes the mere thought away, declaring that Luke doesn't know the power of the Dark Side. It's that little dialogue that makes us realize; Vader is a slave. A slave to Palpatine who later wants to replace Vader for Luke. But where Vader failed to resist temptation, Luke doesn't. Through his son, Vader dies, and Anakin is redeemed.
Thanks for giving this one a read! If you don't know by now, I'm a big Star Wars fan, and while I understand that recent projects have turned fans off, Obi-Wan Kenobi really is peak material, and anything with Darth Vader is bound to be a banger. Post your thoughts below, and till next time fellow blerds!