Well, here we are, folks! The Titans Season Three finale! And as much as this hurts me to say, I'm glad this is it! This season started off great, but somewhere down the line, the show just fell off! But, more on that later. For now, SPOILERS AHEAD
So, Scarecrow's plan is to poison all of Gotham City with an advanced version of his fear toxin. While Crane makes his grand plan come true, poisoning a small number of civilians in the city, the Titans try to come up with a way to counter the effects. At the GCPD, Barbara is surprised that her second-in-command, Vee, is an agent of the secret organization A.R.G.U.S. (Amanda Waller cameo, anyone?). She offers help to Barbara, while Dick rethinks his whole approach in stopping Scarecrow, instead of playing by Batman's old rules, Dick remembers that he's a part of a team. He orders the team to split up, with each group having a specific objective to end Scarecrow's reign of terror.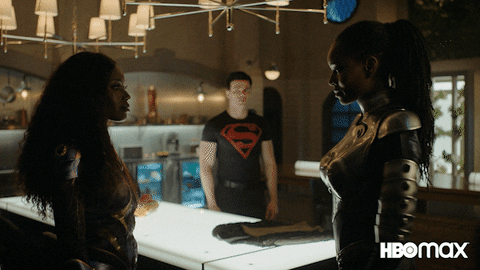 While the team works on performing miracles, Dick and Jason Todd meet up. While Dick tells Jason that after all he's done, he'll never be a Titan again, he can still help with stopping Crane. So, it's Nightwing, Red Hood, Beast Boy, and Tim Drake, going to the Batcave and beating all the corrupt cops' asses! While the boys are doing their thing, Superboy, Raven, Starfire, and Blackfire come up with a way to use the Lazarus Pit's regenerative properties to undo the fear toxin and bring back all the people who die from it in the city! When they eventually do capture Crane and put him back in Arkham, Dick and Raven pay a visit, making sure he never breaks out again! After a brief but much-needed heart-to-heart with Bruce Wayne, Jason sets off on a path of self-discovery. Meanwhile, the rest of the Titans decide to go back to California via road trip!
So, my overall thoughts on the show…just Good. Not great, but not terrible either. Just…Good. Like, day-old pizza good. You're still gonna eat it, cause it's pizza. But it's not as good as the day it was made, see? Titans had (and still has) the potential to tell some truly great stories, based on the comic book stories! But I personally feel that this season lacked a truly good villain to keep us watching! Like, Scarecrow was good on paper, but I really wish the writers had taken a page from Batman: Arkham Knight, cause that's a Scarecrow. In addition, there were just too many subplots the keep track of. From Beast Boy's fear of transformation to the potential love triangle with Nightwing, Starfire, and Barbara Gordon (plus that little girl in the dream sequence, is supposed to be Dick's daughter?!) and the rivalry with Starfire and Blackfire just left the viewers with too much to keep up with. As I said, there is some good in the show, but unless the writers improve, I doubt the show will get better. With some regret, I give season three of Titans a 6 out of 10. Post your thoughts below, and till next time fellow blerds!
Well, fam, it's one more episode to the season three finale of Titans! And with the show being renewed for a fourth season, let's hope that the finale will put things back on track! But for now, we'll get into the latest episode. As always, SPOILERS AHEAD!!!
The episode begins with the relationship between Jason Todd and Scarecrow souring, with Crane becoming more erratic. He even attacks Jason with a chained sickle, running him out of the Batcave. Meanwhile, Raven and Beast Boy find Nightwing's dead body where he was left, after the fight between him and Red Hood. As Raven tries to resurrect him with her powers, Beast Boy transforms into a bat and travels with other bats, taking Dick's body to a Lazarus Pit! While they dip the body in, Dick's soul is fighting to regain control.
Back at the GCPD, Barbara Gordon is being "interviewed" by Crane, gloating about how his plan is coming together, but she refuses to sit and let him win. Breaking out of her cell, Gordon goes back to her Oracle computer to reactivate it! Donna is with Tim Drake and his family, trying to devise a way to escape the city, but Tim wants a more active part. He wants to be the next Robin! (I understand why, but given that Bruce has given up, who will train him?) Blackfire finds a weakened Conner (due to Nightwing's kryptonite dust) at the abandoned bunker and heals him with her new powers! Together, they go back to the US government black site where she was held and finds her ship! But Starfire shows up to mend old wounds. She offers to go with her sister to Tameran and vouch for Blackfire's rightful claim to the throne. Blackfire appreciates the gesture but decides to go alone. After breaking up with Superboy, Blackfire is ready to head home. But after "helping" with heating the ship's core, Superboy destroys Blackfire's ship, all with an evil look on his face!
Nightwing's battle for his soul continues, with visions of his father, and a future daughter?! While fighting Crane in his dream, Dick wakes up! He orders Raven and Beast Boy to unite the Titans with Donna, while he goes to save Jason. Jason is at the spot where Dick "died", but Dick surprised Jason. He states that Jason needs redemption, and while he'll never be a Titan again, he can still help stop Scarecrow. Together, they break into a weapon lockup at a GCPD facility, where Crane was going to poison all of Gotham with fear toxin. But they find the toxin gone! Crane had already moved the toxin to the Batcave, preparing for the final steps of his plan. Meanwhile, Donna and Tim are trying to get out of Gotham but get stopped by corrupt cops!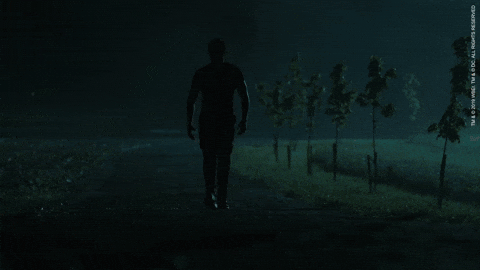 While this episode was better, some things still didn't sit right with me. For one, Crane making the Batcave his new HQ seems sacrilegious. Like, we're talking about Batman, here! The master of prep time! He didn't have any contingency plans for this situation?! And Jason seems even more like a pouty child! And now, we must deal with an evil Superboy?! Is this the Luthor side of his DNA, coming out and taking control? But props to Dick being more like his comic-book counterpart, offering Jason another chance to redeem himself. And will we see Barbara become Oracle?! Time will tell, gang! Till next time, fellow blerds!
Time for another double feature, with Titans! Now, I've been hanging on with this show, but it just feels like the story is going all over the place! Too many subplots, an underwhelming villain, and an overall feeling of wasted potential. But I will stick it out, due to the season coming to an end. So, off we go!
So, Scarecrow's master plan is to flood the water of all Gotham City with his new version of fear toxin. The cops are overrun, with citizens taking the drug, and because Scarecrow's plan involves blaming the Titans for the recent status of the city, the people want the heroes out of town. Nightwing is now public enemy number one, leaving the team reeling. Meanwhile, Crane is propping Red Hood to be Gotham City's savior in the catastrophe. While the Titans are struggling with Crane's plan, Donna Troy is newly resurrected and proves herself to an Amazon Elder that she is ready to fight again. After a brief duel, Donna proves herself and goes to Gotham to help her teammates. After being blamed for the feat toxin spreading across the city, Nightwing and the Titans go to the G.C.P.D, to turn themselves in, to show that they are on the people's side. But this turns out to be a trap because, under orders from Crane, some cops open fire on the Titans! Blackfire is injured, Barbera Gordon is arrested for shooting one of her own officers, and the rest of the team is split up! Public opinion of the superhero team is in the trash, the city is tearing itself apart, and to make matters worse, Starfire's powers are now gone from healing her sister! But hope isn't lost! Raven finds Beast Boy and Donna Troy enters Gotham to help with the crisis, while Crane takes over Wayne Manor!
Now, for the latest episode! We watch Crane get comfortable with his new digs while moving on with his plan. Red Hood has challenges Nightwing to one last duel. Superboy wants to help, but Nightwing orders him to stay put at a secret bunker in case the rest of the team shows up. Starfire is powerless, walking in the city and running into a baby that was in her dreams! While saving the mother and her child, Starfire gets shot, and this reveals more memories of her homeworld! Apparently, Starfire was never supposed to have powers, but her sister Blackfire was! Their world's king ordered Blackfire's powers to be transferred to Starfire, leaving her sister unable to properly take the throne! At "Crane Manor", Scarecrow wrestles with his own inner demons, trying to kill without the "Scarecrow Mask" and Jason further provokes Dick to seek him out. Dick agrees, even incapacitating Superboy with non-lethal Kryptonite. While Donna and Tim Drake uncover a plot that will leave corrupt cops invading the city's citizens who are hiding from the infected, Raven and Beast Boy discover a Lazarus Pit (a liquid that can bring someone back to life). Red Hood and Nightwing have their battle, with Nightwing easily winning. But when citizens who support Red Hood arrive, one of them shoots Nightwing in the neck, leaving him bleeding out on the street!
Ok, Nightwing getting shot was a shocker, but then I realized that other members have come back from the dead all the time, in this show! Plus, with the Lazarus Pit, they can just bring him back. By far, Red Hood has been wasted in this show. Not even feeling like his own person, Jason just feels like a lackey of Scarecrow, and that's not Jason's personality at all. He's his own man, and the writing of his character isn't very close to the comics. Perhaps my favorite character on the show is Blackfire, and I feel like the writers will just make her revert to being a villain, only to move the story forward! I can't believe I'm saying this, but this show is giving me season 3 "Arrow" vibes (and we all know that season was trash!). 5 out of 10 for both episodes. Hopefully, the show can redeem itself. Till next time, fellow blerds!