The season finale to She-Hulk: Attorney at Law is here, and it left quite the impression!!! Multiple cameos, easter eggs, 4th wall being obliterated, and more! But, as always, SPOILERS AHEAD!!!!
Jen is locked up in a similar cell that Emil Blonsky was in, by Damage Control. Her friends arrive and tell Jennifer that she can be released only on the condition that she doesn't transform into She-Hulk. Begrudgingly agreeing, Jen wears a power regulator, loses her job, and now lives with her parents. While slightly depressed, Jen refuses to give up on finding out who Intelligencia is. Suggested by Nikki to relax some, Jen reaches out to Emil at his resort cabin. Meanwhile, Nikki and Pug create a plan for Pug to infiltrate Intellengencia's hideout and clear Jen's name. With Nikki outside, Pug pretends to be a member, and discovers that one of Jen's dates runs the group! Todd Phelps (the creepy dude with the power fetish) is the leader and he hired Abomination as a motivational speaker!
At the resort, Jen discovers that Blonsky is working with Intelligencia, and then Bruce shows up out of nowhere! So does Titania! And Todd stole Jen's blood, so he has powers now. Then, in the show's best moment, She-Hulk breaks the 4th wall again, going into the Marvel tab on the Disney Plus app and going to Marvel Studios. Wanting a better ending, She-Hulk asks the writers who's in charge. They tell her that K.E.V.I.N makes all the decisions, so she makes her way toward him. When she finds K.E.V.I.N, (Knowledge Enhanced Visual Interconnectivity Nexus) a machine that designs Marvel projects, she's explained that the show needs more action. Jennifer complains, however. Stating that the episode has a cliché, in the villain gaining the hero's power (which, ironically is a plot point for a lot of Marvel films. Iron Man, Iron Man 2, Captain America: The First Avenger, The Incredible Hulk, Ant-Man, for example). Instead, she wants the plot a little neater. While name-dropping other projects like the X-Men, Jen asks for certain moments changes. No battle royale, no Titania, no Hulk, and more Daredevil. Instead, Blonsky returns to jail for his involvement with Intellengcia, Todd is sued by Jen, Daredevil shows up out of nowhere and stays for a family cookout, where Bruce shows up! Bruce also makes a bombshell announcement, introducing his son, Skaar! We also see Wong break Emil out of prison again, apparently some sort of agreement between the two. With that, the ending of She-Hulk: Attorney of Law has concluded!
Ever since the show first aired, people have been criticizing She-Hulk, saying things like it's "woke" or it's the worst of MCU's Phase 4. I say this, the critics are missing the point. While the show isn't perfect (the sudden arrival of Skaar felt like it should be in a film, rather than a series, and some of the CGI looked a little iffy.), it can be clearly shown that this isn't the typical action-packed MCU project. Its central focus is on comedy and how Jennifer can balance being a lawyer and a Hulk. I also see some critics saying that shows like Iron Fist is better than She-Hulk…. what show were they watching!? The show is also self-aware, mocking the trolls and itself. Basically, It's Seinfeld and Ally McBeal mixed with superheroes. There were some subplots that I felt could have been rushed, and some that could have used more exploration, but I doubt this is the last we see of She-Hulk. I give the show 7.5 out of 10. Tell me your comments below, and till next time fellow blerds!
Well, here we are! The season finale of Marvel's What If! This finale has plenty of action, humor, and some SPOILERS AHEAD!
We start off with The Watcher choosing select individuals from multiple universes, including Star-Lord T'Challa, a Gamorea who killed Thanos, Captain Peggy Carter, Prince Thor, and surprisingly King Killmonger, to join Dr. Strange to defeat Ultron! Gamora says that she and her Universe's Tony Stark created a device that will crush the Infinity Stones to dust! While they devise a plan, some are wondering why Killmonger is on the team, especially after the events of his universe (killing Tony Stark, T'Challa, and lying his way to the throne.) But now is not the time for infighting, as they travel to a world where they can engage Ultron without innocent bystanders. Dr. Strange casts a protection spell around them to assist with the battle. As the newly dubbed "Guardians of the Multiverse" prepare, Thor "summons" Ultron, and the battle is underway! At first, they put up a valiant effort, But Ultron is not amused, as he basically swats them like flies. But T'Challa takes one of the stones, starting a deadly chase of "Hot Potato"! Dr. Strange opens a portal, letting all the "Zombie Avengers" attack Ultron to create a distraction for our heroes to escape.
While they regroup, the team is joined by the Black Widow of Ultron's world, as she snatches the Soul Stone! Captain Carter talks her down, saying that in her world, they're the best of friends, and that's enough to get her to join the fight. As Ultron tracks them down, the team tries to keep the stone away, with Dr. Strange casting a spell to trap him! As the Guardians eventually get Ultron down, Gamorea uses her device to destroy the Infinity Stones! But the fight isn't over, as Ultron states that since they came from a different universe, he still could use them! But Dr. Strange has his own Time Stone! While he and Ultron battle, Widow and Peggy can shoot an arrow with a HYDRA virus into Ultron, rendering him defeated! Just when things are looking up, Killmonger uses an old Ultron helmet to create a suit with him possessing all the stones! Asking the rest of the team to join him in getting their own happiness, they refuse. But just as Killmonger powers up, Zola takes control of Ultron and a power struggle ensues, leaving Strange with the realization that the Guardians were never meant to win! But to create an opening for Killmonger and Zola to fight for the stones. Strange creates a pocket dimension, (much like the one he was engulfed in, in his own episode.) Agreeing to keep "watch", Strange stays behind, leaving the rest of the Guardians to their own universes. However, Black Widow's Earth is gone, and she refuses to go. The Watcher is accused of just seeing them as "stories" instead of actual people. Much to her surprise, The Watcher teleports her to the Earth Loki has almost taken over, with Nick Fury, Captain America, and Captain Marvel fighting off his army! Relieved to be "home" Black Widow joins the fight! Also, a mid-credits scene, with Captain Carter and her world's Black Widow finding Steve Rogers!
My overall thoughts on the show are mostly positive! The animation, voice casting, and storytelling are what makes this series work! Having multiple versions of characters only expands this already huge universe! Now, I will say that some of the comedy doesn't feel appropriate in certain moments (such as the Zombie episode). But I will rate the series an 8.5 out of 10. What did you think about it? Post your comments below, and till next time fellow blerds!
Updated: Aug 25, 2021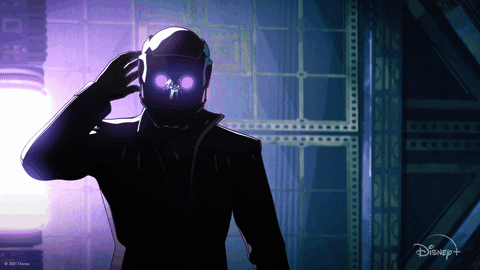 Man, this one is an emotional episode, right there! This new episode of Marvel's What If stars the legendary actor Chadwick Boseman, portraying T'Challa for the final time, but as Star-Lord! Before we go any further, SPOILERS AHEAD!!!
The episode starts out with T'Challa talking with his father T'Chaka about exploring new places and civilizations. T'Chaka states that his son has always had that spirit in him but reassures him that Wakanda is all he needs. While playing outside, we see the same ship that took Peter Quill in the original timeline, (taking the wrong kid for Ego the Celestial) beam T'Challa onboard! From there, we're witnessing T'Challa becoming Star-Lord and one of the Ravengers, working with Yondu, Kraglin, and even Taserface! He takes the Orb (just like in Guardians of The Galaxy) but he's much humbler and more respected for his style of negotiation rather than outright action. Apparently, T'Challa has changed the outlook of the Ravengers, becoming more benevolent, saving rather than stealing.
From there, we see the Ravagers relax and drink reminisce about past adventures, even talking Thanos from exacting his now-infamous plan of wiping out half of all life. Thanos is also a member, being much more peaceful and grateful to T'Challa for changing his mind! (Weird, seeing him go from Killer to hero). Thanos does jokes about his plan still being efficient. We also see an appearance from Drax, as a bartender (not voiced by Dave Bautista), and his family and planet and family were saved by T'Challa. We then see a very different Nebula (complete with hair and wearing a dress) and they have some sort of history. Nebula and Thanos still have their stressful relationship, but we also learn that according to Yondu, Wakanda was destroyed as the result of a war! Nebula comes, offering a job to the Ravagers; steal the Embers of Genesis and bring it to The Collector. The Collector is the galaxy's major crime-boss (since Thanos went straight) and Yondu forbids them from taking the job. However, T'Challa eventually convinces him to take the job, stating that with the Embers, they can feed billions across the galaxy! Nebula and the Ravagers devise a plan, taking them to Knowwhere, avoiding the Black Order (Thanos's former death squad). While the Ravagers distract the Black Order, T'Challa and Nebula steal the Embers.
When we get to the Collector's place, we see some of the same things we saw in Guardians of The Galaxy, including Howard the Duck! T'challa's vibranium necklace starts glowing, and he finds out that Wakanda not only wasn't destroyed, but they've been searching for him for decades! Nebula then double-crosses the Ravagers, but T'Challa is pissed about Yondu lying about how his planet was destroyed. Yondu tries to reason with Star-Lord, but T'Challa still is angry. When talking to Tivan the Collector, T'Challa warns to let him go, but the whole thing is a triple-cross! Nebula and T'Challa had a plan; steal the Embers and wipe out Nebula's debt to the Collector, keeping the Ravagers in the dark to sell the deception! While Nebula frees the Ravagers, T'Challa death with Tivan solo. At first, he's outmatched and we even see Cap's shield and Thor's hammer. Even Hela's Necrosword and helmet! Back on the street, Thanos fights the Black Order alone, and while he puts up a good fight, eventually he's stopped. Yondu saves Star-Lord and Nebula saves Thanos, shoving the Embers into one of the Black Order's mouths! T'challa and Yondu use teamwork and defeat Tivan, locking him up in his own cage! Tivan's slave frees all the "collected" and with that, the two Ravagers escape Know where! Yondu attempts to apologize, but T'Challa says that there's no need. T'Challa takes the Ravagers home to Wakanda and reunites with T'Chaka and the Dora Milaje! We see the group having a big family reunion, but we also see Peter Quill being reunited with Ego at a Dairy Queen!
Ugh, this was kind of hard to watch, hearing Chadwick Boseman voice T'Challa one last time! But as always, he brought grace and regality to the role! Wakanda Forever! Hopefully, you enjoyed my review, and till next time, fellow blerds!