One of the most anticipated movies of the year, Nope is finally here. Director Jordan Peele hasn't missed yet, with films such as Get Out and Us. Does he nail the hat trick with Nope? For the most part, yup! As always, SPOILERS AHEAD!!!!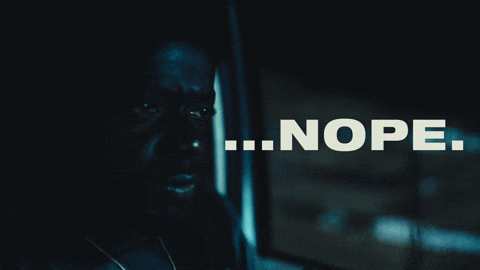 The film is about two sibling horse ranchers, who loan their stock to movie studios. They encounter a phenomenon in the sky. The Haywoods, OJ (Daniel Kaluuya), and Emerald (Keke Palmer) devise a plan to capture it on film, so they can make some much-needed money. From there, we witness terrifying moments of the phenomenon, coming and going without warning, and both the characters and us viewers are left to make sense of it. OJ, Em, along with Angel (Brandon Perea), who works at a nearby electronics store, and Antlers Holst (Michael Winscott), a cameraman who is an old friend of the family, devise a plan to capture it on film.
We already know that director Peele loves to add subliminal messages to his movies. Some of them are obvious, and some not so much. The subplot with former child character Ricky Park and the horrific moment with the chimpanzee, perhaps, warns the viewers of the danger of animals on a movie set. Even OJ's father (played by icon, Keith David) warns him in a flashback scene, that some animals can't be tamed. Perhaps that was the main theme, all along. How do you tame the untamable? At what point do you decide to cut your losses?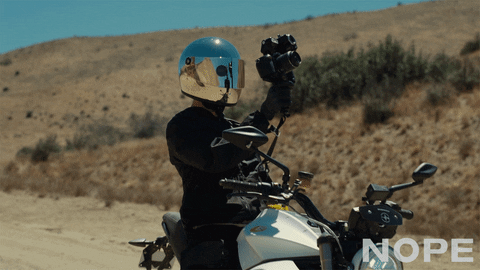 The fascination with spectacle is also explored, as the main characters seem determined to capture the phenomenon on video, rather than running for their lives. As soon as the phenomenon (or Jean Jacket, naming it after Em's favorite horse from her childhood.) arrives in town and kills everyone at the amusement park, Jupiter's Claim, Em and OJ are set on a quest to capture photos and video of the creature before TMZ or anyone else does first. That brings up a very valid issue with social media and capturing dangerous events. Rather than assist in helping or seeking safe refuge, content creators film away, hoping to become famous.
Nope proves, once again, that Jordan Peele is one of the best in creating films that will not only want more but leave you with more questions than answers. With great casting choices with Kaluuya, Palmer, David, Yeun, and Winscott, wonderful set pieces, and pulling off a unique story, Nope gets a 9.5 out of 10 (especially for that Akira-inspired motorcycle slide Keke Palmer did!) Did you love or hate Nope? Give your thoughts and till next time, fellow blerds.
To Infinity, And Beyond!! The "Lightyear" movie has dropped in theaters, and we see the infamous Space Ranger's origin story. Starring Chris Evans, Keke Palmer, Uzo Aduba, Taika Waititi, Dale Soules, James Brolin, and Isiah Whitlock Jr, we get quite a lot of themes in this movie. While most complain about some of them (and I'll get to that, in a moment), this is one Disney movie you don't want to miss. As always, SPOILERS AHEAD!!!
The main premise of the story is Buzz (Evans), a Space Ranger in Star Command, along with his best friend, Alisha Hawthorne (Aduba) are exploring a planet when they're forced to retreat to their ship due to hostile lifeforms. While escaping the lifeforms, their ship is damaged, leaving the crew stranded on the planet. Feeling responsible, Buzz feels responsible, and "arrests" himself. But Alisha comes up with a plan that can get the crew home. While Star Command creates a new colony on the alien planet, Buzz volunteers to pilot a ship using a new "hyperdrive" fuel crystal. While only spending four minutes, in space, Buzz is revealed to have been gone for four years. They didn't count on "time dilation", so the faster Buzz traveled, the more time sped up on the planet. While Buzz and Alisha continue their mission, Buzz notices that while he stays young, Alisha is getting older, even creating a family of her own while Buzz is alone. Until he's gifted with a cyborg cat named Sox. When coming back from another mission, Buzz finds out that Alisha has passed away, and that Star Command has scrubbed all space flights, deciding to settle on the planet permanently. Wanting to finish the mission for Alisia, Buzz and Sox create a new hyperdrive crystal that will finally get everyone home. Disobeying orders, Buzz's next flight takes him into the future, where robots under a machine called Zurg have taken control of the planet. As Star Command is helpless to stop Zurg, Buzz is met by Izzy, Alisha's great-granddaughter, and a rag-tag team of recruits whose mission is to stop Zurg.
At first, Buzz is hesitant to work with Izzy (Palmer), Mo, (Waititi), and Darby (Soules), as they're untrained. But over time, Buzz realizes in true "action hero" fashion, that he can't do everything alone. Together, they devise a plan to sneak onto Zurg's ship and blow it up from the inside, causing all the robots to cease functioning. When Buzz is captured by Zurg, however, it's discovered that Zurg is really a future version of Buzz himself! The future Buzz explains that when he completed his mission, Star Command was going to arrest him, so he continued to fly forward at faster-than-light speeds for decades. Stumbling on an abandoned ship, he adopted the name, "Zurg" and began creating a way back to the original timeline. However, he lacked the one thing that Buzz has: the complete hyperdrive crystal. As Buzz is initially excited to "finish the mission" he realizes that if he does, then he'll wipe Izzy and Allisha's family from existence, due to a "temporal paradox. As Buzz refuses, Zurg and Buzz do battle, while Izzy and her team break into the mothership and rescue Buzz. While "destroying" Zurg, Buzz also destroys the crystal, leaving him stranded on this timeline. Working together, the team crash-lands back to Star Command, where they're met by Lt. Burnside (Whitlock Jr). At first, Burnside is furious with the team but commends them for saving all of Star Command. As a reward, Buzz oversees a new mission; reviving the Space Ranger Corps. Buzz selects his new friends as first recruits.
Alright, let's get this out of the way; if you didn't like this movie because it was long, (it didn't feel long, by the way.) or due to some story plot that didn't make sense, or etc., then that's alright. If you didn't like it due to it simply being a cartoon movie, that's alright, too. But if your sole reason for hating this film is because you say a lesbian couple for all of 30 seconds, or any representation of the LBGTQ community, then I don't know what to tell you. Not only does it NOT take you away from the story, but its representation is sorely needed in today's media. Now, I think the entire cast killed their respective roles. From Evans, being the typical "action hero" who learns to accept help from others and put what's important first other than "the mission" was some character growth. I wish we saw more of Allisha, how she became a Space Ranger, how she met Buzz, and how she felt that her best friend was in space while she was getting older. For my Orange Is The New Black fans, Uzuba and Soules are kind of reunited, from their days as Crazy Eyes and Frieda! Waititi provides the humor that he's known for, and Sox is adorable. Whitlock Jr, best known for his role in The Wire could have had a few more lines, but it was neat, to hear his voice in a Disney/Pixar film. The score was brilliant, as were the visuals, and the message really hit home, when one must come face to face with his/her own desires versus doing what's right. I give Lightyear an 8 out of 10. If you like this article, be sure to share and be on the lookout for more till next time, fellow blerds! Or should I say…to infinity….AND BEYOND!