Entergalactic is streaming on Netflix, and I have to admit, I ALMOST slept on this special! I damn near slapped myself, for thinking about passing on this one! A love story, with beautifully animated melanin-blessed characters, animation that reminds one of Into The Spider-Verse, a soundtrack by Kid Cudi, AND an all-star cast?! Yeah, I'm gonna watch it.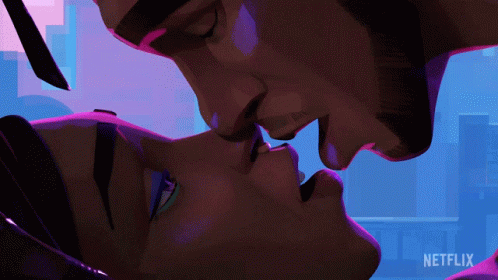 Entergalactic follows the main character Jabari (Kid Cudi) an upcoming comic artist who just moved to Brooklyn, after being dumped by his ex-girlfriend Carmen (Laura Harrier). While trying to move on, he meets photographer Meadow (Jessica Williams) at a house party, and the two have an instant connection. Jabari's friends, Ky (Ty Dolla $ign), Jimmy (Timothee Chalamet), Jordan (Jaden Smith), and Downtown Pat (Macaulay Culkin..yes, that Macaulay Culkin!) all share their opinions about love and life in their own unique way. As does Meadow's best friend, Karina (Vanessa Hudgens), who's in the midst of having a baby. The two eventually hook up, letting love take the wheel. However, an unexpected text from Jabari's past messes up his potential future and sets him and Meadow in a whirlwind of emotions as they both figure out what love means to them.
While I'm not a die-hard Kid Cudi fan, I do feel his music hits hard when you're in a certain mood. And this film seems to capture every mode with certain songs, from stress to being in love, to wondering about where life takes you. As I said before, the animation reminds one of Into The Spider-Verse, if it were greenlit by HBO cause they're some…" pleasure moments" in the film, lol. The banter between friends is funny and realistic, as co-writer Kenya Barrris delivers. Subtle guest appearances from Keith David, Teyana Taylor, and Luiz Guzman deliver, the embracing of smoking Marijuana being a message, and the classic "boy meets girl" love troupe being reinvented for black and brown people really set this apart from other romance projects this year. While the ending may be a bit cliché, I'm not mad at it. After finishing this movie, it left me wanting more in this particular style of animation and storytelling. Animation can be more than animorphic characters, superheroes, or mechs. The animation department, headed by Robh Rupeel, really nailed the aesthetic and I hope to see more. I'm giving Entergalactic a 9 out of 10.
One of the most anticipated movies of the year, Nope is finally here. Director Jordan Peele hasn't missed yet, with films such as Get Out and Us. Does he nail the hat trick with Nope? For the most part, yup! As always, SPOILERS AHEAD!!!!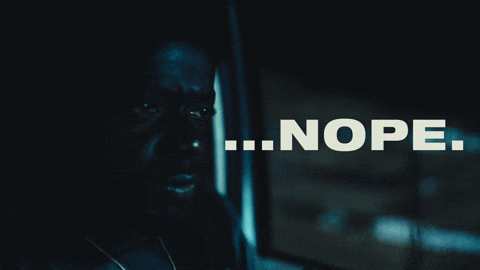 The film is about two sibling horse ranchers, who loan their stock to movie studios. They encounter a phenomenon in the sky. The Haywoods, OJ (Daniel Kaluuya), and Emerald (Keke Palmer) devise a plan to capture it on film, so they can make some much-needed money. From there, we witness terrifying moments of the phenomenon, coming and going without warning, and both the characters and us viewers are left to make sense of it. OJ, Em, along with Angel (Brandon Perea), who works at a nearby electronics store, and Antlers Holst (Michael Winscott), a cameraman who is an old friend of the family, devise a plan to capture it on film.
We already know that director Peele loves to add subliminal messages to his movies. Some of them are obvious, and some not so much. The subplot with former child character Ricky Park and the horrific moment with the chimpanzee, perhaps, warns the viewers of the danger of animals on a movie set. Even OJ's father (played by icon, Keith David) warns him in a flashback scene, that some animals can't be tamed. Perhaps that was the main theme, all along. How do you tame the untamable? At what point do you decide to cut your losses?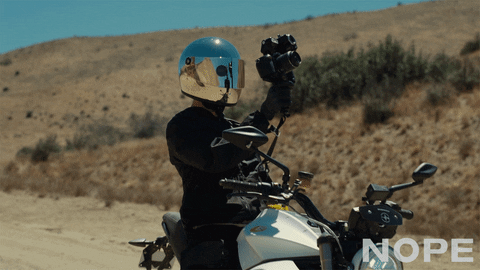 The fascination with spectacle is also explored, as the main characters seem determined to capture the phenomenon on video, rather than running for their lives. As soon as the phenomenon (or Jean Jacket, naming it after Em's favorite horse from her childhood.) arrives in town and kills everyone at the amusement park, Jupiter's Claim, Em and OJ are set on a quest to capture photos and video of the creature before TMZ or anyone else does first. That brings up a very valid issue with social media and capturing dangerous events. Rather than assist in helping or seeking safe refuge, content creators film away, hoping to become famous.
Nope proves, once again, that Jordan Peele is one of the best in creating films that will not only want more but leave you with more questions than answers. With great casting choices with Kaluuya, Palmer, David, Yeun, and Winscott, wonderful set pieces, and pulling off a unique story, Nope gets a 9.5 out of 10 (especially for that Akira-inspired motorcycle slide Keke Palmer did!) Did you love or hate Nope? Give your thoughts and till next time, fellow blerds.