Sorry for lacking in my reviews on She-Hulk, everyone. It's not that I haven't enjoyed the show, but life sometimes gets in the way. So, since three episodes have been released, thus far, I'll be doing a summary of the past three episodes. Also, I'll be giving my personal thoughts on the show and predictions for what may happen later on! SPOILERS AHEAD!!!
"The People vs. Emil Blonsky" picks up right where the last episode left off; Jen now has to figure out a way to prove that Blonsky, aka The Abomination, didn't willingly break out of prison. With his pending release in danger, Jen is told by Emil that he was released by the new Sorceror Supreme, Wong! As Wong and Jen deliberate on a court strategy, an Asgardian shape-shifting elf has been posing as Megan Thee Stallion. While Jen has to prove Blonsky's innocence, she also must help a sexist co-worker from being scammed.
"Is This Real Magic?" gives us more Wong, as he asks Jen for legal advice. One of the dropouts from Karmar Taj, Donny Blaze, is abusing his teachings. While fighting off demons that Blaze, Jen is having trouble with her dating life, so she creates a profile but using her She-Hulk persona. After some horrible speed dates, She-Hulk finally gets lucky! Sadly, not only does her date not like her in "Jen form", she learns that socialite Titanna is suing Jen for trademark infringement! This brings us to the latest episode, "Mean, Green, And Straight-Poured Into These Jeans"! While friends Ramos and Pug discover a stylist that creates fashion for superheroes, Jen and co-worker Mallory Book must prove that Jen owns the "She-Hulk" moniker. While they do battle with Titanna in court, Jen meets superhero stylist, Luke Jacobson. While Jacobson eventually creates Jen some new clothes that match her "She-Hulk" form, we also see the red and gold Daredevil helmet!!!
What I love about this show, is that it doesn't take itself so seriously! It's a comedy series, not a drama. If you're expecting some serious moments, then keep looking. Also, the writers are aware of how negative critics are trashing the show, and mock them openly! That sort of action can backfire, but thankfully, it plays well. Especially with She-Hulk breaking the fourth wall. From easter eggs, to the impending appearance of Matt Murdock, She-Hulk: Attorney At Law is entertaining...and one of the few gems in Phase 4 MCU. Post your thoughts below, and till next time fellow blerds!
Episode 2 of She-Hulk: Attorney At Law is out, and while it felt quick, there was quite a bit to discuss! As always, SPOILERS AHEAD!!!
We start with the aftermath of the "fight in court with Jen and "the super-powered influencer", Titanna. After the media gets ahold of it and proclaims Jen officially as "She-Hulk". While she hates the name, it sticks as Jen and her friends go to a bar to celebrate her new-found status. Unfortunately, Jen's actions have gotten her fired as a Deputy DA, due to making the jury biased in favor of super-powered beings. After a quick montage of being rejected by employers, Jen goes to her family's home, where she's bombarded with superhero-related questions. Only her dad seems to care about Jen's actual state. Reassuring that everything will work out, Jen continues her quest for employment.
Back at the bar, Jen is approached by the CEO of GLK and H (the opposing law firm, against Jen's case, last episode.) They specialize in "Super-powered related cases" and want to hire Jen as the face of their "Superhero Law Division". Accepting the offer, Jen's expected to be She-Hulk full-time, and she breaks the fourth wall, letting us know her disappointment. Adding to her dismay, Jen's first case is for Emil Blonsky aka The Abomination! (From The Incredible Hulk, way, way back in 2008). After arguing the fact that he tried to kill Jen's cousin, if she doesn't take the case, she won't have a job at the law firm. Reluctantly, Jen goes to The Raft to meet Blonsky. While Blonsky is in human form, he claims to have been a changed person. He's arguing to be released on parole. Emil argues that the U.S. Government is responsible for him being Abomination and destroying half of Harlem. He asks Jen to be his lawyer, and after a sob story, Jen ponders on the offer. At her apartment, Jen calls Bruce to give him the details and wonders if she should take the job. Bruce tells her that he's ok with Jen representing Blonsky, and we also find out that Bruce is in space!!! Possible Planet Hulk storyline?! Jen calls Mr. Holloway to accept the case, to which he tells her to turn on the news. A news report shows Abomination in an underground fight club, breaking out of prison! (From the movie, Shang-Chi!).
Like I said, a surprisingly quick episode, but this one deals with setting some nice conflicts that Jen will have to solve. There are some nice references to the iconic 90's art, with She-Hulk working out on the beach, callbacks to Eternals and Wolverine easter egg! While no action was present, this isn't the type of show to expect that kind of stuff. Episode 2 of She-Hulk: Attorney At Law gets a 7 out of 10. Post your thoughts in the comments below, and till next time fellow Blerds!!!
It's finally here! The premiere of Marvel's She-Hulk has arrived on Disney Plus, and I must say, this is super-hero comedy done right! While many were complaining about the tone of the show, and how the CGI looked, I'm happy to say that this show has promise! Before I continue, SPOILERS AHEAD!!!
The show starts us off with Jennifer Walters prepping for a case in court. But surprisingly (or not, if you read any of her comic books) Jen breaks the 4th wall to formally introduce herself and how the show isn't like any of the other Marvel shows. More importantly, she explains how she became a Hulk in the first place. Flashback to a few weeks' time, where she and cousin Bruce Banner are driving on the road. While jokes about Captain America's virginity, a Sakkar spaceship comes out of nowhere, causing them to crash. Jen can get out first, but she's cut. Bruce is pulled out, but his inhibitor device (that allows him to stay as Banner) is broken. As some blood is mixed, Bruce warns Jen to get away as he's about to "Hulk Out". As their blood mixes, Jen begins to transform. Blacking out, she stumbles into some bar, and to her surprise, a group of women helps with Jen's clothes. While waiting for a ride, some guys hassle her outside. This triggers another transformation, but Bruce (now, as Hulk) tackles her before things get out of hand.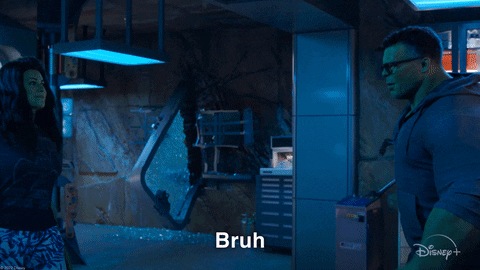 Some time has passed, and Jen is in Bruce's lab. Bruce tells Jen that he and Tony built the place before he died (we can still see that Stark's death still hits Bruce hard). As Bruce explains how Jen's DNA is so rare to absorb Gamma radiation, he also tells her that they need to figure out how to control it. At first, Jen is hesitant, as all she wants to do is to be a lawyer. Bruce insists on her training to become a superhero, however. And so, we're set on a funny training montage, with Bruce teaching the ins and out's of being a Hulk. While reluctant, Jen actually picks up on things faster than Bruce expected. Even being able to change at will (something Bruce struggles with, due to his struggles with being calm.) They even get into a little scuffle; with Jen learning some moves like the Thunderclap and the Ground Pound. Eventually, Bruce accepts that Jen is different and that her life is hers to live. As Bruce drops Jen off, we catch up to where Jen is about to give her opening statement. Just then, a super-powered woman busts through the courtroom. Reluctantly, Jen changes into She-Hulk and knocks her out with one punch before turning back into Jen.
I'll be honest; I wasn't checking for this show. With the rumors that it was going to be more comedy-based, and with Marvel needing to add a laughing track every five minutes into their recent films. Not saying that humor is bad, but they have a habit of overdoing it. Also, with special guests coming (Ahem, Daredevil!!), one wonders how Marvel is going to portray certain characters. Also, fans have been critical of how Hulk has been portrayed. From a savage brute who ragdolled Loki, to a being who mixed the monster and the man together to get "Smart Hulk". While some may say that after the beating from Thanos, Hulk may have lost his appeal, I say this is EXACTLY like in the comics. Banner's Hulk persona has multiple personalities, so it's no surprise that we're getting Smart Hulk. Imagine if we got Mr. Fixit or WorldBreaker Hulk. But that's all for now! I'll give She-Hulk an 8 out of 10. Till next time, fellow blerds