It's Halloween season, and you know what that means…candy, trick-or-treating, and scary movies! One that I almost missed out on, is called Barbarian. Directed by Zach Cregger, and starring Georgina Campbell, Bill Skarsgard, and Justin Long, the film involves three people staying at an AirBNB in Detroit. While staying, they discover a hidden room in the basement that hides a creature that will either capture you and pretend that it's your mother or kill you!! It becomes a battle for survival, against "The Mother" and other devious individuals! SPOILER ALERT!!!! CONTINUE AT YOUR OWN RISK!!!
So, this movie starts slow, letting us know why characters Tess and Keith (Campbell and Skarsgard) are sharing the same house. At first, it seems like Keith is up to something, which is why we see Tess take precautions when sharing the house with him. But upon time passing, Tess is the first one to discover something very wrong with that house. After red flag after red flag, Tess discovers a hidden chamber, deep underneath the house. Telling Keith what she found, they both go down to investigate, only to have poor Keith get his head smashed by a naked deformed woman, who takes Tess as her "baby"! A two-week time jump shows us that AJ (Long) is going through a sexual assault case from one of his co-workers. While trying to save face, he goes to the same Airbnb that Tess and Keith were in. Discovering that people were there before him, he investigates and finds the same chamber and is taken by "The Mother" we get a flashback during the 80s of a man who owns the house. The owner, Frank, is a serial rapist and has kidnapped young women, never letting them out. He now lives underneath the house in a vegetative state. Back to the present, AJ and Tess attempt to escape "The Woman". With Tess getting out and finding the police (who think she's a drug addict), being fed up and running "The Woman" down with a car, they both escape to a water tower. Upon learning from a homeless man, Andre, (who saved Tess, earlier) that "The Woman" is a product of decades of rape and incest. "The Woman" catches up with them, killing the homeless man. After racing up the tower, AJ does the unthinkable and PUSHES Tess off the tower!! As "The Woman" follows suit, they both fall to the ground. As AJ attempts to "save" Tess, "The Mother" crushes AJ's head! Trying to save Tess, "The Mother" tries to move her, but Tess is too weak. Taking a gun, the shoots "The Mother" leaving horrified after everything has played out.
Alright, this film has a BUNCH of red flags in it. Not "this movie is bad" red flags, but "why is she still in that house, why is he such a punk-ass, why are the police so useless?" red flags! I was yelling at the screen, asking rhetorical questions about characters' actions and that's a good thing. As I said, this movie has that "slow burn" in the beginning. But during the second half, it picks up. Justin Long, to me, really plays a despicable character so well. From the film vaguely telling us that AJ really did commit sexual assault on a co-worker to throwing an injured woman (whom HE injured, by the way!) he deserved everything he got. Campbell's character, Tess, just keeps ignoring all the signs that she should just call her weekend a loss and get out of town! However, I AM glad that she overcame the "damsel in distress" phase quick and took matters into her own hands. Next time, listen to the ancestors, girl! Just as it was shocking to see the creature of the movie, what's more shocking is its origins and how almost no one discovered that for years women in Detroit have been kidnapped, never to be seen again! But, with how the cops quickly dismissed Tess, I'm not really surprised. The jump scares and gore is present, as well, feeling organic instead of forced. While this film has been out for about a month, I don't remember seeing many advertisements for the movie. It's only to the service of HBO Max, that saw it and I'm glad I did. (Although, this does re-open the debate with streaming vs theater releases). An 8 out of 10. Post your comments below, and till next time, fellow blerds!
Episode 4 of Peacemaker is out on HBO MAX, and the insanity doesn't stop! A mild SPOILER ALERT before we go ahead for new fans. With that, let's go!
We pick up right where we left off, with Peacemaker and team recapping the events of the last episode, Vigilante complaining about his injured toe, and Adebayo feeling guilty about almost killing someone. When the team regroups with Murn, Murn questions Peacemaker's commitment to the mission to stop the "Butterflies" and tells him to keep Vigilante close since he could be an asset to the team. John straps Judomaster to a couch, and Murn tells Adebayo about Peacemaker's father, who we find out is a racist supervillain called the "White Dragon". Murn isn't pleased that John swapped Peacemaker's fingerprints with his father's, btw. Peacemaker and Vigilante have an awkward conversation on the way to Chris's house, where he gets into a hilarious argument with his neighbor about how Batman's crime-fighting ways are ineffective! (Some major shade thrown at Batman!) When taking some more helmets, Peacemaker stumbles onto his father's suit, and he and Vigilante make up with the bromance. (More on Vigilante, later.) While the two are driving to see Chris's father, Murn is pissed with how things are going with their mission. He charges Adebayo to catch up with the two and try to fix the mess with Chris and his dad.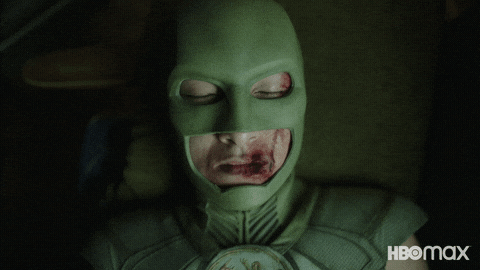 As Peacemaker catches his father up to speed, his dad is every bit a dick as we think he is! Wanting nothing to do with his son, Peacemaker is left broken. Meanwhile, Abedayo talks to Vigilante and "implies" that everything would be better if Peacemaker's dad were to die. Vigilante says, "No problem", and gets himself arrested. Then, the dude blatantly calls out 'White Dragon's" racist friends and brutally (and gleefully) beats the shit out of them. Realizing that his life is in danger, "White Dragon" wants to talk to local police about what he knows. Back at their "H.Q" Judomaster breaks free and a street fight with him and Peacemaker ensues. Just then, Adebayo shoots Judomaster in the chest. Clearly shaken, Chris tries to cheer her up but fails as only Peacemaker can. The final moment of this episode details the major members of the story dealing with their own issues; Hardcort picking up Vigilante from jail, Peacemaker getting more info on his father and dealing with his PTSD by killing Rick Flag, Adebayo discovering that Peacemaker was forced to kill a victim as a kid by his father, and Murn being one of the "Butterflies"!
As usual, this episode has the usual ditty jokes and more backstory on Peacemaker's life. As funny as Cena is as the main character, I do feel like Vigilante and Adebayo are stealing the show! I predict a showdown between Peacemaker and his father will happen down the line, as well. The whole "Alien invasion" is getting kind of played out, though. That's it for me, post your comments below and till next time fellow blerds!
The first three episodes of Peacemaker are available on HBO, and while I wasn't initially checking for this (could've had a Nightwing Spin-off, but oh well.) it is surprisingly funny. Thanks to director James Gunn, who directed The Suicide Squad, and actor/pro wrestler John Cena, they've found their groove in this show. It also breathes life in the DCEU. I know that it's not everyone's cup of tea, thanks to the success of the MCU, but it's nice to have different content out. Plus Orange Is The New Black alum Danielle Brooks is a co-star, so I was gonna watch off that fact, anyways!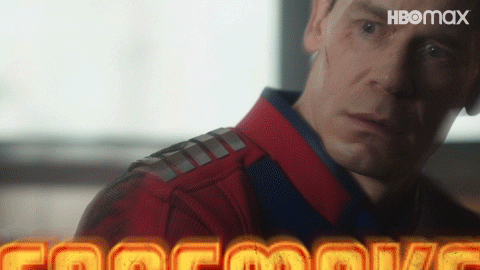 The story begins with the Peacemaker recovering after the events of The Suicide Squad, surviving being shot by Bloodsport! Upon being discharged, he goes back to his house and is reunited by his very racist father. It turns out that his father, Auggie Smith, provides Peacemaker a.k.a Chris Smith with his special gear and helmet. Apparently, the dumb-@$$ helmet has unique purposes. One for invisibility, force field, etc. (He could have used that in the movie, but oh well.) Chris is also friends with fellow crime-fighter Vigilante. We learn that the ARGUS techies that assisted the Suicide Squad with killing Starro, back in Corto Maltese. As a sort of punishment, Amanda Waller send two of them to assist Peacemaker with a new assignment, called "Project Butterfly". We also learn that Waller's daughter, Leota Adebayo, is engaged and is working for her mom as a favor. Apparently, she has some skills, but we've yet to see them in action. After being reminded that he's still got a bomb in his head and Waller can press it until he fulfills his agreement,(Work for the Government, and get time off his prison sentence.) Peacemaker is enlisted by a character named Clemson Murn. Chris kinda knows something about Murn, but it's yet to be shown how, or what he knows. Murn's second in command, Emilia Harcourt, and tech-support John Economos complete the team, as they travel to complete "Operation: Butterfly"!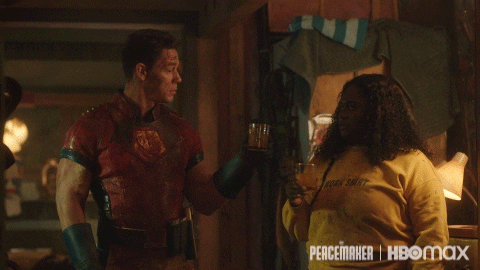 The raunchy humor, the blood and gore, and John Cena's performance are all gold, in this show. At first glance, you wouldn't think that a show based on the Suicide Squad movies would be a hit, especially since they're linked to the DCEU. (ESPECIALLY since the franchise is getting rebooted. Ugh.) But until the great wipe, enjoy Peacemaker! It is a breath of fresh air, in a world that's saturated with superhero shows! And I understand that this piece of the DCEU isn't what some fans have been hoping for. But we can have both grim and gritty material AND fun and light-hearted (if not adult-themed.) content as well. I applaud DC and HBO for giving an unknown character some shine while showing different sides of the DC Extended Universe. Everything that's happened in the movies still is canon (sadly, not Zack Snyder's Justice League, but its 2017 trash counterpart. Screw you, Joss Whedon!). So far, ill give Peacemaker an 8 out of 10. Post your thought below, and till next time fellow blerds!