It seems to be a running theme, with most of these new Disney shows. For every great episode, one or two filler episodes follow behind it. Oh, well. Even some of the greatest tv shows have some filler episodes. With that said, let's discuss the latest episode of Star Wars: The Bad Batch! Some Spoilers Ahead!
We begin on a planet under Imperial rule, Raxus Prime. Formally a part of the Separatist Alliance, the planet is refusing to cooperate with the Empire. Under pressure, Senator Avi Singh is forced to tell his citizens to comply or face harsh judgment. At first, he begins a speech that paints the Empire as saviors, who only want obedience in return for order. Bur, the senator, has a change of heart and encourages the people of Raxus to stand up against the Empire! Taken away by Imperial forces, Senator Singh orders his protocol droid to inform his contact of what just happened.
Back at Cid's bar, Cid informs the Bad Batch of their new job; rescue the taken senator from Raxus. While the team has reservations about rescuing a Separatist (especially Echo, due to his time as a Republic soldier trapped behind Separatist lines during the war), Hunter tells him to put his personal feeling aside. He also tells Omega to sit this job out due to the bounty hunters still after her, much to the chagrin of Omega. So, while the team head of to Raxus, Omega is under Cid's watch. As the team arrives at Raxus, they meet Cid's contact, the senator's protocol droid GS-8. With the droid, the Bad Batch reaches the senator's home and breaks him out. Meanwhile, back at Cid's bar, Omega shows a real talent for playing a strategic game (the same one that Chewie and C3PO were playing in A New Hope). Omega displays a high intelligence, possibly due to her heritage and being cloned by Jango Fett. Cid creates a plan to win some money from it!
Singh is about to be tortured by an Imperial Torture droid before the Bad Batch rescues him, but not without alerting a platoon of stormtroopers. The team creates a plan, involving stealing a tank to make their escape! While defeating the stormtroopers, Senator Singh informs them of a secret getaway passage leading into an underground tunnel, which the team obliges. when the team makes their escape, Senator Singh has regrets leaving his people, but Echo reminds him to live to fight another day. Leaving Raxus, they head back to Cid's place. They find Omega gambling and winning, which freed the team's debt to Cid! While Hunter is somewhat disappointed, he learns of her actions and challenges her to a game.
While I do see that this episode challenges the team's ideology about them being former soldiers of the Republic rescuing a former Separatist member, I do wish that they would have focused on that more. Rather, they just made a by-the-numbers episode with a few callbacks to A New Hope. Perhaps things will pick up in the next episode. That's it for now. Till next time my fellow blerds!
After last week's episode of "Star Wars: The Bad Batch", I didn't think the show could get any better, I guess I was wrong, happy to say! This episode gives some great action and some very interesting revelations about Omega. Spoilers Ahead!!!
Immediately after the events of the last episode, Crosshair is in hot pursuit of Clone Force 99, but Hunter wants to find Omega after her being taken by bounty hunter Cad Bane. The rest of the team reminds him that unless they jump into hyperspace, they won't live long enough to find her. Reluctantly, the Bad Batch makes the jump, escaping Crosshair and the Empire. Meanwhile, Omega is aboard Cad Bane's ship, in transit to Lama Su, Kamino's Prime Minister (who also hired Bane). While Cad Bane sets his ship down in the Lido system, Omega tricks his personal droid by fixing his leg, in order to get her communicator device to contact the Bad Batch.
Cad Bane and Omega meet Lama Su, but unbeknownst to them both Fennec Shand kills Su and a great fight ensues! It's really great to see some cool fights in Star Wars that actually don't have to do with Jedi Knights or force users. Both bounty hunters use all the tricks in their bags to gain the upper hand. Eventually, Fennec knocks off Cad off a building, but Ban's jet boots save him. Fennec catches up with Omega at some sort of cloning chamber, with creatures that look awfully like Snoke from "The Rise of Skywalker"! Omega succeeds in contacting Hunter and the gang and gets in an escape pod. Luckily, Wrecker and the Bad Batch save Omega from the bounty hunters! They also finally find out why Omega is so important. She is the direct clone of Jango Fett, the same way Boba is! While Hunter promises that Omega will never go back to Kamino to be experimented on, it's revealed that Fennec Shand was hired by Su's partner, Nala!
Before you go join the Dark Side!!!! We have giveaways, exclusive content and so much more!
Quite a lot to digest, in this episode! We now know why Omega is so valuable to the Kaminoians! We also know that while Lama Su was trying to outwit the Empire, his own subordinate outplayed him! It was great to see Shand again, and the action in this week's episode was fun to watch. But what about the cloning experiments we saw?! Does Palpatine know about this? We might get some answers later on but till next time fellow my blerds!!!
Updated: Jun 21, 2021
This may be the best episode yet! Welcome to my review of "Star Wars: The Bad Batch"! Spoilers ahead!!! Fair warning!!!
Still on the planet Bracca, the Bad Batch is gathering enough weapons and ordinance to make a profit for a change, and Wrecker is teaching Omega how to disarm a g=smoke grenade. Echo catches up with the two, and they notice that they're being watched by scrappers. While Wrecker goes after the scrappers, Echo reports that their location is hot. Meanwhile, on the planet Kamino, the Grand Minister and Admiral Rampart debate on how to handle Clone Force 99. The Admiral wants them dead, so he sends Crosshair along with an entire battalion of Stormtroopers to handle the task. Unbeknownst to all, the Grand Minister secretly hired bounty hunters for a special job.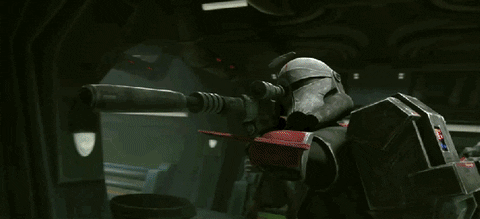 The team begins to load ordnance onto their ship when Tech and Omega spot Imperial Cruisers landing near their area, with Crosshair leading the charge. From here, a tense cat and mouse game ensued. Since Crosshair knows all of Hunter's tricks, Crosshair leads the Bad Batch into a trap. At first, Hunter and Omega try to reason with Crosshair, telling him that it's the inhibitor chip that is making him obedient to the Empire. But when Crosshair orders his troops to aim for the girl, all bets are off. An intense firefight happens, with the Bad Batch outnumbered and outgunned! Personally, I dig the whole "Leonardo and Raphael" vibe that Hunter and Crosshair are giving. I predict that one is going to kill the other at the end of this season?! Crosshair and his forces push them to the end of an engine on the wrecked ship, with no way out. Crosshair has a great sniping position, in case they run outside, and he ordered the engine to come on and fry them if they stay inside! Damn, that's coldblooded! Wrecker and Tech have a plan to use explosives to break away from the engine, creating an escape. As the engine comes online, the team sets off the explosives, facing the Stormtroopers! Crosshair almost gets burnt to a crisp, as Hunter and Omega are separated from the rest of the group!
As the rest of the team heads for their ship to pick up Hunter and Omega, we are met with a familiar face. It's Cad Bane, a bounty hunter from The Clone Wars, and Boba Fett's teacher! Basically, he's the Clint Eastwood of Star Wars, complete with hat and cloak. He "politely," asks Hunter to hand over Omega, and of course, he declines. From there, a standoff occurs……and Cad Bane shoots Hunter in the chest in a duel! I thought that with Hunter's enhanced senses he would win, but damn!! Cad Bane then stuns Omega and takes off. Meanwhile, the Imperial forces take Crosshair to one of their cruisers. The rest of the Bad Batch rescues a wounded Hunter, with Hunter stating that the bounty hunter kidnapped Omega!
As a fan of The Clone Wars, I'm glad that they are using some lesser-known character to flesh out the show! From Captain Rex to the bounty hunter Cad Bane making an appearance, you can tell that the writers are doing their research well. The gun duel between Hunter and Bane was a great touch, also. Tell me your thoughts, and till next time fellow blerds!!!
Get notified first of every Bad Batch Review. When he knows you know!!!!