The Hawkeye Season Finale has finally come, and some characters make their presence known to our heroes! Before I get underway, SPOILERS AHEAD!!! So, with that out of the way, let's get into it!
We start by getting a flashback of the Kingpin himself, Wilson Fisk, making his official MCU appearance! He has a meeting with Eleanor Bishop, who is discovered to be working under Fisk after her dead husband had an enormous debt to be paid. When she plans to leave Fisk's organization and details that she has evidence of his involvement as a backup plan. Fisk is furious. And if you've seen the Netflix show, Daredevil, then you would know he is not a person you wanna piss off. Flash forward to today, we see Kate and Clint form a plan to stop Eleanor. Clint says that it's gonna be dangerous and suggests that they build new trick arrows and enlist the LARPers to help with their mission.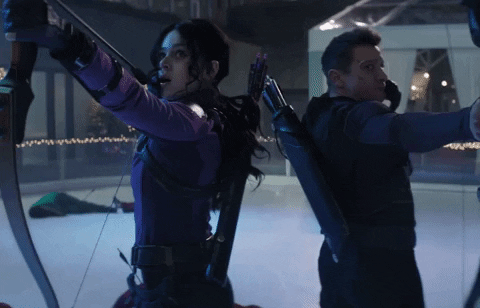 At a Gala hosted by Eleanor, Clint and Kate go undercover to blend in, along with the LARPers' who're providing crowd control when the time comes. We also see Jack, out of jail brandishing his sword in public. In the building opposite, we see Kazi with a rifle, trained at Eleanor. As Kate confronts her mom, stating that she knows about Eleanor's dealing with the Kingpin, the shooting starts. Clint and Kate deal with Kazi and the Tracksuits, while the LARPers handle evacuation. Jack also joins the fray with his rapier. As Kate tries to stall Yelena, who drops by, Clint makes short work of Kazi but gets stuck in a Christmas tree! Yelena is clearly too much for Kate to handle, easily dispatching her, but missing her shot at Clint. Kate makes her way down to the ground level outside and frees Clint. From there, we get a cool montage of the two archers using new trick arrows to deal with the Tracksuits. Kate leaves to deal with her mom, Yelena sneak-attacks Clint, demanding answers about her sister Natasha. We also see Maya aka Echo back in the picture, fighting her own cousin Kazi. At first, she tries to reason with him, but Kazi is too afraid to go against t Kingpin, forcing Maya to kill him. After Eleanor tries to escape the madness, Fisk rips off the car door and grabs her. Kate arrives and shoots an arrow into his chest, but he barely feels it! She tries everything, from hand-to-hand to trick arrows. Nothing is fazing him; Fisk even breaks her arrows. Kate, somehow, pulls it out, though. Using the same trick that Clint taught her, she activates all the explosive arrows and finally brings him down, Meanwhile, Yelena is battering Clint, demanding why he let Natasha die. He tries to reason with her, but she won't listen. When Clint uses the sisters' special whistle, she then stops as she listens to Clint tell her what really happened. Breaking down upon hearing the truth, Yelena relents and lets Clint go. Kate gives her mom up to the police, and Fisk escapes police custody, only to be shot in the head by Maya! (off-screen, of course.) From there, we see Clint take Kate home to his family, making it on time for Christmas! Clint also gives his wife the Rolex that the Tracksuits were looking for, which has the S.H.I.E.L.D logo on the back, confirming that she was an agent! Clint also burns the Ronin suit, putting that part of his life behind. (There's an after-credits scene, with the Rogers Broadway play, it's kinda cool, if not underwhelming.)
So, with Hawkeye, that wraps up a whole year of MCU shows! As a show, it wasn't as bad as I expected it to be. It definitely made me care more about Hawkeye, although I still won't say that he's my favorite Avenger. The addition of Kate Bishop was welcome, but the real scene-stealer was Florence Pugh as Yelena! Every time she appeared, things got more interesting. The brightest spot is the inclusion of Wilson Fisk into the MCU! They kinda nerfed his violence, but it's Disney! They won't show us having Kingpin decapitating a guy with a car door! But now, it can be put to rest that all the Marvel Netflix shows are indeed canon! (I already thought they were, give us season 3 of Luke Cage!). Here is my official ranking of the Disney MCU shows;
1. Falcon and The Winter Soldier
2. Loki
3. Hawkeye
4. Wanda/Vision
Post your thoughts below, and till next time fellow blerds!
Wow…just, wow! This episode of Hawkeye really made fans glad to watch the show1 Before we get into it, however, SPOILERS AHEAD! READ AT YOUR OWN RISK!!!
After the events of the last episode, with Yelena Bulova entering the fray, Clint cuts off Kate and goes on his own. But from the start of this episode, we get some flashbacks into Yelena's dealings. After trying to save one of her fellow "sisters" we see that Yelena was "Blipped" out of existence. What felt like five seconds for her was five years! After Kate checks in with her mom she goes to her loft, only to find Yelena waiting for her! After some surprisingly polite chat, Yelena tells Kate that she's hired to kill Clint and that she believes Clint is responsible for Natasha Romanov's death. As she questions how Clint is absolved of his crimes as Ronin due to him being an Avenger, Yelena makes it absolutely clear that she is going to try to kill him and for Kate to stay out of her way.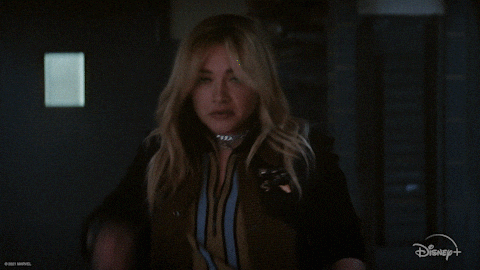 Clint, in the meanwhile, is forced to put on the Ronin suit one last time. After he explains to his wife Laura about the situation, she understands and tells him to do whatever he needs to do to keep his family safe. After visiting a memorial honoring The Battle of New York, Clint contacts Maya and the Tracksuits, telling her to come to the place where Ronin killed her father. Maya and her crew try to set Clint up, but Clint is true to his ninja skills, taking them down one by one. Eventually, Maya and Clint have a brief hand-to-hand fight, with Clint gaining the upper hand and revealing his identity. He warns her that if she comes after his family, then his face will be the last thing she ever sees. Clint also tells Maya that there was an informant who tipped him off, about her father's dealings. When Maya tries to sneak attack, Kate comes in with the save. Escaping, Clint and Kate reunite and head to Grills' place. Maya, on the other hand, meets Kazi and asks him why he wasn't there that night. Kazi gives some b.s answer, putting more suspicions into her head. After resting up, Kate gets a text from Yelena, revealing that Kate's mother hired her, and sends a picture of a man talking to Eleanor. Kate looks terrified, asking Clint who her mom is talking to. Clint dreadfully confirms that it's the man he was worried about; the Kingpin of Crime himself, Wilson Fisk!!!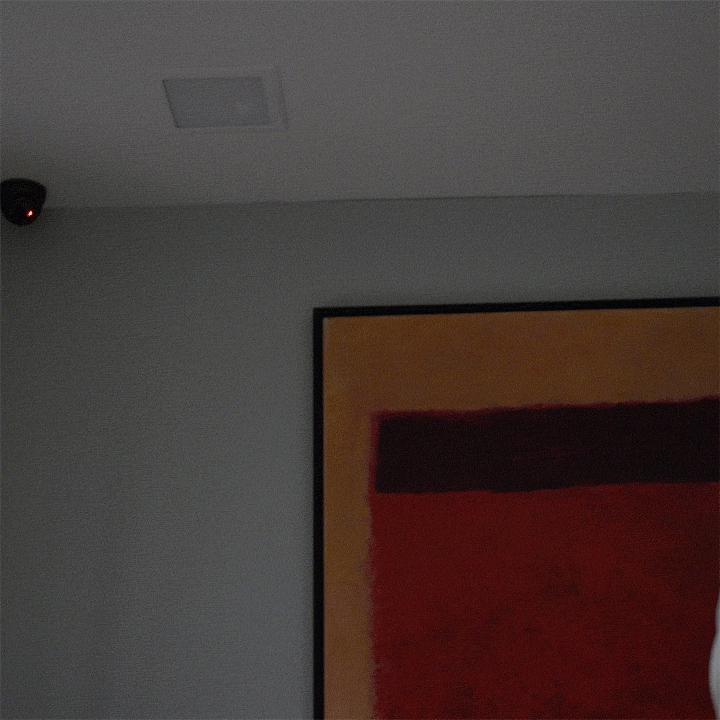 I'll say it again…WOW! Marvel and Disney are really going H.A.M, into bringing back fan-loved characters! So many questions, so few answers. How is Fisk out of prison, after the events of Daredevil season 3?! Did he get blipped? And will we see Fisk's nemesis, Daredevil make an appearance in the finale?! Only time will tell, but I'm here to tell you folks, the MCU is about to be lit! Post your thoughts below and till next time fellow blerds!!!
The new M.C.U show Hawkeye is here, and after three episodes in, I'm feeling…meh about it. Don't get me wrong, it's about time that the Avengers' archer gets some more screen time, but my issues aren't with the character or the show itself. It's with how the show feels in comparison to others before it (cough, Daredevil, cough) and conclude that Disney and Marvel are just churning out projects that will make them money but leave out quality storytelling. Don't get me wrong, I've enjoyed Wanda/Vision, Falcon and The Winter Soldier (the best of the live-action M.C.U shows so far), and Loki. But I guess I feel burned out by the quantity of content, instead of feeling the quality of their shows. Again, I'm glad to see characters like the Scarlet Witch, Sam Wilson, and Hawkeye get more screentime, (also can't wait for my boi War Machine to get his own show, Armor Wars!), but I hope that the creators can be given more freedom from the Mouse and just tell great stories, rating be damned. Thank you for coming to my TEDTalk, and on to the reviews!
Episode 1 shows us a young Kate Bishop being inspired by Clint Barton aka Hawkeye, after seeing him in action against the Chitarui in Avengers. Years later, after gaining skills in archery, martial arts, and free-running, Kate is doing her best not to disappoint her mother (played by Vera Farmiga) but finds her own calling. Meanwhile, Clint is in New York taking his kids to see a Broadway play based on The Avengers, and we can clearly see that he's still going through some trauma after the events of Endgame with his best friend Black Widow dying. We also see Clint suffering from partial loss of hearing (just like the comics!). When Kate has suspicions about her mother's wealthy fiancée, she investigates that he may be into some criminal activity. While at a black-market auction, the Tracksuit Mafia shows up, stealing valuables. Kate notices the Ronin suit (which Clint used in the time after Infinity War up till Endgame) and takes it while stopping some of the Tracksuits. Once Clint gets wind of this, he tracks Kate down. Episode 2 gives us some quality chemistry with Kate and Clint, the whole "master and student" vibe is apparent. Kate informs him of the murder that she's connected to, and how suspicious her mother's fiancée is acting. Clint needs more proof, so while Kate befriends a lovable dog, Clint manages to send his family back home with the promise of making it home for Christmas. He gets the suit back (in the most hilarious way, by play-fighting with cosplay fans) and finds the Tracksuits and fakes being held hostage. Kate tries to rescue him but ends up being captured. The Tracksuits inform their leader, Echo of new events.
Episode 3 gives us not only more backstory on Echo, showing us how she overcame her disabilities and became not only a great fighter but the new leader of the Tracksuits. A very cool escape scene occurs, with some very cool trick arrows being used by Kate and Clint (including a Pym Particle Arrow?!). After Echo talks (via sign language) to her cousin about running the gang, they step up their efforts to find out what Clint knows about Ronin, considering Ronin killed a loved one of Echo's. Clint's hearing aid is broken, and Kate must help him communicate with his family (in a touching scene, I might add). The two head back to Kate's to access her mother's security database to find more intel about both the Tracksuits and the suspicious fiancée.
So, first thoughts about the show; it's not terrible, but it's not great. There is still time for the show to be improved, and there is a rumor about Kingpin (from Daredevil) making an appearance. We'll see how things will play out. Till next time, fellow blerds!