In life, there are those who stand for and uphold justice. Those who sacrifice everything, for the sake of equality and balance. Despite whatever obstacles come their way, they use the law to their advantage and overcome any opposing force. In this list, we're going over some of the best "Lawful Good" characters in pop culture.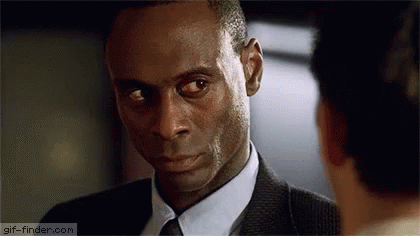 Cedric Daniels-"The Wire"
In the iconic (and possibly the best cop show ever) series, The Wire, Cedric Daniels has seen a lot. From majors juking stats on crime to politicians lying about how the police department is handling cases, to his own men not being good police, Daniels is an example of what a cop should be. Rather than play the game, Daniels' integrity won't allow for foolishness under his command. He'll take the brunt of his superiors' wrath and protect his team, rather than sell them out. Daniels is a true example of "good police", doing his best to clean up the department, instead of leaving it in worse condition for the next generation. Even if he must fire some of his own people for the sake of doing the job right.
Optimus Prime-"Transformers"
Optimus will (and has) laid down his life for justice, not only for his fellow Autobots, but for all creations of life. A towering robot, with weapons and technology superior to that of Earth, Prime chose to protect mankind from the Decepticons. What's even more, Prime has allowed himself to be governed by the laws of mankind, answering to the U.S Military and never leaving his allies behind. Even in the face of being hunted but the very ones he swore to protect, Prime will do what's right, rather than seek revenge.
Daredevil-"Marvel Comics"
Matt Murdock has been raised to do the right thing, no matter what. Instilled at a very early age by his father, Matt learned the true purpose of justice. Even after his father was murdered, Murdock kept his father's promise and became a lawyer. By day, he defends' his clients, but by night, he protects Hell's Kitchen as Daredevil. Although breaking the law by being a vigilante, Murdock picks up where the law leaves off. With his morality influenced by law and his faith in Catholicism, Murdock will throw hands with anyone to protect his city. But he's not above answering for his past transgressions. On multiple times, Matt has surrendered himself to the police, not just out of some sort of penance, but because he feels it's right. Talk about dedication to the law.
Superman- "DC Comics"
For too long now, whenever we see Superman, we see a twisted version of the hero. But he's a true boy scout. Standing up for truth and Justice, Clark Kent was taught to see the good in everyone. With the powers of a god, Superman instead taught to live as a man. Humble to the end, Clark has stood up for people everywhere, not just against alien tyrants and invasions, but against corrupt lawmakers and officials. Superman is not beneath answering to the governments of the world for his actions.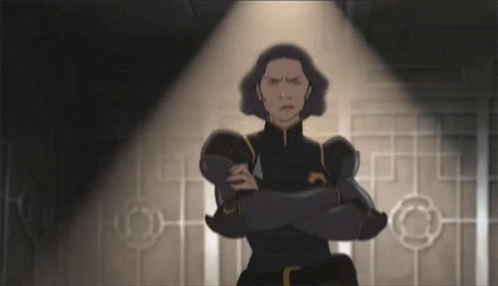 Lin Beifong-"The Legend of Korra"
The dutiful police chief of Republic City, Lin is a strict enforcer of the law. A no-nonsense Earth-Bender and the daughter of legendary Toph Beifong, Lin wanted to be just like her mom. Perhaps too much like her. Nearly uncompromising, and a staunch believer in procedure, Lin will arrest anyone who breaks the law. From her own sister (who was just hanging with the wrong crowd) to the Avatar Korra, herself. Very rarely, will Lin break protocol, unless it's for the greater good.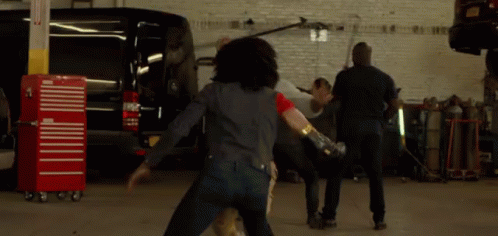 Misty Knight-Marvel Comics
A Harlem detective with a bionic arm, Misty Knight is a detective who, in her own words, "stalks justice". Misty takes protecting her neighborhood seriously. Taking the law and being a cop seriously, Misty Knight doesn't rest until corruption is stomped out. A great example is when in the "Luke Cage" series, she investigates dirty cops, and crooked politicians and often teams up with Cage to stop mob wars and superpowered criminals on the street.
That's all for this list. Did I miss any out? Post who you think is a good candidate for the "lawfully good" category. What category should I do next? Till next time, fellow blerds.
Welp, I did Marvel. So DC is next, and boy is there a lot to talk about. This is part two of an opinion piece on where the DC Extended Universe is at now, and where it's going. And while they have made some recent successes; their past failures and present issues are still a hurdle they must get over. Fans are split down the middle about whether the studio, Warner Bros should just reboot the entire thing, or keep making movies based in a fractured universe with almost no connection to each other.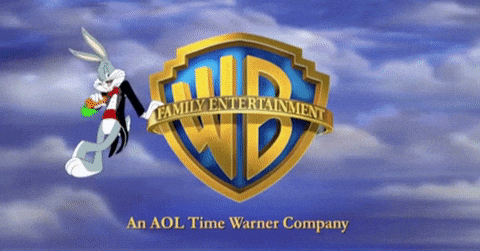 First, let's just get it out of the way; Zack Snyder's Justice League was a success and a big boost to fans who were told that not only did the cut not exist but would never see the light of day. Well, we now know that was wrong. While four hours may be too much for one to commit to watching a movie, there's no denying that the Snyder cut was miles better than the original release, directed by Joss Wheadon. With releases like Birds of Prey, Peacemaker, sequels to Shazam, Aquaman, and new movies like Black Adam, The Flash, and a Black Canary project in the works, fans were seeing some progress. Slow progress, but it was there. Not to mention how successful The Batman was, early this year. Animated shows like Young Justice: Phantoms, Harley Quinn, and upcoming animated films are coming. In addition, with the business merger of Discovery, Warner Brothers were looking to be coming for Marvel's neck. Or so everyone thought.
With DC, (at least, their live-action films, anyway), it's a "one step forward, two steps back" thing. Let's start with a small one. The CW is effectively getting out of the superhero business. The Flash is finally entering its ninth and final season. And while it still has its followers, it's a show that stuck around too long. Now, Superman and Lois is still on, but with just the two remaining Arrowverse shows on the air (Batwoman, Legends of Tomorrow, Black Lightning being canceled.) and Titans on HBO Max being renewed, DC's tv front is lacking. Then, there is the upcoming Gotham Knights series, which shows very little to do with the Batman mythos.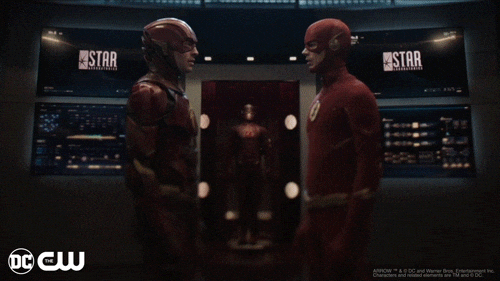 On to the films, and man, does it get rocky from here. Actor Ezra Miller is in trouble with the law, with claims of grooming minors and assaulting fans. One wonders if The Flash will ever see the light of day. Then, actor Henry Cavil is still out of the loop, as far as Superman projects are concerned. When asked if he'll make an appearance in Black Adam, not even Dwayne Johnson could quell the disappointment in fans' voices due to the uncertainty. Then, the trial of Johnny Depp and Amber Heard happened, with Heard's scenes being cut from Aquaman 2. And if that wasn't enough, recently, Warner Brothers decided to shelve Batgirl. So, that means it won't be in theaters or available for streaming. A $90 Million dollar movie, scrapped, when it was almost done. See what I mean when I say, "one step forward, two steps back"?
(How every DC fan feels, right now. Sad thing is. they brought it on themselves.)
It's not like DC and WB studios don't have the potential for greatness. With iconic characters at their disposal, why is it so hard to make a cinematic franchise profit, like their counterparts do at Marvel? They've had a good start, with their earlier films. They can make movies that aren't in their Extended Universe, and still make money as well. Just look at Joker and The Batman. Perhaps it's relying too much on their flagship heroes like the DC Trinity (Batman, Superman and Wonder Woman). Maybe they should just reboot everything. Start over. It's clear that whatever plans Zack Snyder were, Warner Bros wasn't on board. But in defense of Snyder, at least he had a plan. Nobody really knows what WB and DC are doing, other than trying to imitate what their competition is doing. Perhaps that's the issue. Instead of just seeing what Marvel is doing and attempting to replicate success, they should stand firm and do their own thing. They were the first to introduce the whole "multiverse" thing, with both Grant Gustin and Ezra Miller being in the same scene in the "Crisis on Infinite Earths" crossover on the CW. They can have both movies that tie into a connected universe and standalone features. Their animated projects rarely miss, something that Marvel is lacking on. (What If ain't enough, Marvel!!)
It's hard to be a DC fan, when you see so much progress from the other side. But I'm still here, hoping that one day, they'll get their act together. Thank you for reading part two of this series. Post your comments bellow, and till next time fellow blerds
Wow, so after a long hiatus, Superman and Lois are going on another break?! Oh, well. At least I'm caught up with the last two episodes, and the show was just renewed for a third season! Could we possibly see some more heroes make an appearance on the show?! Maybe Flash, or a certain Dark Knight?! But we're getting ahead of ourselves. For now, I'll be summarizing the last few episodes, and give my own thoughts on the show thus far.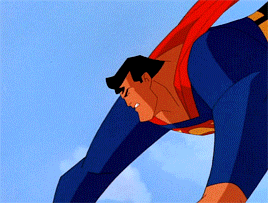 So, as Superman and the new "Bizzaro" clone discuss how the clone's world went haywire, they discover that cult leader Ally Allston is the key. Thanks to her strange pendant, she can cross worlds, in hopes of merging with her other self." To her followers, she calls it the "Inverse Method, which may have explained how Lois's sister, Lucy, is now one of Ally's followers. As the Lane family struggle with Lucy's devotion to the cult, Jonathan and Jordan are dealing with the fact that Jonathan has been using X-Kryptonite as a drug to enhance his performance as an athlete. While he lies about his new powers, Jordan covers for him, cause that's what brothers do.
Speaking of brothers, after Superman refuses to work with Lt. Anderson, who ends up subduing Clark under Red Sun radiation, Superman and brother Tal-Rho are reunited in prison! Of course, Tal-Rho mocks Superman for siding with the humans, but when he's being tortured by the renegade military officer, Tal-Rho decides to work with Superman. They break free and head for Tal-Rho's Fortress, where they devise a plan to deal with Allston. As Anderson goes AWOL and tries to kill the Kryptonians himself! After gassing Superman and shooting Tal-Rho, it's up to the "clone" to stop Anderson. Bizarro eventually succeeds but dies in the process. Superman flies his brother to the sum, restoring Tal-Rho's powers.
There's also a subplot dealing with John Henry Irons (Steel) and his daughter. Natalie is giving Superman the cold shoulder due to her father being injured in battle. Not only that but the fact that in their world, John Henry and Lois were married. Eventually, though, she squashes the beef with her and Clark. Clark even offers the Irons family a house to live in that he owned, so it's all good. While Jonathan's drug-using has caught up with him, Jordan once again bails him out, beating up the dealer Jon got the drugs from. Meanwhile, Lucy, who was thought to be dead, was alive and survived Ally Allston's attempt to merge with their doppelgangers from alternate earths. She drugs her father, now retired Gen. Sam Lane, and here we are!
While I'm impressed with the visuals of the show, especially with it being a CW show, some of the subplots like the mayoral race with Lana Lang, the teen romance, and the cult storylines kinda slow everything else down. And now that Bizzaro is dead, one wonders who will be the season's big bad? Will Ally merge with her other self, and become unstoppable? Will Steel finally get an upgrade to his suit?! Time will tell. Till next time fellow blerds!!