Episode 2 of She-Hulk: Attorney At Law is out, and while it felt quick, there was quite a bit to discuss! As always, SPOILERS AHEAD!!!
We start with the aftermath of the "fight in court with Jen and "the super-powered influencer", Titanna. After the media gets ahold of it and proclaims Jen officially as "She-Hulk". While she hates the name, it sticks as Jen and her friends go to a bar to celebrate her new-found status. Unfortunately, Jen's actions have gotten her fired as a Deputy DA, due to making the jury biased in favor of super-powered beings. After a quick montage of being rejected by employers, Jen goes to her family's home, where she's bombarded with superhero-related questions. Only her dad seems to care about Jen's actual state. Reassuring that everything will work out, Jen continues her quest for employment.
Back at the bar, Jen is approached by the CEO of GLK and H (the opposing law firm, against Jen's case, last episode.) They specialize in "Super-powered related cases" and want to hire Jen as the face of their "Superhero Law Division". Accepting the offer, Jen's expected to be She-Hulk full-time, and she breaks the fourth wall, letting us know her disappointment. Adding to her dismay, Jen's first case is for Emil Blonsky aka The Abomination! (From The Incredible Hulk, way, way back in 2008). After arguing the fact that he tried to kill Jen's cousin, if she doesn't take the case, she won't have a job at the law firm. Reluctantly, Jen goes to The Raft to meet Blonsky. While Blonsky is in human form, he claims to have been a changed person. He's arguing to be released on parole. Emil argues that the U.S. Government is responsible for him being Abomination and destroying half of Harlem. He asks Jen to be his lawyer, and after a sob story, Jen ponders on the offer. At her apartment, Jen calls Bruce to give him the details and wonders if she should take the job. Bruce tells her that he's ok with Jen representing Blonsky, and we also find out that Bruce is in space!!! Possible Planet Hulk storyline?! Jen calls Mr. Holloway to accept the case, to which he tells her to turn on the news. A news report shows Abomination in an underground fight club, breaking out of prison! (From the movie, Shang-Chi!).
Like I said, a surprisingly quick episode, but this one deals with setting some nice conflicts that Jen will have to solve. There are some nice references to the iconic 90's art, with She-Hulk working out on the beach, callbacks to Eternals and Wolverine easter egg! While no action was present, this isn't the type of show to expect that kind of stuff. Episode 2 of She-Hulk: Attorney At Law gets a 7 out of 10. Post your thoughts in the comments below, and till next time fellow Blerds!!!
It's finally here! The premiere of Marvel's She-Hulk has arrived on Disney Plus, and I must say, this is super-hero comedy done right! While many were complaining about the tone of the show, and how the CGI looked, I'm happy to say that this show has promise! Before I continue, SPOILERS AHEAD!!!
The show starts us off with Jennifer Walters prepping for a case in court. But surprisingly (or not, if you read any of her comic books) Jen breaks the 4th wall to formally introduce herself and how the show isn't like any of the other Marvel shows. More importantly, she explains how she became a Hulk in the first place. Flashback to a few weeks' time, where she and cousin Bruce Banner are driving on the road. While jokes about Captain America's virginity, a Sakkar spaceship comes out of nowhere, causing them to crash. Jen can get out first, but she's cut. Bruce is pulled out, but his inhibitor device (that allows him to stay as Banner) is broken. As some blood is mixed, Bruce warns Jen to get away as he's about to "Hulk Out". As their blood mixes, Jen begins to transform. Blacking out, she stumbles into some bar, and to her surprise, a group of women helps with Jen's clothes. While waiting for a ride, some guys hassle her outside. This triggers another transformation, but Bruce (now, as Hulk) tackles her before things get out of hand.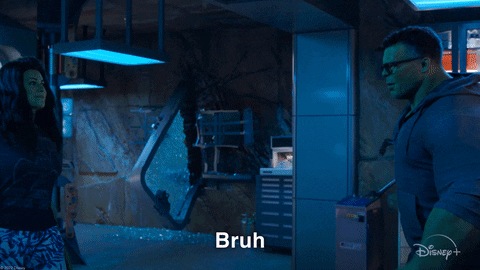 Some time has passed, and Jen is in Bruce's lab. Bruce tells Jen that he and Tony built the place before he died (we can still see that Stark's death still hits Bruce hard). As Bruce explains how Jen's DNA is so rare to absorb Gamma radiation, he also tells her that they need to figure out how to control it. At first, Jen is hesitant, as all she wants to do is to be a lawyer. Bruce insists on her training to become a superhero, however. And so, we're set on a funny training montage, with Bruce teaching the ins and out's of being a Hulk. While reluctant, Jen actually picks up on things faster than Bruce expected. Even being able to change at will (something Bruce struggles with, due to his struggles with being calm.) They even get into a little scuffle; with Jen learning some moves like the Thunderclap and the Ground Pound. Eventually, Bruce accepts that Jen is different and that her life is hers to live. As Bruce drops Jen off, we catch up to where Jen is about to give her opening statement. Just then, a super-powered woman busts through the courtroom. Reluctantly, Jen changes into She-Hulk and knocks her out with one punch before turning back into Jen.
I'll be honest; I wasn't checking for this show. With the rumors that it was going to be more comedy-based, and with Marvel needing to add a laughing track every five minutes into their recent films. Not saying that humor is bad, but they have a habit of overdoing it. Also, with special guests coming (Ahem, Daredevil!!), one wonders how Marvel is going to portray certain characters. Also, fans have been critical of how Hulk has been portrayed. From a savage brute who ragdolled Loki, to a being who mixed the monster and the man together to get "Smart Hulk". While some may say that after the beating from Thanos, Hulk may have lost his appeal, I say this is EXACTLY like in the comics. Banner's Hulk persona has multiple personalities, so it's no surprise that we're getting Smart Hulk. Imagine if we got Mr. Fixit or WorldBreaker Hulk. But that's all for now! I'll give She-Hulk an 8 out of 10. Till next time, fellow blerds
The action picks up in this latest episode of The Book Of Boba Fett! Picking up where we left off from the last episode, SPOILERS AHEAD!!!
Fennec Shand takes one of the would-be assassins to Boba's Palace, where he's interrogated. At first, he says nothing, cursing at Boba. We also discover that the assassin belongs to a group called "The Night Wind". Not impressed by his silence, Fennec drops the assassin into a rancor pit (the beast that Luke Skywalker had to fight, in Return of The Jedi.)! Fear of being eaten alive, the assassin confesses that the Mayor of Mos Espa, Mok Shiaz sent him! (As I predicted!). Fed up with the disrespect, Boba and Fennec gear up to visit the Mayor. Upon their arrival, the Majordomo of the Mayor insists that he's unavailable. But Boba ain't trying to hear it. The two crimelords enter the Mayor's location, and question why he sent assassins. The Mayor is apparently claiming innocence, saying that he's not the one responsible for the assassins. Proving his point further, the Mayor orders one of his guards to kill the assassin! After a tense exchange of words, Boba and Fennec leave the Mayor's estate. Heading back to Madame Garsa's sanctuary from the last episode, Boba talks to the madame (played by Jennifer Beales). The madame appears to look shook when asked what's going on. Then, a rumbling is heard outside. Boba and Fennec investigate, blasters ready, to be greeted by two Hutts (most likely related to the late Jabba.). They arrive to claim Jabba's territory, but Boba tells them that all that was Jabba's and Bib Fortuna's (Jabba's former majordomo) is his now. The Hutts laugh and here, we see a new kind of Wookie! Clad in mostly black fur, armor, looking mean af!! Upon further discovery, this Wookie is named Black Krrrsantan, who has some history with Boba Fett in the comics!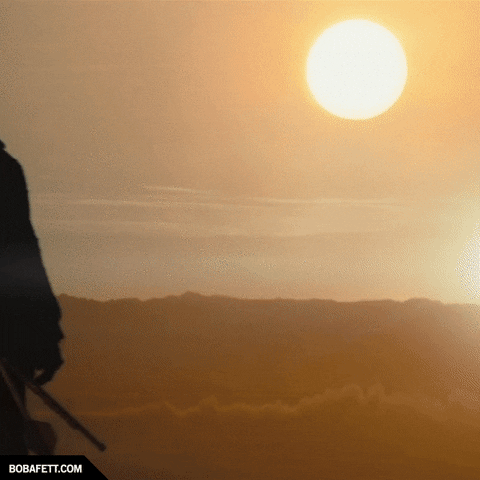 We're also treated with another flashback, with Boba learning the ways of the Tusken Raiders, including how to fight and the different tribes of Tuskens. After surviving a raid from a crime syndicate, Boba negotiates to go alone to steal some speeders to give to the tribe. After a cool fight scene in a bar, Boba returns and teaches the Tuskens how to ride. From there, we're treated to a space version of a train heist, with Boba and the Tuskens emerging victorious. After the heist of water, we learn that it was the Pikes (from The Clone Wars cartoon) who were trying to steal the water. Boba allows for them to leave with their lives, making the criminals respect the Tusken lands. Impressed, the elder Tusken gives Boba a lizard, which gives Boba a strange vision, leading him to walk through the desert! Returning to the tribe, barley consious, the lizard leaves Boba's skull, and he has a thick branch with him. The warrior Tsken explains (without words) that he embarked on a journey to create his own Gaffi Stick, the Tusken's signature weapon. Upon creating it, Boba and the Tuskens celebrate by doing a ceremonial dance (likely inspired by actor Temoura Morrison's Maori heritage.). With that, Boba appears to be a full member of the tribe!
Some may have complained about the slow pace of this show, comparing it to The Mandalorian. But what we're seeing is the "slow and steady" pace of story-telling, just done correctly in my opinion. Not only do we see how Boba survived being stranded in the desert in flashback, we see "present" day Boba struggling to rule Tattooine! I, for one, appreciate the pace and looking forward to the next episode. A 9 out of 10 for me! Post your thoughts below, and till next time fellow blerds