Well, one thing is for sure, Marvel certainly knows how to up their animation game! This post of Marvel's What If is another double feature! First, we'll cover "What If Thor was an only child?", and "What if Ultron won?". As always, SPOILERS AHEAD!!!
First, we visit our God of Thunder, as he goes out partying throughout the Nine Realms throwing some of the most legendary parties ever. As soon as his father Odin takes his rejuvenated sleep, Thor's mom Frigga warns her son to behave. But, of course, Thor takes the Warriors Three and Lady Sif to Earth. Las Vegas, of all places, where they create a party to end all parties. Numerous guest appearances from The Collector, Nick Fury, the Guardians of The Galaxy, even Loki makes an appearance (as a Frost Giant!)! When Jane Foster meets up with Thor, they fall for each other and share a night together! But S.H.I.E.L.D. gets wind of Thor's "fun", so they send in Captain Marvel to reign him in! When she tries to peacefully tell Thor to end these parties, Thor takes her for a joke. Then a fight ensues with Thor getting the upper hand! Labeled a party pooper, Captain Marvel goes back to S.H.I.E.L.D and they try to create another plan. Jane Foster, though, finds a way to communicate to Frigga of Thor's craziness. While a rematch with Captain Marvel occurs, Frigga makes her son know that's she's coming! Thor then begs everyone to help him clean up the mess he made on Earth. While everyone laughs at first, Thor gets serious eventually, everyone cleans up the planet. Frigga is "surprised" that Thor is working with the people of Earth, trading knowledge. As the Watcher looks on, we expect a happy ending, but we're met with a version of Ultron who not only has merged with Vision but also has the Infinity Stones!
Alright, now for this week's episode. After a brief battle with some Ultron drones, Black Widow and Hawkeye are the last of Earth's Mightiest Heroes, after we see that Ultron won! Merging his "consciousness" with Vision's body, he fulfills his goal of bringing peace through destruction. Killing most of the Avengers, Ultron then kills an arriving Thanos with the Infinity Gauntlet! Combining the Stones with his Vibranium armor, Ultron goes to other planets, destroying them! The Guardians of the Galaxy, even Captain Marvel aren't enough to stop him. Achieving his goal, Ultron is left without a purpose, with The Watcher looking on. But to our surprise, Ultron senses The Watcher's presence. Panicked, The Watcher flees the scene! Going to where Widow and Hawkeye, he prays that they find the solution to ending the true Age of Ultron. (See what I did there?) Using the analog system of former HYDRA scientist Zola, they infiltrate Ultron's HQ. While Clint sacrifices himself, they succeed in wiping Ultron's system clean. Or do they? Ultron finds The Watcher hiding in various universes, and a fight breaks out between the two! As they fight through the multiverses, The Watcher eventually escapes and finds Dr. Strange who ended his own universe. As The Watcher begs him to help, Steven agrees and that's the end of this episode!
Wow! Some heavy action happening in these last two episodes! And the last episode really felt like a true Age of Ultron! With them continuing the story, what do you think will happen next?! And who can stop this version of Ultron?! Well, till next time, fellow blerds!
When I first heard that Disney was combining Star Wars and anime, I couldn't wait! It's like cake and ice cream coming together! And now, from seven different anime studios including Trigger, Studio Coloridio, Geno Studio, and others, gave us different stories inspired by the world of Star Wars! From start to finish, Star Wars Visions gives us visuals, voicework, and designs that vary. Trust me, there will be something here for everyone! And while I did enjoy all the episodes, here are some of the ones I recommend the most. But as always, Spoilers Ahead!
· The Duel This one is just dripping with old-school Akira Kurosawa samurai vibes, which is one of the main inspirations George Lucas had when making Star Wars in the first place. The action, the umbrella-style lightsaber, and black and white visuals make this one a gem among gems.
· Tatooine Rhapsody Perhaps the only story in the series that doesn't involve Jedi, Sith of The Force in general but instead dealing with a band of musicians playing for crime boss Jabba The Hutt. Even infamous bounty hunter Boba Fett makes an appearance!
· The Ninth Jedi This is a Jedi mystery. Eight Jedi have been called to an undisclosed location to receive a lightsaber, the elegant weapon of a Jedi. But when they arrive, the person meeting them is questioned on whether he's a Jedi or Sith!
· Lop and Ocho A tale showing us that family is more than blood, we see a father paying for acting out against the Empire, and two sisters who have very different views on helping their home.
· The Elder They say, "Fear the old soldier in a young soldier's war". Well, this saying is true as we see a Jedi Knight and his Padawan learned face an old man who is powerful with the dark side of the Force!
Now, I know that some folks don't get with Star Wars, and some don't like anime (I don't know why, but hey, do you.) But I can safely say that you don't need to watch any of the movies, or various cartoon shows to watch these episodes. They're non-canon to the main storyline, and it will take about two hours to watch them all, as each episode is around 30 minutes. One of the negatives to Visions is that they focus a bit too much on the struggles between the Dark Side and the Light Side of the Force. There are other aspects of Star Wars lore that the studios could have shown us. With the success of The Mandalorian, you would think that we would get a gritty episode about how bounty hunters operate, or how certain Imperial soldiers view what they really do in the galaxy. But again, these are small nitpicks that shouldn't keep you from watching Star Wars Visions. Overall, I give it an 8 out of 10! Post your thought below and till next time fellow blerds!!
Updated: Aug 19, 2021
I have a sort of like/hate relationship with the show, Titans. On one hand, a show about a younger squad of heroes with an R-rated vibe sounds promising. The initial line of Robin, Starfire, Raven, Beast Boy, Hawk, Dove, and Donna Troy was cool.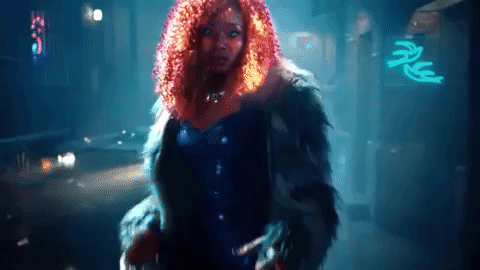 And the action was well directed and choreographed. But while some characters got better writing, others didn't and there were some…questionable casting choices, mainly with the show's version of Bruce Wayne. Iain Glen (Game of Thrones/ Lara Croft: Tomb Raider) is Bruce/Batman, and of all the actors to play him, this must be the worst choice. But more on that later. While season one was a bit of a chore to get into, with the main villain being Trigon. Season two had Slade Wilson a.k.a Deathstroke as the main baddie, with a backstory of how the Titans disbanded due to Robin wanting to use Wilson's own son against him. He dies, but not after Slade kills one of the Titans (Aqualad). Wilson and Robin call a truce under the condition that Dick Grayson NEVER bring back the Titans. That didn't work, so Slade came out of retirement to get revenge on the squad, with the initial help of his daughter Rose. Eventually, Dick grows out of his Robin persona and becomes Nightwing, and the Titans defeat Slade. There are some other subplots involving Starfire's origins, Superboy's arrival, Jason Todd as Robin, plus the romance between Hawk and Dove. But overall, the show can be hit or miss. Either the content is great, or it's bad. But with season three now beginning, the first three episodes are available now, so this will be a quick rundown of each episode! Spoilers ahead!!!
Episode 1-Barbara Gordon
While tracking the Joker, Jason informs Bruce that he's found Joker and he wants to go after them. Bruce orders Jason to stand down. In true Jason fashion, he ignores Bruce and goes after Joker. Tracking him to an amusement park, Joker gets the drop on Jason, and beats him to "death" with a crowbar! (Just like the comics! This event brings Dick Grayson to Gotham City, where he meets Bruce, who's trying to brush off Jason's death. Dick is really trying to be there for Bruce, but Bruce basically calls it an acceptable casualty of war. Later, we then see Commissioner Barbara Gordon! She is also in her wheelchair, indicating that the events of her being crippled as Batgirl already took place. The three catch up, and Barbara calls out Bruce on his b.s., saying that he weaponized Dick into a soldier to fight in his "war on crime". Dick, at first, is trying to defuse the situation. But Barb is having none of it. Meanwhile, the rest of the Titans are in San Francisco, dealing with crime there. One night, Bruce is discovered that he's locating "potential recruits", and this finally sends Dick to his limit, agreeing with Barbara. Later, Bruce walks to Dick's room and drops a bloody crowbar on the floor. It's revealed that he killed the Joker and that he quits as Batman. His last words to Dick before he left was "Be a better Batman."
Episode 2-Red Hood
This episode begins very similar to the scene in "Batman: Under The Red Hood" occurs, with Red Hood meeting with the crime bosses of Gotham. He threatens them to work for hin, in exchange for protection from the police and vigilantes for 40% of what they make. To ram the point home, he drops a bag of the severed heads of all their lieutenants. Moving along, we see semi-retired hero Hank a.k.a Hawk getting used to life as a bicycle cop in Washington D.C, with his ex-flame Dove catching a purse snatcher. While there is still chemistry there, Dove leaves for a "lunch". Back at Gotham, Dick meets Commissioner Gordon, and they compare notes, trying to track where Bruce went. Barbara is telling him not to be a better Batman, but Dick feels obliged to stick around and help by bringing in the Titans. With the Titans all in the Batcave, Dick warns them that Gotham is different than any other city, with the criminal element. Dick is called back into the GCPD, about a victim who only wants to talk to Nightwing, wearing a red hood. Ominous… When Nightwing tries to question the victim, there's a phone number burned on her arm. When the number is called, she is in excruciating pain, then she snaps her own neck! Barbara and Dick talk about the toxin that was in the victim's body, and Barbara reluctantly tells Dick that the Scarecrow has been helping the police as a "consultant"! While Dick meets Dr. Crane, Starfire is having more flashbacks about her past! Not only that, but she accidentally blasts Superboy and Beast Boy! Back at the Batcave, they eventually discover the location of the Red Hood's possible H.Q, and Hank returns to join the team. While the trail goes cold, Barbara informs them that a bank robbery is taking place and they have hostages. The Titans movie is in, but Barb is hesitant on letting them take point. With the Titans spitting up to find the hostages' kids, everything seems to go as planned. But, their plan backfires, as the "hostages" are the Hood's lackeys, as they detonate a flashbang grenade inside the bank and taking millions of dollars! Barb is pissed, but Dick is still convinced that his team can catch the Hood's men. Barb is forcing him to stay out of it. At the Batcave, the team discovers that the Red Hood is using old chess plays to hide his H.Q. Just then, they trace a 911 call with police already on the way. As the gang waits for the cops, the Titans take the thugs down, leaving Nightwing to deal with Red Hood. After a brief but exciting fight, it's revealed that the Red Hood is Jason Todd!! (No surprise if you read a comic in the last 10 years.)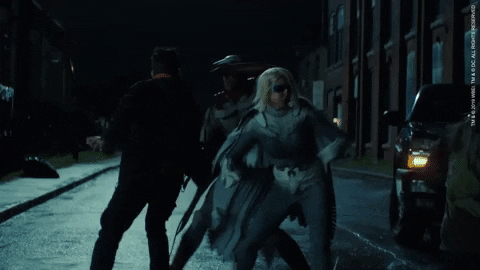 Episode 3-Hank and Dove
This episode has a twist that I honestly didn't see coming, but more on that later! Dick is at Jason's grave and finds it empty! The team is wondering how Jason is still alive after Bruce saw Jason's dead body. Speculations rise when Starfire says that if Jason is back, then maybe Donna can come back too. Dick notices that he found chemicals of a drug he was using, but Hank is done waiting. Dove and Hawk debate on whether they should treat Jason like a supervillain. Just then, Jason calls Hank, all distressed, and wants Hank to meet him at a location. Sounding scared, Hank is convinced by Jason's voice and agrees to meet him. Downstairs, Garfield is trying to send a message to Bruce, informing him that Jason is still alive. Hank is being driven to the Gotham Observatory, who then is forced to drive naked at the Gotham City Gym to prove that Hank isn't wired. Just then, Red Hood knocks him out! The Titans try to track Hank, but he shows up at the cave winded and with a bomb surgically attached to his chest! The team races to find a way to get the bomb off, but the countdown is based on Hank's heart rate! Just then Jason calls Dick and is told to rob 50 Million dollars' worth of gold bars, or Hank dies. Dove and Starfire are for going after Jason, but Dick still wants to reason with Jason. Gar and Connor stay with Hank, trying to find a way to disable the bomb. Dick goes back to Arkham, giving him a chemical drug in return for a profile of Jason for clues. They later find out that Wayne Enterprises created the bomb that Jason used. Dick orders Conner to build a device that deactivates the bomb since he's the only one fast enough to do it. Starfire and Barbara have a tense conversation, asking for help with the heist that Jason wants. Back at GCPD, Starfire is still with Barbara finding clues, but another episode happens with her memory. Dove and Dick debate on heisting the armored truck. Dick follows up a lead on Jason's whereabouts, but Dove goes through with the heist! Calling Jason, Dove goes to the harbor. Dick gets a call from Jason after his lead was a dead end and talks to Hank and they share a tender moment. Connor is diligently working on the device; Dove meets Red Hood with the gold bars. Hood gives her the deactivator in a handgun, saying that if she wants to save Hank then she must kill Jason! Forcing her to choose between killing Jason or saving Hank. Just then Nightwing shows up and tries to stop Dove from killing Jason. Connor is almost ready with the device, but Hank's heart rate is too low. Dove pulls the trigger, revealing that the gun was the trigger for the bomb, and kills Hank!!!