This review of Young Justice Phantoms will be a three-piece, sorry in advance! But I can promise you this! This show is what DC and Warner Bros need to emulate in live-action! Not just with the fights and powers, but with the character development deep lore that comes with them! Everyone has their moment to shine, however brief it may be due to the sheer number of characters in the show! From Superman and Lois trying to explain to their son about Connor to Megan and Beast Boy still being depressed about it, to the aspects of a family with Artemis and Cheshire. But enough of me, being in awe of this cartoon. On to the reviews!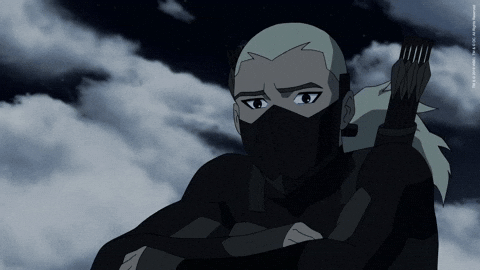 "I Know Why The Caged Bird Sings"
This episode concludes (for now, anyway) the confrontations that were set up; Cassandra Cage vs Lady shive, who is the BEST hand to hand fighter in the DC Universe. Not even Batman himself can take her, one on one. It also deals with Artemis and Barbara trying to make sure that Cassie doesn't end up being just another killer, but a hero. The two fight and Cassie is the victor. As the Team leaves, Cheshire goes back and tries to fight the Sensei. After stopping her Artemis pleads with
her sister to come home, that she's been away too long from her daughter, Lian. Ras Al Ghul lets Artemis, Cheshire, Cassie, and Onyx leave in peace. Cheshire does try to come home to her family, but guilt sets in, and she disappears again. On the Kent farm, Clark and Lois try their best to explain to their son Jon why Connor is gone, and we later see Clark break down. His younger brother is dead, and Superman, the Man of Steel, is in pain that we rarely see him in. Some great writing on the production's part.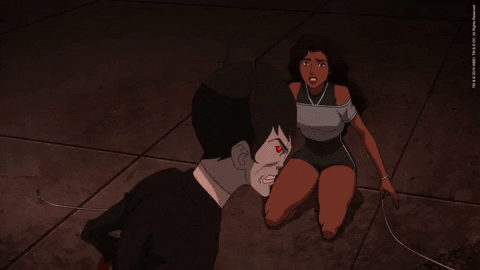 "Teg Ydaer!"
This episode begins a new subplot, with Magic being at the forefront. Another Lord of Chaos has come to Earth, with instructions to end Klarion The Witch Boys tenure. We also learn that Klarion and Vandal have prior history since Vandal is immortal. Hundreds of years ago, Klarion laid waste to one of Vandal's empires and tried to kill Vandal himself. When discovering Vandal's immortality, Klarion would return in another 100 years and see how Vandal would fare. In the present time, Team member Zatanna is training some new recruits, but they're dragged into a mystical battle with Klarion. As Klarion is about to kill them, he senses the other Lord of Chaos and teleports away to do battle. In the last moments, we see Savage talking to the Phantom Stanger, (who's also been narrating this episode.)
"Nomed Esir!" Fun fact, this episode was written by actor and writer Kevin Greivioux, who created co-created the Underworld franchise! Zatanna is separated from her students, witnessing the battle between Klarion and Child (that's the other Lord of Chaos, who is imbued with the powers of all the Lords of Chaos!) The Phantom Stranger sends the recruits to the house of Jason Blood, also known as one half of the demon Etrigan! As the recruits team up with Etrigan to save Zatanna and stop the Lords of Chaos, we're also treated with another history lesson. Vandal Savage was the great, great forefather of the city of Atlantis (where Aquaman is from!) His great, great-grandson became ruler of the kingdom, and the people had gained mystical powers along with advanced science. Vandal wanted to cause a mass genocidal event that would "cleanse" the strong from the weak. Although his great, great-grandson was against it, Vandal asked Klarion for a favor. With his help, the entire city was sunken underwater! We also discover that the Helm of Dr. Fate (think Dr. Strange with a gold helmet and slight schizophrenic issues.) is Vandal's grandson!
So, quite a lot of magic going on, this arc. I do enjoy the "history lessons" that Vandal is giving the audience. Some bombs are being dropped, involving Vandal Savage, this season. Post your comments below, and till next time fellow blerds!
The latest episode of Young Justice: Phantoms is on HBO Max, and it deals more with who is the mole sent from the League of Shadows and how Tigress and Oracle aka Barbara Gordon need to rescue Orphan! SPOILERS AHEAD!!!
As Tigress leads a small strike team of Onyx, Cassandra Savage (daughter of Light leader Vandal Savage), and Oracle providing tech support, then head to the League of Shadows' HQ to rescue Orphan. Along the way, we're treated to a flashback to where Injustice League member Joker wants revenge on The Light for being used as a pawn in their game against the Justice League and the Team. Joker plans to poison the United Nations, with fellow Light member Lex Luthor in attendance. While the Bat-Family is in a position to stop him, Lady Shiva sends her daughter Cassandra Cain to kill Joker. During the climax, the Bat-Family stops Joker, but after trying to kill the clown, Orphan accidentally slashes Batgirl's back. The attack leaves her paralyzed, but surprisingly, Barbara isn't holding a grudge. Instead, she tells Cassandra that she wasn't saving the Joker from her but was saving Cain from making a mistake by becoming a killer. In the present, the ladies infiltrate the compound, and just when they rescue Cassandra Cain, it turns out that Cassandra Savage was the true mole after all. Outnumbered, Tigress, Orphan, and Onyx fend off The League of Shadows without any support!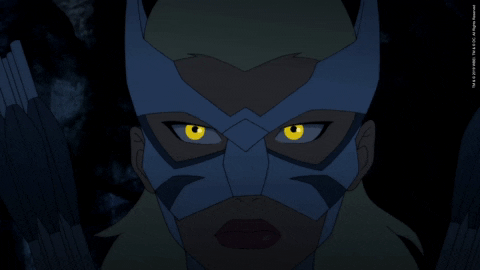 I absolutely LOVE how much love that Cassandra Cain is actually getting! She's one of my favorite members of the Bat-Family and my favorite Batgirl. In the comics, Cassandra Cain is the best hand-to-hand fighter in the Bat-Family and one of the best fighters in the DC Universe. That's right, even better than Bruce Wayne, himself! And although she's mute in both versions, in Young Justice: Phantoms, Lady Shiva had Cass's vocal cord sliced, so that the only language she would understand is violence. It looks like they're gearing for an epic showdown between Cass and Shiva! That's it for me, ya'll! Till next time, fellow blerds!
Ever since the show, Justice League and Justice League Unlimited went off the air, I've been looking for a spiritual successor to the DC Universe and its heroes. Enter Young Justice, where the main heroes' sidekicks take charge and form a Team to grow out of their mentors' shadow. At first, I was a little skeptical, but with the subtle nods to classic characters, such a Zatanna, Dr. Fate, Plastic Man, the Legion of Doom and Green Lantern John Stewart (the BEST Green Lantern, fight me!) to the young heroes learning more about themselves, Young Justice is a show where if live action can't properly tell certain stories, the animated show can. It's on HBO Max, and all three seasons are available, including the new episodes of season four. Before I talk about season four, however, I'll quickly address the previous three seasons.
Season one is where it all begins. After sidekicks Robin, Aqualad, Kid Flash and Speedy are promised to be fully inducted members of the Justice League, they quickly learn that their mentors are still treating them like sidekicks and not full partners. Speedy, fed up with the behavior, leaves to be his own man. The other three find their own mission, including saving a younger clone of Superman, Conner. From there Batman realizes that while the young heroes have potential, they still need mentoring, so he along with members of the League give them missions of their own. Meanwhile, a mysterious group of villains called "The Light" are creating disastrous events that not even the League are aware of.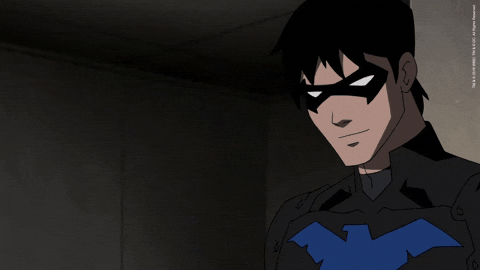 Season two gives us older members of The Team coordinating with the Justice League to combat The Light's plans. But due to the Justice League being framed for war crimes in deep space, the safety of the world is left to the Team, with new members such as Impulse, Rocket, Wonder Girl and more. This season more with espionage and a surprise guest makes his presence felt; Darkseid! Also, a fan favorite Kid Flash sacrifices his life to save the world form an apocalyptic timeline, leaving fiancé Artemis devastated!
Season Three deals with some members of the Justice League leaving the group to perform more covert actions that the League can't legally condone, the Team combats The Light, as The Light are kidnapping teenagers with superpowers for their own means. This season gained quite a bit of buzz, due to themes of xenophobia, politics, media and whether fighting fire with fire is the right approach. There's also a heavier theme centered around family, this season. The Light's allegiance with Darkseid is more felt in this season, with characters like Granny Goodness and the Furies making their appearance.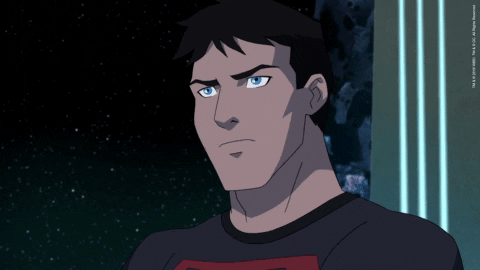 Now, we've come to Season four. Surprisingly, the season opens with Team Members Superboy and Miss Martian getting married on Mars, while the planet is dealing with racism and a political coup! It's both refreshing and sad to see. Even in space, bigots are still a thing. They also catch us by surprise by SPOILER ALERT KILLING OFF Superboy! I was like, damn! Anybody can get it, huh HBO?! The latest episodes deal with the loss of Connor and a new plot; two former members of The League of Shadows are seeking asylum with the Team, but Team member Tigress must decide which member is telling the truth: Onyx or the daughter of Vandal Savage! I love that more representation is here, different heroes from different backgrounds becoming household names and encouraging viewers to read up on these characters. While season three was a bit long, I'm hoping season four will be tighter with the storytelling and will give us a "less is more" approach with the number of episodes! Stay tuned for more coverage of Young Justice Phantoms here, fellow blerds