Dragon Ball fans rejoice (especially my fellow Gohan fans!)! We have a new movie that's centered around Gohan and former mentor Piccolo in Dragon-Ball Super: Super Hero! SPOILERS AHEAD!!!
The movie's major plot involves the reborn Red Ribbon Army (the same evil organization that Kid Goku ended way back, in DragonBall, and the one that created the Androids and Cell). The next generation wants revenge on Goku and his allies for what they've done. However, the grandson of Dr. Gero wants to create superhero-inspired androids. They manage to strike an agreement and create a plan to gain their revenge. With Goku and Vegeta off-world, it's up to Gohan and Piccolo to save Earth!
Man, when I heard that the next movie was going to be centered around Gohan and Piccolo, I was like FINALLY!!! Don't get me wrong, I did Goku and Vegeta, but it's only so many times where they can be the main characters. Plus, both Gohan and Piccolo have been kinda reduced to side characters. In the T.O.P arc in Super, we got a glimpse of the two getting some shine, but that's quickly overshadowed Goku and Ultra Instinct. Here, though, Piccolo and Gohan both get new transformations! Piccolo gets a new form by wishing it with the Dragonballs to unlock his full potential. As for Gohan, while he's still the same bookworm that we've seen throughout the years, he's still able to go to his "Ultimate" form with no problem. But when the "ish" hits the fan, Gohan unlocked a new form. Called "Gohan Beast" (a wack name, but ok), Gohan, along with an aged-up Goten and Trunks, Krillen, Gamma 1, and Orange Piccolo manage to defeat the newly resurrected Cell Max!
It's also great to see Gohan's daughter, Pan, get some training from Piccolo, who's giving "grumpy uncle" vibes. The fight scenes are animated great but could be a bit longer. For those wondering where Goku and Vegeta are, when all of this is going on, there is an explanation. Goku and Vegeta with Whis and Beerus, training Broly. When Bulma (Vegeta's wife.) tries to reach them, but can't. There's also a brief sparring match with Goku and Vegeta, but we don't see most of it. However, we do know who won…VEGETA!!! After all these years, he finally got a clean win over Goku!
While I did enjoy seeing a Dragon Ball movie in the theaters, I gotta say, it's the chemistry with Gohan and Piccolo that sells this movie. Throwbacks to the Cell Saga were nice, but when Cell Max is introduced in the finale, I felt slightly underwhelmed. Cell was my favorite villain in the Dragon Ball Z era, and for creator Akira Toriyama to just make Cell a big brute was hard to watch. Imagine the potential in bringing Cell back, and his training (much like how Frieza did to obtain his Golden Form.) to become stronger. But in Super Hero, Cell is reserved to being a mindless beast. What's worse, this may be the last time we see him in canon.
Overall, Dragon- Ball Super: Super Hero gives us some much-needed shine on Gohan and Piccolo and presented a story with nostalgia and potential set-ups for future stories. I'm giving it an 8 out of 10. Post your thoughts below, and till next time fellow blerds!
Pop Quiz, where were you on March 17, 1997? If you were like me, then you were still watching cartoons on television (remember watching the toons on actual tv, instead of streaming them?! What an age.). Back in the day, Cartoon Network was still in its infancy, showing classics like Loony Tunes¸and the Hanna Barbera cartoons. But then, something new was given to us. Something new that would forever shape how generations would see animation for decades to come. It was called …Toonami! At the time of this post, it will have been 25 years, since Toonami first aired. 25 years of quality entertainment, gateways to new shows. It also featured heartwarming motivational promo's, voiced by actors such as Peter Cullen (Optimus Prime from Transformers) and later Steve Blum (perhaps most famous for Spike Speigel from Cowboy Bebop), who would also voice the show's original character, T.O.M. This post will be a tribute to the legendary show that put people on to so much greatness, and how it continues to so much greatness.
Back in 1997, Toonami was being narrated by Space Ghost villain, Moltar. The show's running block would showcase classic cartoons like ThunderCats, Voltron, and Johnny Quest. While these shows weren't anything "new", they would serve as a type of action block in Cartoon Network's programming. Then, on July 13, 1999, things started to change. Toonami was rebranded with a new line-up, introducing a new host, T.O.M., giving a needed facelift to the show, with futuristic surroundings. The show's running block would add anime like Sailor Moon, Dragonball Z, Gundam Wing, The Big O, and Outlaw Star. They even added some music videos, like Daft Punk's One More Time, and Gorillaz's Clint Eastwood. With Toonami increasing in popularity, they added a new programming block. The Midnight Run featured more violence and blood that was previously censored during the weekdays.
They also had their own individual shows, featuring T.O.M, with The Intruder, Lockdown, Trapped in Hyperspace, and Endgame. They even released a music album, Deep Space Bass, which had music from their many (and epic) motivational promos that aired in between shows. As the years progressed, so too did Toonami's added shows. Hits like Naruto, Neon Genesis Evangelion, One Piece, Zatch Bell, Justice League, Teen Titans, Pokemon Chronicles, and others were featured during the show's block. Fans all over the world had a place to either continue to enjoy great content or experience it for the first time. They even started to add movies, like Howl's Moving Castle, Spirited Away, Gundam Wing: Endless Waltz, and more. Having specials, like "Giant Robot Week", "Rising Sun" and "New Year's Evil" didn't hurt with bringing in viewers either. Hell, back in the day, kids would literally run home and catch up on the latest episode of their favorite show. Toonami became more than a TV block about cartoons. It became a place where if you felt like you had a bad day, or if you just wanted to escape, T.O.M was there to give you advice and remind you that everything was gonna be alright.
But nothing lasts forever. Including Toonami, as back in September of 2008, Cartoon Network made the announcement that crushed a generation. They're canceling Toonami, due to low ratings. Fans over the world were devastated, as they hard T.O.M's final farewell to the viewers in 2009. I remember seeing the broadcast. As T.O.M was saying goodbye, it felt like the end of an era. After all, the age of streaming was beginning, and YouTube became the source for rewatching shows for free, thanks to people uploading cartoons piece by piece on the site. And with more cable channels having their own programming, it felt like we were losing something vital to our lives. Although we still have Adult Swim, something was missing. Then on April 1st, 2012, Cartoon Network pulled one of the best pranks on viewers. Fone one night only, Toonami was back. Showing all the anime that we grew up on, fans were elated! From there, fans on Twitter began hashtags, catching the attention of executives. On May 16th, our prayers were answered. Toonami would be airing on Adult Swim, featuring new shows for viewers to enjoy, as well as classics from their vault.
Thanks to the power and hope of the fans, Toonami came back and to this day, continues to run showcasing some of the best animation ever created. For me, I didn't really know what anime was until I saw some of the now-classic promos that still inspire to this day. I, for one, credit the television block for listening to the fans and giving newcomers I can't draw to save my life, but seeing different stories being told played a big part in sharing my creativity with this blog. Happy Toonami Day, blerds! Till next time!
It's finally here! The live adaptation to one of the most legendary anime, "Cowboy Bebop" is now available on Netflix. And, apparently, it's causing quite the stir with fans. Either you like it, or you hate it! As for me, welllllll… I didn't hate it, but it wasn't spectacular either! But before I go on, I would like to say that when doing adaptations of anything, it won't be 100% accurate. But the writers can either go the route to Zack Snyder's Watchman where they follow the source material as closely as possible, or Dragonball Evolution where they completely ignore the source material! Netflix's Cowboy Bebop is somewhere in the middle. While not completely following the letter, the show does capture the spirit of the anime. The jazz, the main plot, the iconic crew of the Bebop (minus one member!), it's there! So, as always, SPOILERS AHEAD!!!
The show's story follows bounty hunters Spike Spigel and Jet Black trying to make ends meet while being joined by a con artist and fellow bounty hunter, Faye Valentine. The character's motives are basically the same as in the anime, with some twists. Faye still wants to find out where she really comes from, Jet is still an ex-cop with a robotic arm, but now has a daughter who he tries to provide for. Last but certainly not least, Spike is a former member of the Red Dragon Syndicate, whose heart is still in the past for a woman called Julia. While the crew looks for bounties to keep the lights on, Syndicate member Vicious is looking to take over and begins a war from within, with Julia at his side.
Ok, good news first. The cast pretty much nails the characters they're portraying. From Mustafa Shakir absolutely NAILING the voice and mannerisms of Jet Black, to John Cho's devil may care attitude of Spike. A lot of controversy, however, was discussed with Daniella Pineda's Faye. I can say that she pulled it off well, for the most part. While she wasn't wearing exactly what she wore in the anime (it really wasn't practical, anyway, fellas!) she sold the performance. The music is also hittin', with some classics from the anime appearing in certain scenes, thanks to show composer Yoko Kanno. And we can't talk about music from Cowboy Bebop if we don't mention the iconic theme some played at the beginning of each "session", played by Tank! It is a crime if you skip the opening credits. Also, some of the side characters get some much-needed love, as characters Ana (Tamara Tunie) and Julia (Elena Satine) get more screen time. Also, the production of this feels like a mix of Kill Bill and Scott Pilgrim VS The World! For the most part, it fits well with the story they're telling. And some of our favorite episodes have been brought to life. The action also looks good, with Spike fighting like Bruce Lee, just like the anime, Jet using a revolver from his cop days, and Faye's dagger.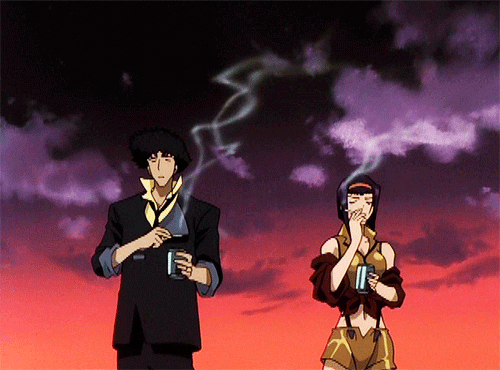 Now for the bad. While the main cast is great in bringing the characters to life, there is one character that just doesn't work for me, and that is Vicious. While I can appreciate actor Alex Hassell adding a mix of rage and madness into the role, I just don't think it works. In the anime, Vicious was a man of few words. And while the rivalry between him and Spike is still there with some added information in a flashback episode, the Netflix version just comes across and a maniac with some severe daddy issues! , Also, some episodes, or "sessions" aren't adapted in the show! But with the very last-minute appearance of the character Ed, maybe there's hope for another season! Another side-eye is with the twist of Julia taking over the Syndicate, betraying Vicious, and shooting Spike. While in the anime, we only saw her through glimpses, it doesn't bode well for Spike if he's forced to go against her in the next season.
Overall, while this adaptation certainly didn't knock my socks off, it didn't leave me with a bad taste in my mouth either. I give Cowboy Bebop on Netflix, a 7.5 out of 10. If you want to know what I think of the anime, hit the link below. Till next time, fellow blerds, or as Spike would say, "See you, Space Cowboy…".