Happy Halloween, everyone! While today marks the beginning of the "Holiday Season", Halloween holds a special place in people's hearts. Trick or Treating, candy, costumes, and…scary movies! And while you don't have to wait until October 31st to watch them, it just feels right to watch your favorite horror films on Halloween. With that in mind, here's 10 of my favorite Horror films for Halloween! (In no particular order or ranking)
1. Halloween H20. If you were disappointed with how Halloween Ends concluded the story of Michael Myers, Halloween H20 is for you. 20 years after Halloween 2, we see Laurie Strode (Jamie Lee Curtis) back and Michael Myers is chasing her again. This time, she's a school professor, trying to deal with her trauma from the first two films. While the gore is lacking, what's fun is the final stand Laurie has with Michael. Fighting off Michael, even slicing off his head, the showdown was just perfect…until Halloween Resurrection.
2. The Thing. Set on a military outpost in Antarctica, several men must do battle with a parasitic organism that can change forms. The isolation of the setting, the near-endless paranoia dealing with who's human and who's the Thing. The special effects team really earned their money with this one, because every transformation is gruesome. From the "split-faced dog", to the "blood test", The Thing is still nightmare fuel.
3. Predator. While not a traditional Horror movie, Predator falls under the "action-horror" sub-genre. A group of Special Forces soldiers are being hunted by an alien with a savage code of honor. One by one, the movie shows us that no matter how tough the soldier is, that means little to the Predator. Only by the grace of plot armor that Arnold Schwarzenegger survives. His team, however, is less fortunate.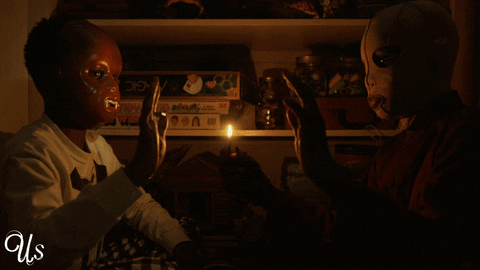 4. Us. Director Jordan Peele's second film asks the question of what we see when looking in the mirror. It also asks how society treats the unfortunate. While a family on vacation must do battle with their evil doppelgangers, the matriarch of the family (played by Lupita Nyong'o) is hiding a secret that no one saw coming.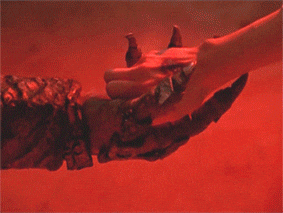 5. Wishmaster. If you could wish for anything in the world, what would it be? And are you prepared for the consequences of that wish? That's the question raised by Wishmaster. The entire film puts the whole "be careful what you wish for" thing in a whole new light. With an evil Genie or Djinn, causing mayhem, wishing gives a twisted vision of one's desire.
6. Tales From The Hood. Let me tell you, this movie had me SHOOK, as a kid. Blending social commentary with horror tropes like zombies, voodoo dolls, and devils, Tales From The Hood is a certified classic.
7. Candyman. While I love the recent sequel, it's the original with Tony Todd that earns a spot. From the legend of saying his name five times to the horror behind the legend, Candyman is an urban myth that no one dares to defy.
8. Blade 2. Another "action-horror" film. Wesley Snipes, plus vampires, plus action equals cinema.
9. Scream 3. Turning every troupe of the horror genre on the victims, Ghostface once again terrorizes Neve Campbell.
10. Tales From The Crypt: Demon Knight. Jada Pinkett Smith vs evil Billy Zane and an army of demons in an abandoned motel. It gives some nostalgia mixed with dark comedy, which I feel the '90s perfected.
That's it, for this year! Post your comments and favorite horror movies below, and till next time fellow blerds!
Star Wars: Tales Of The Jedi out on Disney Plus, created by Dave Filoni and gives character backstories on key individuals in the Star Wars universe. While the episodes, themselves are short (15 minutes each), the stories give us so much detail in character motivation that was missed in the live-action movies and other shows. The setting of the series takes place both before and during the prequel trilogy, so you might want to watch those projects (ESPECIALLY The Clone Wars! Can't recommend it enough!) Before I continue, SPOILERS AHEAD!!!! CONTINUE AT YOUR OWN RISK!!!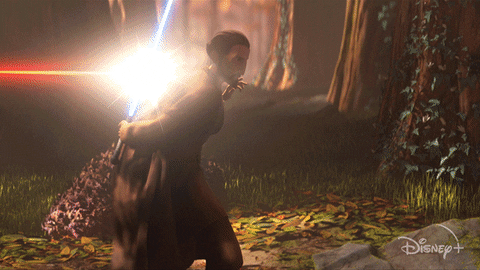 The series mainly covers two characters: Ashoka Tano and Count Dooku. With Ashoka, we see her birth, her training as a student under Anakin, and how she dealt with the aftermath of the rise of the Empire. Ashoka has come a long way, from the brash Padawan of Anakin Skywalker to the experienced warrior we see later. Her arc seems to deal with overcoming her arrogance in her own abilities. As an infant, Ashoka has been gifted with The Force. An example of this is when she is an infant and Ashoka stops a wild animal from killing her with a Jedi Mind Trick. Another example is when she passes a basic training exercise, involving blocking blaster fire with her lightsaber. Anakin sees the flaw in this, saying that she has to do better. So, Anakin makes her train with actual clone troopers to improve her skills. While failing repeatedly, Ashoka learns from Anakin that her survival is his responsibility. To survive the Clone Wars, she must be better than any droid with a gun. We later see the fruits of her labor pay off when she does survive Order 66 due to Anakin's training. We also see Ahsoka's weariness of being a warrior, when on the run from the Empire. With all her friends either dead or in hiding, Ashoka attempts to leave it behind her and become a farmer. But, when a Sith Inquisitor arrives, she realizes that she can no longer stand by and let innocents be hurt.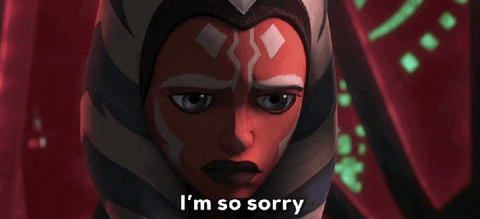 Jedi Master Dooku's arc is something that fans have been waiting for, for years. At first glance, in the Prequel Trilogy and in Clone Wars, it looks like Dooku is just some evil aristocratic guy who thinks he's better than the Jedi Order. But with his stories in this series, Dooku shows viewers why he became fed up with the Jedi Order. While still in the Order, Dooku notices how the Jedi are becoming more complacent and only dealing with issues politicians deem necessary. When investigating a corrupt Senator, Dooku sees the corruption firsthand, by witnessing all the residents of that planet starve. The Senator's own son criticizes his father's actions while being kidnapped. After saving the son, Dooku stands his ground in protecting the townsfolk, even against the orders of the Senate. On another mission, investigating the death of a missing Jedi Knight, Dooku (teamed up with Mace Windu) insists on discovering why the Jedi was murdered. Windu, on the other hand, wants to stay on mission and report back to the Jedi Council. When they both discover how the missing Jedi was murdered, Dooku wants justice. After dispatching the corrupt soldiers, the Jedi discover that they were holding a Senator for ransom, in exchange for a better quality of life, and that the Jedi only answer to the Galactic Senate, not the people. Even after the soldiers are arrested, Dooku sees their point, agreeing with their motive, if not their methods. This also causes a strain with Mace and the Jedi Order, itself. Are they peacekeepers for the galaxy, or just for whom the Senate deems worthy? After hearing of his mentee, Qui-Gon Jinn's death, it seems it was the last straw for Dooku. We see that Dooku meets with Darth Sidious (Senator Palpatine) and they discuss the future plans for the galaxy. Dooku is upset that he must prove his loyalty, after what he's done. Sidious plays on his emotions, saying that it's all in for the greater good. Unfortunately, a Jedi Master followed Dooku, leaving him no choice but to commit to his and Sidious' plans. Killing Master Yaddle, Dooku fully embraces the Dark Side and serves Darth Sidious.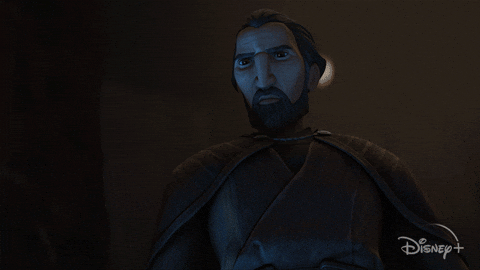 Ashoka's story feels a bit shorter, but it's worth it to see more signs of her growth. As a student, Ashoka aces a training exercise, much to her teacher, Anakin's dismay. Anakin tells her that the exercise is not a real test for battle. Wanting to prove herself, Ashoka begins training with actual Clone Troopers, trying to deflect blaster fire. While failing several times, she questions the validity of the training. Anakin tells her that she is his student, and his responsibility to train her to survive. We're later shown the results of Ashoka's training pay off when we see her, and Commander Rex survive Order 66. A brief time jump occurs, and we see Ashoka at Padme Amidala's funeral. Senator Bail Organa (Princess Leia's adopted father) asks Ashoka to join the oncoming fight against the rising Empire. Ashoka, however, is tired of war. Going into hiding, Ashoka tries to blend in, becoming a farmer. While in hiding, a family becomes in danger, being held by a Sith Inquisitor. Killing the Inquisitor with ease, Ashoka realizes that her fight isn't over.
For fans of The Clone Wars and Star Wars Rebels, this should be right up your alley. If you've been disappointed with the live-action shows that Disney has given us, then this is the show for you. Even if you like any type of Star Wars, you should watch this. We finally get answers as to why Dooku left the Jedi Order, told in a beautiful fashion that only Dave Filoni can describe. And any story with Ashoka in it, is bound to be a treat. I would give this a 10 out of 10, but the episodes are way too short. So, 9 out of 10. Post your comments and thoughts below, and till next time fellow blerds!