Welcome back to this week's review of Titans! On this episode, it's mostly a flashback of Jason's downfall to becoming the Red Hood and how he and Scarecrow began working together! As always, Spoilers ahead!!!
We start with Jason and Crane barely escaping Nightwing and the GCPS's snipers, after the trap at the old Wayne barn in the last episode. From there, we're treated with the rest of the episode being a flashback, going back to days before his death by the Joker and becoming the Red Hood. Bruce is worried about Jason, after what happened in San Francisco and benches him until he can shake off what's bothering him. Jason has been reliving the events of Deathstroke torturing him and almost killing him, so the fear hasn't left him yet. Bruce tries to help him, but Jason puts on a brave face and insists he's fine. Bruce knows better, so he gives Jason the address to an old friend, Dr. Leslie Thompkins, a psychologist (and a longtime friend of Bruce's, in various media.) Jason also reconnects with an old Gotham friend, who has a missing friend thanks to one of the Joker's goons. Jason tracks the goon down and confronts him, but surprisingly beaten by the goon! After shunning off his friend in shame, Jason eventually goes to see Dr. Thompkins.
Upon their first session, Jason does the tired "tough guy" routine, deflecting every time Leslie tries to get Jason to open up. While leading by example, Leslie tells of how she encountered the Scarecrow for the first time, being poisoned with his fear gas. This causes Jason to become interested. He askes what it was like, and she replies that it's as close to coming to hell while still being alive.
This convinces Jason to come back again. While at the Batcave, Jason examines all of Bruce's trophies. A lot of easter eggs in this scene, including Joker's playing cards, Catwoman's whip, and goggles, and of course, Scarecrow's fear toxin and mask. Bruce catches up with Jason and they share a father-son moment. Jason goes back to therapy, and it seems like it's going well. Later, Bruce picks up Jason and takes him to Crime Alley (where Bruce's parents were murdered) and tells Jason that his time as Robin is over. Bruce wants to have Jason as his son, but not as Robin. Jason is furious and wants to prove that he's still good enough to be Robin.
Later, Jason heads to Arkham Asylum and talks to Scarecrow. Eventually, Crane deduces that Jason is Robin, and is asked to make a formula for an anti-fear toxin. Crane is interested in this and comes up with an offer; if Jason can free Crane, then he will help with the anti-fear toxin. Crane gives Jason a sample formula, and from there, Jason begins to create his first batch. We now catch up with the first episode of Season Three, with Jason taking the anti-fear toxin and chases down Joker. After the Joker kills Robin, we see his body being dumped in a Lazarus Pit deep in Arkham! When Jason is resurrected, they join forces and create the persona, the "Red Hood". Jason's first act is to find the goon that beat on him earlier. He rescues the boy the goon kidnapped and brought him to his friend's home. And now, we're all caught up! What did you think of this week's episode? Personally, while I enjoyed Jason's backstory, Crane is getting a little annoying, as a character. Another miscast if you ask me. But tell me what you thought. Post your thoughts below, and till next time, fellow blerds!
Updated: Aug 26, 2021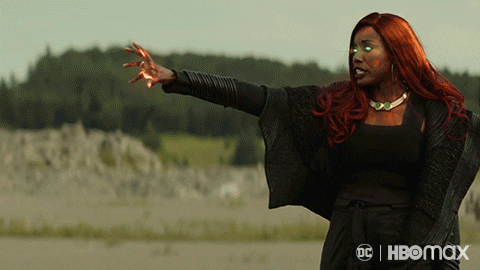 Hello, everyone! Here's my review of this week's Titans! Some revelations and reunions are witnessed in this episode, so let's dig in.
After the last episode, with Jason Todd aka Red Hood killing Hank (by tricking Dove into activating the bomb's trigger, in a handgun), the team grieves in their own way. Connor blames himself for not being fast enough to save Hank and lashes out at Beast Boy. Dove aka Dawn leaves, still reeling from the loss of Hank's death. Dick tries to talk her out of it, but she can't stay. As she leaves Barbara gives her condolence to Dick and asks him to come to the precinct for new information. Back at Wayne Manor, Kori aka Starfire tries to console Garfield, who is struggling with being the heart of the team, but she still haves her episodes, where she almost burns Garfield's arm off! After trying to meditate in a sensory deprivation chamber, to isolate her memories, Starfire wakes up in a field in the middle of nowhere with Garfield in the trunk of a car! As it turns out, she's not having nightmares, but merged memories from her sister Blackfire, who is trapped in a secret U.S. prison, to which the memories led Starfire to! Gar and Kori decide to enter the prison, which Starfire unconsciously led them to.
Back in Gotham City, Barbara informs Dick that Jonathan Crane aka Scarecrow that he's being transferred to Blackgate Prison (where the lesser super-villains go) due to an attempted stabbing that was linked to Red Hood. But Dick has other plans; He incapacitates the Arkham guards and kidnaps Crane, taking him to a cabin off the grid that only the Bat-Family knows about. Meanwhile, Barbara is forced to hunt them down, failing to talk Dick into surrendering Crane to the police. Back at the prison, Starfire meets a scientist who is the sole person overseeing Blackfire. She's in a power-dampening cell, where she and Starfire have a less than friendly chat about how Blackfire killed their parents and Starfire's old love. But Blackfire hints that "things aren't what they seem". Then, we see that Blackfire was always the "problem child" who was rebellious, and how she resents Starfire for not defending her when they were young. When Blackfire mentions Feddei (Starfire's love interest who was killed in Season 2), that was the final straw, as the two fight! Kori gains the upper hand, but refuses to kill her own sister, choosing to leave her there for the rest of her life instead. Blackfire gives one last speech, about how everything she did and became was because of Starfire not being a good sister.
In the old Wayne Cabin, Dick's plan is to wait for Red Hood to show, using Crane as bait, and it's here that we learn that Crane knows of Dick's secret identities (and by extension, Bruce's) due to Jason. Like, damn, so much for secret identities! Dick retells a story of how he and Bruce came up to the cabin once, and Dick was forced to survive alone, showing that he could do what needed to be done. At the prison, the resident doctor, Dr. Kind informs the Titans that she will remain there for the rest of her natural life, but Starfire has a change of heart, stating that she could live for hundreds of years! She breaks Blackfire out, with a timid warning from Dr. Kind stating that the U.S. Government won't hunt down Blackfire, and that it's her responsibility to watch over Blackfire. At the Cabin, Red Hood tracks the tew men down and Nightwing catches Hood off-guard! The two former Robins engage in another fight, neither of them gaining an advantage. Dick is furious that Jason told Crane everything. Jason blames Dick for what happened, but Dick doesn't fall for the "blame game". Just then, Gotham PD copters appear, with a sniper wanting permission to engage. Barbera reluctantly gives the order, and the sniper hits Nightwing! Red Hood vanishes amidst the commotion, taking Crane with him!
Overall, while this episode was enjoyable, I can't help but notice that this show has some casting issues. I already talked about the miscasting of Bruce Wayne, but what's more, is that the actor who plays Scarecrow (Vincent Kartheiser) just seems off. Maybe we need to see more of him, so we can see Crane doing his whole "fear" bit. I love how we're getting more Blackfire, though! I can't wait to see how this subplot unfolds. That's it for this episode, till next time fellow blerds!
Updated: Aug 19, 2021
I have a sort of like/hate relationship with the show, Titans. On one hand, a show about a younger squad of heroes with an R-rated vibe sounds promising. The initial line of Robin, Starfire, Raven, Beast Boy, Hawk, Dove, and Donna Troy was cool.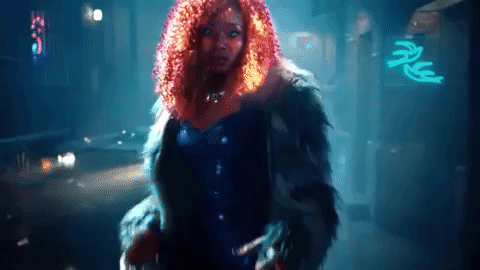 And the action was well directed and choreographed. But while some characters got better writing, others didn't and there were some…questionable casting choices, mainly with the show's version of Bruce Wayne. Iain Glen (Game of Thrones/ Lara Croft: Tomb Raider) is Bruce/Batman, and of all the actors to play him, this must be the worst choice. But more on that later. While season one was a bit of a chore to get into, with the main villain being Trigon. Season two had Slade Wilson a.k.a Deathstroke as the main baddie, with a backstory of how the Titans disbanded due to Robin wanting to use Wilson's own son against him. He dies, but not after Slade kills one of the Titans (Aqualad). Wilson and Robin call a truce under the condition that Dick Grayson NEVER bring back the Titans. That didn't work, so Slade came out of retirement to get revenge on the squad, with the initial help of his daughter Rose. Eventually, Dick grows out of his Robin persona and becomes Nightwing, and the Titans defeat Slade. There are some other subplots involving Starfire's origins, Superboy's arrival, Jason Todd as Robin, plus the romance between Hawk and Dove. But overall, the show can be hit or miss. Either the content is great, or it's bad. But with season three now beginning, the first three episodes are available now, so this will be a quick rundown of each episode! Spoilers ahead!!!
Episode 1-Barbara Gordon
While tracking the Joker, Jason informs Bruce that he's found Joker and he wants to go after them. Bruce orders Jason to stand down. In true Jason fashion, he ignores Bruce and goes after Joker. Tracking him to an amusement park, Joker gets the drop on Jason, and beats him to "death" with a crowbar! (Just like the comics! This event brings Dick Grayson to Gotham City, where he meets Bruce, who's trying to brush off Jason's death. Dick is really trying to be there for Bruce, but Bruce basically calls it an acceptable casualty of war. Later, we then see Commissioner Barbara Gordon! She is also in her wheelchair, indicating that the events of her being crippled as Batgirl already took place. The three catch up, and Barbara calls out Bruce on his b.s., saying that he weaponized Dick into a soldier to fight in his "war on crime". Dick, at first, is trying to defuse the situation. But Barb is having none of it. Meanwhile, the rest of the Titans are in San Francisco, dealing with crime there. One night, Bruce is discovered that he's locating "potential recruits", and this finally sends Dick to his limit, agreeing with Barbara. Later, Bruce walks to Dick's room and drops a bloody crowbar on the floor. It's revealed that he killed the Joker and that he quits as Batman. His last words to Dick before he left was "Be a better Batman."
Episode 2-Red Hood
This episode begins very similar to the scene in "Batman: Under The Red Hood" occurs, with Red Hood meeting with the crime bosses of Gotham. He threatens them to work for hin, in exchange for protection from the police and vigilantes for 40% of what they make. To ram the point home, he drops a bag of the severed heads of all their lieutenants. Moving along, we see semi-retired hero Hank a.k.a Hawk getting used to life as a bicycle cop in Washington D.C, with his ex-flame Dove catching a purse snatcher. While there is still chemistry there, Dove leaves for a "lunch". Back at Gotham, Dick meets Commissioner Gordon, and they compare notes, trying to track where Bruce went. Barbara is telling him not to be a better Batman, but Dick feels obliged to stick around and help by bringing in the Titans. With the Titans all in the Batcave, Dick warns them that Gotham is different than any other city, with the criminal element. Dick is called back into the GCPD, about a victim who only wants to talk to Nightwing, wearing a red hood. Ominous… When Nightwing tries to question the victim, there's a phone number burned on her arm. When the number is called, she is in excruciating pain, then she snaps her own neck! Barbara and Dick talk about the toxin that was in the victim's body, and Barbara reluctantly tells Dick that the Scarecrow has been helping the police as a "consultant"! While Dick meets Dr. Crane, Starfire is having more flashbacks about her past! Not only that, but she accidentally blasts Superboy and Beast Boy! Back at the Batcave, they eventually discover the location of the Red Hood's possible H.Q, and Hank returns to join the team. While the trail goes cold, Barbara informs them that a bank robbery is taking place and they have hostages. The Titans movie is in, but Barb is hesitant on letting them take point. With the Titans spitting up to find the hostages' kids, everything seems to go as planned. But, their plan backfires, as the "hostages" are the Hood's lackeys, as they detonate a flashbang grenade inside the bank and taking millions of dollars! Barb is pissed, but Dick is still convinced that his team can catch the Hood's men. Barb is forcing him to stay out of it. At the Batcave, the team discovers that the Red Hood is using old chess plays to hide his H.Q. Just then, they trace a 911 call with police already on the way. As the gang waits for the cops, the Titans take the thugs down, leaving Nightwing to deal with Red Hood. After a brief but exciting fight, it's revealed that the Red Hood is Jason Todd!! (No surprise if you read a comic in the last 10 years.)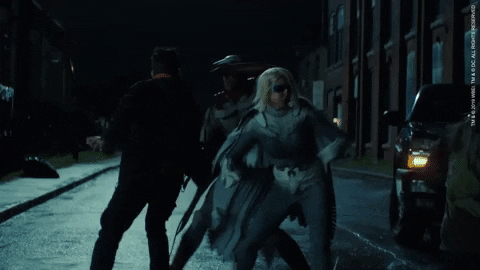 Episode 3-Hank and Dove
This episode has a twist that I honestly didn't see coming, but more on that later! Dick is at Jason's grave and finds it empty! The team is wondering how Jason is still alive after Bruce saw Jason's dead body. Speculations rise when Starfire says that if Jason is back, then maybe Donna can come back too. Dick notices that he found chemicals of a drug he was using, but Hank is done waiting. Dove and Hawk debate on whether they should treat Jason like a supervillain. Just then, Jason calls Hank, all distressed, and wants Hank to meet him at a location. Sounding scared, Hank is convinced by Jason's voice and agrees to meet him. Downstairs, Garfield is trying to send a message to Bruce, informing him that Jason is still alive. Hank is being driven to the Gotham Observatory, who then is forced to drive naked at the Gotham City Gym to prove that Hank isn't wired. Just then, Red Hood knocks him out! The Titans try to track Hank, but he shows up at the cave winded and with a bomb surgically attached to his chest! The team races to find a way to get the bomb off, but the countdown is based on Hank's heart rate! Just then Jason calls Dick and is told to rob 50 Million dollars' worth of gold bars, or Hank dies. Dove and Starfire are for going after Jason, but Dick still wants to reason with Jason. Gar and Connor stay with Hank, trying to find a way to disable the bomb. Dick goes back to Arkham, giving him a chemical drug in return for a profile of Jason for clues. They later find out that Wayne Enterprises created the bomb that Jason used. Dick orders Conner to build a device that deactivates the bomb since he's the only one fast enough to do it. Starfire and Barbara have a tense conversation, asking for help with the heist that Jason wants. Back at GCPD, Starfire is still with Barbara finding clues, but another episode happens with her memory. Dove and Dick debate on heisting the armored truck. Dick follows up a lead on Jason's whereabouts, but Dove goes through with the heist! Calling Jason, Dove goes to the harbor. Dick gets a call from Jason after his lead was a dead end and talks to Hank and they share a tender moment. Connor is diligently working on the device; Dove meets Red Hood with the gold bars. Hood gives her the deactivator in a handgun, saying that if she wants to save Hank then she must kill Jason! Forcing her to choose between killing Jason or saving Hank. Just then Nightwing shows up and tries to stop Dove from killing Jason. Connor is almost ready with the device, but Hank's heart rate is too low. Dove pulls the trigger, revealing that the gun was the trigger for the bomb, and kills Hank!!!