Someone once said, "You gotta go through hell, to get to heaven." And that is sure enough true in this episode. We find that recently shot Tim Drake is on a train going to a less than an ideal destination. As the creepy conductor tries to hold Tim, we're met with none other than former Titan, Donna Troy! She saves Tim and gets off the "haunted" train, but with some nasty "Dementor" from Harry Potter-looking ghouls came for them both. Just then, a mysterious car pulls up, with Hank in the driver's seat! He rescues them and gives them the rundown of how things are and he and Donna share war stories of how they died. Hank also tells the group that there may be a way to get out of "hell" and back into the living, but more ghouls show up.
Meanwhile, Raven is in Paradise Island aka Themyscera, training with the Amazons, learning control of her powers. She is constantly scolded by one of the elders that she needs to learn proper manners, so Raven is tasked with putting together a rock statue. But the real lesson is that to embrace that some losses can't be undone, which is what Raven was trying to do by resurrecting Donna!
Back in "Limbo", Hank tells the group that there may be a way out. Reluctantly, Donna agrees, so the three travel to some sort of portal to be revived. Unfortunately, the ghouls try to stop them, and a battle ensues with Tim being the main target. While Hank is having trouble making a weapon, Donna does her older sister proud, using a sword to save Tim and Fight off the ghouls. With the bridge they're on falling apart, Hank agrees to stay behind, while Donna and Tim cross over. But Tim begins to lose consciousness, and he is revived in the real world! Donna saves Bruce Wayne, who is hellbent on killing himself apparently, and Hank is reunited with his dead brother Donnie!
So this episode was perhaps the most heartwarming one yet, with reunions all around! Here's hoping that old man Batman will finally get his ish together and help take down Scarecrow and Red Hood. That's it for now, and till next time fellow blerds!
Well, these past few episodes of Titans have been wearing thin on me, to be honest. Scarecrow isn't being the "big bad" like I'd hope, and Red Hood is looking more and more like a henchman, rather than a man on a mission. But there are some bright spots. Namely, Blackfire and a certain future Robin named Tim Drake! What I'm gonna do is mesh the last two episodes together and point out what I enjoyed and what I didn't enjoy. Sorry for the change in format. Next time, it will go back to the usual rundown.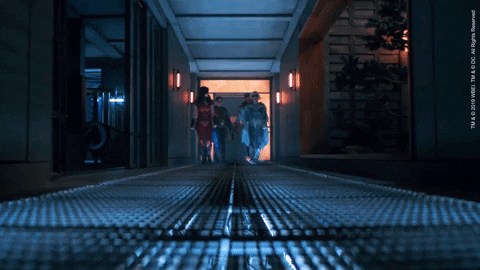 Things I Enjoyed
1. Blackfire and Superboy hooking up! While sister Starfire may or may not forgive Blackfire for her crimes on their planet, Connor Kent aka Superboy has taken an interest in Blackfire. In last week's episode, they even do the do! I can see this ending in either heartbreak or blossoming into a romance.
2. Barbara Gordon and Dick Grayson's relationship. I appreciate how the former Batgirl is honest with Nightwing. Sometimes brutally honest, with how Dick should or shouldn't be a better Batman. And that scene with her fighting with the escrima sticks, classic Oracle.
3. Beast Boy is the heart of the team. Gar hasn't given up on Jason being reformed, even though he's complicit in some truly messed-up actions. From having a hand in killing Hawk, to giving drugs to some thugs who crippled Tim Drake's father, Beast Boy hasn't given up hope.
4. Jason's independence from Crane. I enjoy most media about the Red Hood; from failed Robin to exiled vigilante with twin pistols. Red Hood, at his core, wants what Batman wants, a city without crime. But he's not afraid of killing some bad guys along the way. So when Jason finally gives up on Crane's master plan to poison the city, it's a step in the right direction.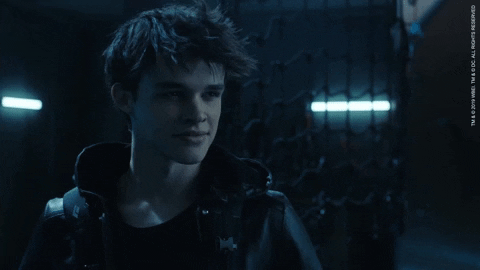 Things I didn't enjoy
1. Nightwing not being the one to help Jason. While in the comics, Dick as tried to help Jason, in the show he barely puts the effort in!
2. Old man Bruce Wayne…I said it before, and I'll say it again. This was a bad casting choice of Batman. What's more, we haven't even seen him in the suit!!
3. Starfire's memories…Either show us or don't. Don't drag this storyline any more than it should be prolonged
4. Crane as the big bad. While I do appreciate the selection of villains, he could do so much more, especially with the knowledge that he now has, knowing everyone's secret identity. Speaking of which…
5. The lack of secret identities… I mean, does everyone know who these folks are?! I get that Jason leaked the information, but it just feels like it's public knowledge, at this point!
6. Where are Raven and Donna Troy?! It's been a minute since we've even heard of Raven and Wonder Girl! Will they ever make an appearance?
7. What is the endgame? Will we see Tim become Robin? Will Dick take the mantle of Batman? Will we ever see Starfire return home?! So many subplots that are being tossed around, and I honestly don't think that each one will get an ending that will make sense!
But, that's it for me, fellow blerds. Till next time!!
This episode of Titans will be a treat for fans of Barbara Gordon and Dick Grayson shippers! But before we go into this week's episode, SPOILERS AHEAD!!!
We pick up with Red Hood and Scarecrow making more of the anti-fear toxin, but Jason wants to know more of the plan. Crane is playing things close to the chest while telling Jason that he's in charge. Were also given some flashbacks to where Barbara was active in Gotham and Dick was still Robin. They share a tender moment, but it is in contrast to how they are now. Dick doesn't hold any grudges against the shooting at the cabin, but Barbara wants Dick and the Titans to leave Gotham. Meanwhile, an old killer by the name of Lady Vic comes back to Gotham, with a score to settle with Barbara Gordon!
Back at Wayne Manor, Starfire introduces the team to Blackfire, whose arrogant attitude puts her sister on edge. She even claims Superboy as a…well, "servant of pleasure"! Charming. Starfire and Connor take Blackfire to a possible lead on Scarecrow, where Blackfire and Connor trade stories of how their homeworlds are. While Starfire and Superboy save a doctor who was implanted with the same bomb that killed Hank! They defuse the bomb, but Blackfire escapes! While getting a mysterious phone call Barbara leaves Gotham PD to meet Bruce at Crime Ally. Turns out, it was a trap, and Lady Vic tries to kill Barbara. Luckily, Barbara keeps some escrima sticks handy and manages to fight off Lady Vic. Dick walks Barbara to her apartment and there's still something there between the two. Meanwhile, Jason robs Crane's workers of his new formula and gives it to some street hoods. While overseeing how the drug works, one thug shoots up a deli, with Tim Drake's father getting shot in the process!
While this episode gave us some great interaction with Dick and Barbara, I feel the real star of the show is Blackfire! She steals every scene she's in and hopefully, we can see her gain powers like her sister's. Also, with Tim Drake entering the picture, how will he become Robin, if the show goes that route? And will we ever see Bruce again?! Post your thoughts below and till next time fellow blerds!!