Here we are, friends! The finale of Star Wars: The Book of Boba Fett is now available for streaming, and this may have the most action in the entire season. Before we go any further, SPOILERS AHEAD!!!
We pick up right where we left off, with Boba Fett, Fennec Shand, Mando, and The Mods at the now-destroyed Cantina. As they finalize their attack strategy, Boba insists on waiting at his palace for the Pyke Syndicate to make the first move, since that location will have better coverage and vantage points. One of the Mods objects to this, saying that the people of Mos Espa will get caught in the crossfire and need protection. Boba reluctantly agrees and makes Mos Pelgo their battlefield. Mando assures that Cobb Vanth will come through with reinforcements (unbeknownst to him, that Vanth is out of action, per the last episode!) Meanwhile, The Pyke Syndicate and the other crime lords are in a meeting, discussing how the war is ravaging the town. Mayor Mok Shaiz is worried about how much of a town will be left before they take out Boba. Then, Cad Bane enters the room. We then discover that it was the Pykes all along, that were responsible for Boba's Tusken tribe being massacred, and that they blamed it on a random speeder gang. Cad thinks this is interesting and sets to use this to his advantage.
Entering Tatooine, we see a very familiar X-Wing starfighter come out of space. At first, we think it's Luke coming to return Grogu to The Mandalorian. But instead, we see R2D2 flying it on autopilot! (I guess Grogu made his choice!) As the ship lands in Peli's junkyard, she is ecstatic to see the baby again. Back at the ruined cantina, Cad Bane is out in front, goading Boba into a standoff. At first, Boba is willing to oblige, especially with Bane boasting that he took out Cobb Vanth and that the Pykes were behind the deaths of Boba's Tusken tribe. But Fennec advises Boba to wait until they have the advantage. Boba agrees and goes back into the cantina. Boba promises that Bane and the Syndicate will pay, on his terms.
As Bane leaves, Fennec goes over the plan, which has each of Boba's connections from The Mods to Krrsantan watching over the other Crime Lords in case they decide to ambush Boba. And in a predictable move, the other Crime Lords attack Fett's crew! As Fennec saves the Mods, Mando and Fett make their stand, taking out Pykes in true Western style! As the numbers start to overwhelm them, the shooters from Freetown show up, and even the odds! Just as things start to look up, the Pykes set two gigantic Scorpenek Droids on the town! As they're blast shielded, Boba has a plan and tells Mando to hold them off for as long as he can! Flying off, Mando tries everything, his Darksaber, the flamethrower, whistling birds, nothing is working. Just then, Peli rescues Mando, and there we see Mando and Grogu reunited! In a brief but touching moment, they barely escape one Scorpenek Droid. As Mando draws its attention, Grogu uses the Force to take a gear out of the machine's leg. While still functional, we see perhaps the most badass thing we've seen Boba Fett do all season…Ride a damn Rancor into the city, tearing apart the droids!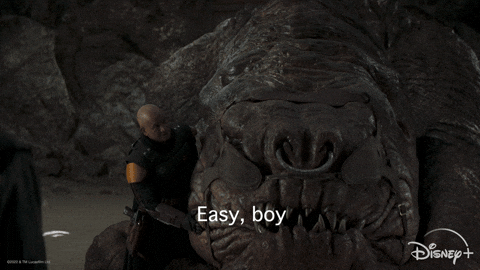 As the townsfolk celebrate, Cad Bane arrives and uses his flamethrower to get the Rancor to knock off Boba! While Mando finishes the other droid with his Darksaber, the Rancor is causing mayhem. But as Mando is about to be eaten, Grogu uses his Force Powers to get it to go to sleep. Worn out by the action, Grogu sleeps right beside the Rancor. Then, the showdown that this episode's been leading up to; Boba vs Cad Bane. After some threats from each other, Cad draws first and hits Boba in the shoulder, beneath his armor. Seemingly, Cad has the advantage, as he prepares to finish Boba off with a headshot while standing over him. Boba uses this to his advantage, however, using his Tusken Gaffi Stick to disarm and stab Bane in the chest! The Pykes and the other Crime Bosses fret over losing the war, just then, Fennec sneaks in and kills them all. Afterward, the townsfolk show their gratitude to Boba Fett and Fennec Shand. Boba reflects ant his new position as Crime Boss and apparent leader of Tatooine, with his new tribe. As the credits roll, we also see Cobb Vanth in Boba's Bacta Chamber, and Mando and Grogu flying off into space! All right! Now that the show is finished, I'll address the elephant in the room. While the show in its entirety wasn't perfect in execution, even the most negative opponents must address how epic it was to see Boba Fett doing things rather than just looking cool. Plus, the episodes with Mando, Grogu, along with the surprise of Luke Skywalker, Ashoka Tano, and the reveal of Cad Bane was wonderful for Star Wars fans. I just believe that most thought this was going to be a Mandalorian rip-off, but we must remember, Boba Fett was the O.G Mandalorian. It's only fitting to see some character growth from him, from ruthless bounty hunter to honorable Boss. I'll give The Book of Boba Fett a 7.5 out of 10. Hope you enjoyed my review on the show, and till next time fellow blerds!
Well, we're one episode away from the finale of The Book of Boba Fett, and I dare say, the last two episodes were PEAK Star Wars! Outshining the Sequel Trilogy, perhaps. But I digress, this review will focus on the latest episode, "Chapter 6: From The Desert, Comes A Stranger". As always, SPOILERS AHEAD!!!
We see members of the Pyke Syndicate loading up some spice (which in the Star Wars universe, is kinda like cocaine) but Marshal Cobb Vanth stops them. At first, Cobb gives them an easy way out, saying that in Mos Pelgo, he's the law and won't stand for any spice-running in his town. The Pykes act like they're heeding the Marshal's advice but draw their blasters only to be met with blaster fire from Vanth! Drawing first, Cobb Vanth takes out three of the four Pykes and sends the survivor off with a message; Mos Pelgo is off-limits to the Syndicate.
Meanwhile, Din Djarin aka Mando, is traveling to where Jedi Master Luke Skywalker is training Grogu! After meeting R2D2, Mando is being led to an unfinished brick temple, built by ant-droids. After R2D2 shuts down, Mando is forced to wait for Grogu. Speaking of, we see Luke and Grogu training in the ways of the Force. While Grogu levitates a frog to eat, Luke politely chides him, then levitates all the frogs in the pond. Luke and Grogu go for a walk. As they walk, Luke teaches Grogu about the legendary Jedi Master Yoda, and how he instructed Luke in the ways of the Force. When Luke asks Grogu if her remembers anyone like him, Grogu reacts as if he doesn't know. Luke then asks if he would like to remember where Grogu came from. We then see Luke placing a hand on Grogu's head, and unlocks his forgotten memories, which include a younger Grogu witnessing Order 66 happen right in front of him! As three Jedi Knights try to protect Grogu, Clone Troopers mow them down with blaster fire, in the Jedi Temple! Then Grogu wakes up, Luke welcoming him back to the present time. Back with Mando, he is laying on a bench, when R2 beeps. Mando draws his blaster pistol, to be met with Ashoka Tano! (From The Clone Wars, Rebels, and Season 2 of The Mandalorian!) Ashoka and Mando walk to where Grogu is, and Mando informs that he wants to see Grogu and give him the gift that was made for him, in the last episode. Ashoka warns Mando that their emotional connection is still so strong, and now may not be the best time to see him. Mando tries to make his way up the hill but stops himself. He gives Ashoka the Beskar armor and makes Ashoka promises to make sure he's protected. As Mando flies off in his N-1 Starfighter, Grogu sees the ship on the horizon and reaches out.
Back on Tatooine, Boba's crew goes over strategy to defeat the Pyke Syndicate. In his palace, we see Black Krrsantan, the Mods (the half-human, half-machine gang), and the Mayor's Majordomo. As they decide that if they go into an all-out war, they won't have the numbers to go against the Pyke Syndicate. Mando says that he may be able to get some reinforcements. As Mando travels to Mos Pelgo to see Cobb Vanth, a deputy tries to be a hard-ass. Luckily, Vanth shows up, saving the deputy. The city, now named Freetown, had done well since it's been seen in season 2 off The Mandalorian. The townsfolk are prospering, after killing the Kryat Dragon, even using its bones as decoration in the cantina. As Mando asks for aid, Cobb is hesitant, saying that while he and Mando are even, Cobb has a responsibility to his people. But he will put it up for a vote. As Mando accepts those terms, he flies off. Then, we get the most "Western" scene, in all of Star Wars! As Cobb looks to the horizon, a mysterious figure slowly walks into town. Warning everyone to go inside, Cobb stands in the middle of the street, to be greeted by Cad Bane! (The deadliest bounty hunter in all of Star Wars and was last seen in The Bad Batch!)
Bane says that whatever Boba Fett is paying Vanth, the syndicate will double it, but they must stay out of the oncoming conflict. Vanth wants nothing to do with spice and they Syndicate in Freetown. As the deputy tries to back Cobb Vanth up, Cad Bane slowly pulls back his coat and puts his hand over his blaster! An intense staredown is shown, as Cobb draws to save the deputy, but Cad Bane shoots Vanth in the shoulder, and kills the deputy! As he leaves, he says that Tatooine belongs to the Syndicate, and if the spice is running, everyone will be left alone! (Badass mofo, right there!)
Back with Luke, we get a scene reminiscent of The Empire Strikes Back, with Luke training, but this time, he's a Jedi Master, flipping off rocks, training with his green lightsaber, and training Grogu how to balance himself with the Force. As Ashoka meets with Luke, Luke says that Grogu is remembering his skills. As Luke doubts if Grogu's heart is in the training, Ashoka mentions that Luke is so much like his father and advises him to trust his instincts. As she leaves, Luke asks if he'll ever see her again, to which she responds "Perhaps. May The Force Be With You." (I think we will since she's getting her own spinoff!). As Grogu's skills improve, Luke sits down with him and gives Grogu a choice. Grogu can either choose the Beskar armor or the Lightsaber. If he chooses the armor, then Luke will return Grogu to Mando, because emotional attachment gets in the way of Jedi training. If he chooses the lightsaber, however, Luke will continue to train him in the ways of the Force, but because he ages slowly than most, he may never see Mando again. Straight out of Lone Wolf and Cub, Grogu is faced with a choice…
WOW! So much to unpack in this episode. The last two episodes have been wonderful fan service to Star Wars fans, and I'm not complaining a bit! I think some answers will be given to us in the finale! A 9nout of 10, for me! Till next time, fellow blerds!
Well, well, well...look who has returned to the fold?! None other than Djin Djarin, himself a.k.a "The Mandalorian"! just to let you know, there are SPOILERS AHEAD!!!
We see Djin, or "Mando", about to collect a bounty, with him saying the now-famous line, "I can bring you in warm, or I can bring you in cold." While hunting a Klatoonian with a price on his head, the rest of his workers attack Mando! But, it seems Mando has an ace up his sleeve, as he ignites the Darksaber! Mando goes from gunslinger to hack n' slash, slicing up Klatoonians in half! But we also see he's not fully trained to handle the weapon, as a stray bolt hits the blade on his leg! After dispatching the lackeys, Mando slices his target in half, reminding the audience how deadly a Lightsaber can be. When he proceeds to leave, more workers arrive armed. Mando says that if they let him pass, they can have whatever riches their former employer has. They agree and Mando limps away.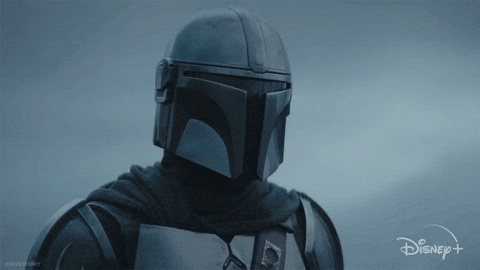 Mando drags the head of his bounty to some space-ring structure called Glavis (which looks like something from Halo) When he reaches his employer, Mando wants his reward and the information that was promised. After some haggling, Mando gets what he wants, which is information to gain access to a sublift in the space-station. As Mando travels deeper, still wounded, he finds the mysterious Armorer (from Season 1 of The Mandalorian). Finally succumbing to his wound, The Armorer instructs fellow Mandalorian Paz Vizla (the big one with the mini-gun from Season one of The Mandalorian). After being healed, Mando tells of how he obtained the Darksaber, and from there, we get some backstory of how important the Darksaber is to the Mandalorian's culture and the Night of a Thousand Tears, where the Empire bombed the planet of Mandalore and eradicated any survivors with security droids! She also tells of whoever wins the Darksaber in open combat, can not only rule Mandalore but restore the planet. More backstory is involved, with how the Darksaber's first owner was both a Mandalorian and Jedi, Tarr Vizla! After some training with The Armorer, we see that the Darksaber is weighted, due to Mando still thinking about Grogu (a.k.a Baby Yoda!). Paz Vizla, a descendant of Tarr Vizla, wants to challenge Mando for the sword. Mando accepts, and we get a rematch, with Vizla using his size and strength to his advantage. But, Mando utilizes his speed, using the Darksaber and vibro-blades, winning the fight. The Armorer asked both men if they ever took off their helmets, and Mando is forced to answer yes. Because of this, Mando is considered a Mandalorian no more (which is stupid, because of all the things he had to do, in his quest.) As Mando asks for atonement, The Armorer does tell him of the living water of Mandalore. As Mando says that they've all been destroyed, Armorer simply says, "This is The Way."
Mando leaves the space-station for Tatooine, where he meets Peli Motto, the mechanic from the previous seasons of The Mandalorian. She says that she has a replacement ship for Djin to use, which turns out to be an old-school Naboo N-1 Starfighter! (From The Phantom Menace!) While Mando prefers a bigger gunship. Peli insists that with this ship, Mando'll be damn-near uncatchable and it's not on any recent records. After repairing the ship, Mando takes it for a spin, in an awesome scene with him flying across a canyon. When he goes into space though, Mando's stopped by some New Replublic X-Wings. After some explanation, one of the pilots recognizes Mando's voice. Mando blasts off, and heads back down to Peli's shop. Peli tells him that Fennec Shand is here, and Boba Fett needs his help. Mando says that he'll help for free, but first he needs to see "his little friend"! Baby Grogu!!!!! Alright, sorry for the long post, but there was a lot to digest here. From Mando learning to use the Darksaber, to information of Moff Gideon being arrested by the New Republic, B0-Katan being mentioned, and Grogu possibly getting some new Beskar armor, season 3 of The Mandalorian is gonna be hype! Plus, with Mando coming to help Boba against the Pyke Syndicate, I feel that ish is going to go down in the finale! 10 out of 10 episode for me! Post your comments below, and till next time fellow blerds!