The surprise hit show, Peacemaker, has concluded with a wild first season! I know that I've missed some episode reviews, and that's my bad. And there's been some discord with the appearance of a certain superhero team from some fans. But I'll address that later. For now, allow me to recap.
So, Leyota Adebayo is the daughter of Amanda Waller, and she's working with her mother's associates in A.R.G.U.S to handle Peacemaker's mission to hunt down the aliens known as the "Butterflies". Meanwhile, Peacemaker's father, who oversees some white supremacist group, decides to kill his son, which leads him to get out of prison. He dons the supersuit we saw in the first episodes, calling himself the "White Dragon". The team manager, Murn, is also a Butterfly in disguise, but unlike the rest of his cadre, he wants mankind to be free from his kin's rule. Peacemaker and the crew connect in the wackiest of ways, as they take down the Butterflies and their leader, Goff. After some brutal and gory battles, Peacemaker ends up killing his father for making him kill his younger brother, but from there Chris begins to see visions of his dad haunting him. The team discovers that Goff and her army has taken over the town they operate in and are planning to move their "cow", which is an ugly-ass alien bug that supplies them with their only food source that the Butterflies can eat. Realizing this opportunity, Peacemaker and A.R.G.U.S take them out. As most of the team, including Vigilante, are too injured to continue, it's up to Peacemaker and Leyota to end the Butterflies' occupation on Earth. In a hilarious and gross manner (true to James Gunn's style of filmmaking) they eventually take out the Cow, which leaves all the Butterflies with no food source. In the aftermath of the battle, viewers are surprised to members of the Justice League arrive! (And we see Peacemaker roast Aquaman, in the process.) The end of season one leaves us with Leyota outing her mother's illegal dealings with Task Force X aka The Suicide Squad, Harcourt recovering from her injuries, Epecanos going to work at Belle Reve (where the criminals from the Suicide Squad are imprisoned,) and Peacemaker trying to find peace with his own inner demons.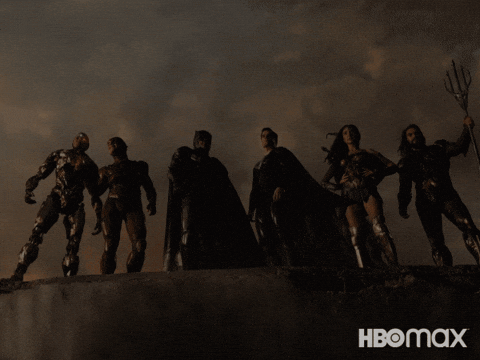 OK, so this series literally came out of nowhere for a lot of fans. With the moderate success of Gunn's The Suicide Squad, I really wasn't hyped for the show about a D-List superhero. But after the first episode, I must give credit where credit is due. This show is a pleasant surprise and a win for the DC Extended Universe! Perhaps with another season, we can get more series that are not afraid to tell their own stories without the studio interfering. This leads me to some of the fans being offended using certain members of the Justice League. Actors Jason Momoa and Ezra Miller made a guest appearance, and while the DC Fan in me enjoyed this brief cameo, I immediately knew what would come of this. Fans being toxic about the Snyder Cut not being canon, or that these characters being used solely for comedic fodder, or that Warner Bros just keeps making the same mistakes when handling these iconic characters. It was reported that they tried to get Batman and Cyborg in the cameo as well, but they scrapped the idea. It also feeds fuel to the fire, that stand-ins played Superman and Wonder Woman, instead of the actual actors. With Marvel pretty much dominating the movie scene, it's hard to be a DC fan. Harder still, to convince fans to give DC and Warner Bros a chance when the company makes error after error. All us fans can do is to hope that we'll get quality in the DC Extended Universe. It really does have the potential to be great, like the MCU. And with projects like Peacemaker, The Flash, Black Adam, and Aquaman 2, things may be looking up. All the studio really needs to do is t avoid interfering with the directors, and let their unique styles come to the big and small screen. Sorry for the rant and thank you for coming to my TEDTalk! I give Peacemaker an 8 out of 10. Post your thoughts below and till next time, fellow blerds!
Episode 4 of Peacemaker is out on HBO MAX, and the insanity doesn't stop! A mild SPOILER ALERT before we go ahead for new fans. With that, let's go!
We pick up right where we left off, with Peacemaker and team recapping the events of the last episode, Vigilante complaining about his injured toe, and Adebayo feeling guilty about almost killing someone. When the team regroups with Murn, Murn questions Peacemaker's commitment to the mission to stop the "Butterflies" and tells him to keep Vigilante close since he could be an asset to the team. John straps Judomaster to a couch, and Murn tells Adebayo about Peacemaker's father, who we find out is a racist supervillain called the "White Dragon". Murn isn't pleased that John swapped Peacemaker's fingerprints with his father's, btw. Peacemaker and Vigilante have an awkward conversation on the way to Chris's house, where he gets into a hilarious argument with his neighbor about how Batman's crime-fighting ways are ineffective! (Some major shade thrown at Batman!) When taking some more helmets, Peacemaker stumbles onto his father's suit, and he and Vigilante make up with the bromance. (More on Vigilante, later.) While the two are driving to see Chris's father, Murn is pissed with how things are going with their mission. He charges Adebayo to catch up with the two and try to fix the mess with Chris and his dad.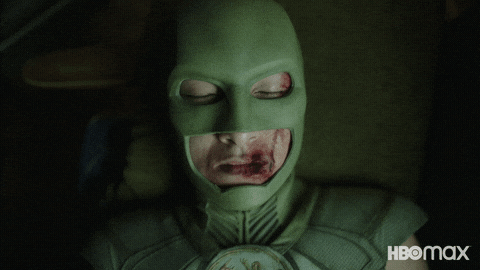 As Peacemaker catches his father up to speed, his dad is every bit a dick as we think he is! Wanting nothing to do with his son, Peacemaker is left broken. Meanwhile, Abedayo talks to Vigilante and "implies" that everything would be better if Peacemaker's dad were to die. Vigilante says, "No problem", and gets himself arrested. Then, the dude blatantly calls out 'White Dragon's" racist friends and brutally (and gleefully) beats the shit out of them. Realizing that his life is in danger, "White Dragon" wants to talk to local police about what he knows. Back at their "H.Q" Judomaster breaks free and a street fight with him and Peacemaker ensues. Just then, Adebayo shoots Judomaster in the chest. Clearly shaken, Chris tries to cheer her up but fails as only Peacemaker can. The final moment of this episode details the major members of the story dealing with their own issues; Hardcort picking up Vigilante from jail, Peacemaker getting more info on his father and dealing with his PTSD by killing Rick Flag, Adebayo discovering that Peacemaker was forced to kill a victim as a kid by his father, and Murn being one of the "Butterflies"!
As usual, this episode has the usual ditty jokes and more backstory on Peacemaker's life. As funny as Cena is as the main character, I do feel like Vigilante and Adebayo are stealing the show! I predict a showdown between Peacemaker and his father will happen down the line, as well. The whole "Alien invasion" is getting kind of played out, though. That's it for me, post your comments below and till next time fellow blerds!
The first three episodes of Peacemaker are available on HBO, and while I wasn't initially checking for this (could've had a Nightwing Spin-off, but oh well.) it is surprisingly funny. Thanks to director James Gunn, who directed The Suicide Squad, and actor/pro wrestler John Cena, they've found their groove in this show. It also breathes life in the DCEU. I know that it's not everyone's cup of tea, thanks to the success of the MCU, but it's nice to have different content out. Plus Orange Is The New Black alum Danielle Brooks is a co-star, so I was gonna watch off that fact, anyways!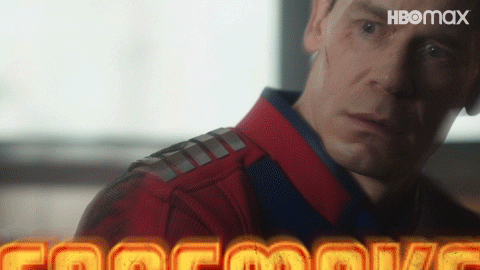 The story begins with the Peacemaker recovering after the events of The Suicide Squad, surviving being shot by Bloodsport! Upon being discharged, he goes back to his house and is reunited by his very racist father. It turns out that his father, Auggie Smith, provides Peacemaker a.k.a Chris Smith with his special gear and helmet. Apparently, the dumb-@$$ helmet has unique purposes. One for invisibility, force field, etc. (He could have used that in the movie, but oh well.) Chris is also friends with fellow crime-fighter Vigilante. We learn that the ARGUS techies that assisted the Suicide Squad with killing Starro, back in Corto Maltese. As a sort of punishment, Amanda Waller send two of them to assist Peacemaker with a new assignment, called "Project Butterfly". We also learn that Waller's daughter, Leota Adebayo, is engaged and is working for her mom as a favor. Apparently, she has some skills, but we've yet to see them in action. After being reminded that he's still got a bomb in his head and Waller can press it until he fulfills his agreement,(Work for the Government, and get time off his prison sentence.) Peacemaker is enlisted by a character named Clemson Murn. Chris kinda knows something about Murn, but it's yet to be shown how, or what he knows. Murn's second in command, Emilia Harcourt, and tech-support John Economos complete the team, as they travel to complete "Operation: Butterfly"!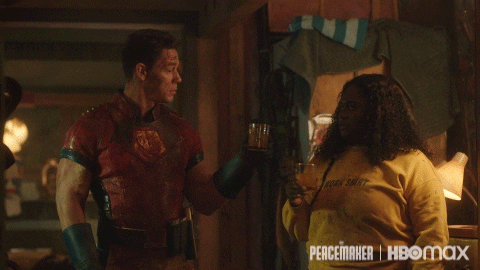 The raunchy humor, the blood and gore, and John Cena's performance are all gold, in this show. At first glance, you wouldn't think that a show based on the Suicide Squad movies would be a hit, especially since they're linked to the DCEU. (ESPECIALLY since the franchise is getting rebooted. Ugh.) But until the great wipe, enjoy Peacemaker! It is a breath of fresh air, in a world that's saturated with superhero shows! And I understand that this piece of the DCEU isn't what some fans have been hoping for. But we can have both grim and gritty material AND fun and light-hearted (if not adult-themed.) content as well. I applaud DC and HBO for giving an unknown character some shine while showing different sides of the DC Extended Universe. Everything that's happened in the movies still is canon (sadly, not Zack Snyder's Justice League, but its 2017 trash counterpart. Screw you, Joss Whedon!). So far, ill give Peacemaker an 8 out of 10. Post your thought below, and till next time fellow blerds!