The finale to Obi-Wan Kenobi is here!!! And, it does NOT disappoint! SPOILERS AHEAD!!!

The episode begins right where we left off, with Obi-Wan, Rouken, Leia, and the survivors of "The Path" in pursuit of the Empire. As an Imperial Star Destroyer chases them down, Darth Vader is having tunnel vision, ordering for more firepower and to keep on Kenobi. Realizing that Vader won't stop, Obi-Wan tells everyone that he will draw the Empire off, giving the others time to escape. After hearing the objections of Leia and Rouken, Obi-Wan assures them that it's the only way, as Vader won't resist coming after him. Upon saying his goodbyes to them, he gives Leia a blaster holster, acknowledges Rouken as a great leader, and tries to talk to his former master, Qui-Gon Jinn, one final time. Resolute in ending this, once and for all, Kenobi takes off in a drop ship and heads for a desolate moon. As he sees Kenobi break off, he orders a shuttle prepared, much to the objections of the Grand Inquisitor. He respectfully tells Vader that they cannot focus all their efforts on just one Jedi. Vader coldly replies, "He is not just any Jedi." Vader leaves in his shuttle, and the Star Destroyer fires on Kenobi's ship instead.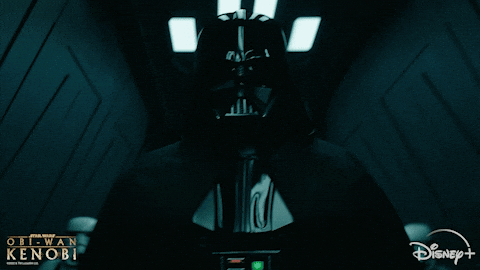 Back on Tatooine, an injured Reva is looking for Owen, after discovering that Vader's son is on-planet. When Owen discovers this, he and his wife Beru plan to protect young Luke, even with Beru pulling out some blaster rifles! Ride-or-die energy, right there. As they wait for nightfall, Owen and Beru wait for Reva's arrival.
When Vader lands on the barren moon, he sees Obi-Wan waiting for him. When Vader asks if Ben is here to destroy him, Obi-Wan responds that he will do what he must, getting into a fighting stance. As Vader responds, "Then you will die.", a fierce lightsaber duel ensues! As Kenobi is back in fighting form, Vader acknowledges such but mentions that his weakness is still there, using the Force to throw boulders at Kenobi. Vader causes the ground to collapse under Kenobi, causing him to fall. Taking the high ground (if you get it, you get it, lol), Vader uses the Force to throw even more rocks and boulders on top of Kenobi. Thinking him defeated, Vader says, "Goodbye, Master…", and walks off. As Ben is trapped under tons of rubble, he uses the Force to stop him from getting crushed, but he's struggling. Thinking of Luke and Leia, Obi-Wan uses a powerful Force Push to escape.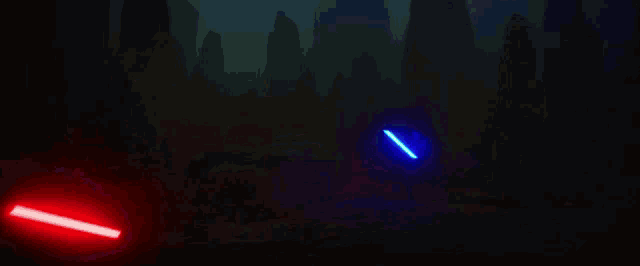 As Vader continues to his shuttle, he stops, and barely blocks a sneak attack! The fight isn't over yet, as Kenobi gains momentum! From pushing Vader back to pelting Vader with boulders and finally damaging his breathing apparatus! Weakened, Obi-Wan slashes Vader's helmet, revealing a still-scarred Anakin. Upon seeing Anakin's burned face, he tearfully apologizes for all the pain that has happened. Vader responds that he is not Obi-wan's failure and that Kenobi didn't kill Anakin Skywalker. But Vader did, eyes glowing yellow with a twisted smile, on his face. Obi-Wan responds that his friend is truly dead. Acknowledging Anakin by his Sith title, he leaves Vader behind as Vader screams Kenobi's name…
Back on Tatooine, Reva arrives at the Lars homestead and is ambushed by Owen and Beru. Blocking shots with her lightsaber, she makes quick work of them and gives chase to young Luke. Knocking him out, she attempts to make the killing blow. As Obi-Wan leaves, he senses Luke in danger. Flying at lightspeed, he arrives at the Lars's home, asking where Luke is. Then, we see a remorseful Reva carrying Luke. Still alive, she gives the boy to his family and breaks down. She tearfully realizes that she couldn't become a monster like Vader. Obi-Wan tells her that she hasn't and that both she and he are free of the past.
Some time has passed, and we're left with Vader back in his Fortress, in Mustafar. He tells Emperor Palpatine that he won't stop until he finds Kenobi. Palpatine "suggests" that Vader seems agitated and that he needs to let go of his past. Knowing that this is really a threat, Vader corrects himself, saying that Kenobi is nothing and that he is Palpatine's servant. While Leia is reunited with her family, Ben visits her on Alderran and tells her that she's very much like her mother. Going to Tatooine, he and Owen make amends, with Ben saying that Luke just needs to be a boy for right now, and not a Jedi. Greeting Luke with the now-famous line, "Hello there.", Obi-Wan travels into the Dune Sea. Just then, we see the Force Ghost of Qui-Gon Jinn appear! Saying that he was always here and that Ben wasn't ready to see him yet, Jinn tells Obi-Wan that he still has the training to do…
Wow! What an episode! From the duel with Vader to the callbacks to the Prequels and the Original Trilogy, this is peak Star Wars. And while this series first with canon, I have an unpopular opinion…I don't want a second season. I feel that this is a near-perfect story that leads into the Original Trilogy, and if we get another season, it may mess up the canon. The duel was great, with Ben using his traditional Form 3 style, and Vader being the fastest we've ever seen in on-screen. Reva got quite an arc as well, and I wouldn't mind seeing her again. Maybe in a certain upcoming video game. Leia was just as sassy as she will be and seeing Hayden Christenson getting so much love is great. I give Obi-Wan Kenobi a 9 out of 10! Post your thought below in the comment section, and till next time fellow blerds!
Man, if you have been disappointed by how Disney has been handling the Star Wars franchise, you clearly haven't been watching Obi-Wan Kenobi! This review will cover Parts IV and V of the show, so some SPOILERS AHEAD!!!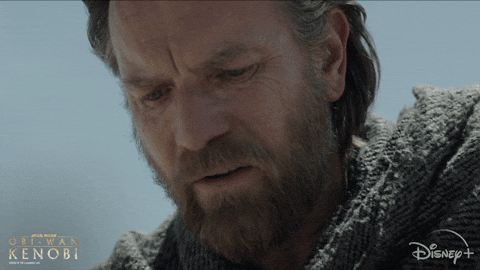 Part Iv deals with Obi-Wan still reeling from his near-death at the hands of Darth Vader. Barley alive, Tala places "Ben" in a Bacta Tank for him to heal. At the same time, we also see Vader back in his fortress on Mustafar, in his own tank. Flashes of their recent duel (if you can call it that) play through both of their minds. But Obi-Wan rushes out of the tank and frantically asks where Leia is. We learn that Leia is on Fortress Inquisitorious, on the planet Nur. Third Sister is interrogating Leia for more information about The Path (the escape route that deserters and traitors use, to run from the Empire). Leia, of course, is sassy with her responses. Back on Jabim, Obi-Wan is met by Path member, Rouken (played by O'Shea Jackson Jr.) and needs to rescue Leia. After some hesitation, Rouken agrees to help them come up with a plan. As Tala provides a distraction as an Imperial Officer, Obi-Wan swims through a passage underwater, to enter the facility.
While Reva tries to lie to Leia, saying that Kenobi is dead, Leia resists, even holding off Reva's Mind Probing. Tired of her insolence, Reva moves Leia to a type of torture chamber (if you played Fallen Order, or when Han Solo was put in this in Empire Strikes Back, you may remember it.) As Reva provides a distraction to stop Reva, Ben discovered the bodies of Jedi survivors of Order 66 incased in some sort of ember tombs. While Tala spins how she's a spy to Reva, Obi-Wan rescues Leia, taking out Stormtroopers like it's nothing!
Lightsaber in hand, Obi-Wan takes out the troopers and uses the Force to cause a water spill inside the hall, granting him an escape. As Ben and Leia reunite with Tala, they make their way to the hanger bay. Reva stops them, with a squad of Stormtroopers, and as things look grim, two snowspeeders provide cover fire for the three to escape. While they fly off in one of them, Reva uses the Force to throw a box of grenades at the other Snowspeeder. As the rest of the Inquisitors shoot looks at Reva, we see a PISSED OFF Darth Vader Force-Choking Reva, reminding her of the price of failure. But Reva has a trick up her sleeve, as she explains that she placed a tracker on Leia's droid (LoLa). So, wherever it goes, they can follow. Vader conveys him underestimating Reva, as the chase continues…
Alright, now THIS IS WHERE THE FUN BEGINS!!! (If you know, then you know). Part V starts off with one of the best moments in recent Star Wars. We see a flashback of Anakin Skywalker (played by Hayden Christenson) before the events of Attack of The Clones! As Anakin waits for Obi-Wan, we see the friendship that the two had before. Obi-Wan and Anakin have a friendly duel, with Anakin being aggressive and Obi-Wan on defense. While the two Jedi trade quips on how to win, it seems that Anakin has the advantage. Disarming him, Anakin is feeling confident in being the victor, but Ob-Wan drops some knowledge on the young Padawan, saying that Anakin's need for victory blinds him. He shows this, when Obi-Wan turns the tables on his student, disarming Anakin. While giving Anakin props for being a great warrior, he tells Anakin that until he learns control, a Padawan he'll still be.
Flash-forward to the present, while on an Imperial Stat-Destroyer, Darth Vader awards Reva the title of Grand Inquisitor. As they approach the planet, Jabim, Reva asks how they will break the runaways on the planet, Vader coldly replies, "It is not them we need to break…". Back on Jabim, Kenobi, Tala, and Leia are greeted by Rouken and Raja. As they make plans to escape the planet with the runaways, we learn more about both Tala and why she chose to defect from the Empire. We also learn that Bail Organa sent a message to Kenobi, wondering about the mission. If Bail doesn't hear from him soon, then Bail will go to Tatooine, to help with Owen Lars and Luke. Upon hearing that the Star-Destroyer is right above the base, Obi-Wan rallies the campers, saying that they don't need to win the fight, just hold them off long enough so they can escape. As Vader orders the attack to begin, we see Imperial Stormtroopers land and set up heavy cannons, ready to burst down the defenses. Sensing Vader's presence, Obi-Wan goes to the reinforced door. As he tries to talk to Reva, who just landed, we discover that Reva is a survivor of Order 66, and that a young Darth Vader (before he got burned on Mustafar.) stabbed her, killing the younglings that she tried to save. She angrily asks Kenobi where he was when Vader slaughtered her friends. Ben pleads with her that together, they can take Vader down. But Reva declines, stabbing the door with her lightsaber. Force-Pushing her and the troops back, a battle ensues, with the campers running towards the ship. Sadly, Tala dies in the battle, but not before buying them some time by detonating a grenade and taking some Imps out.
As Leia makes repairs to the door that's blocking their escape, Vader is on approach. Sensing this, Obi-Wan "surrenders" to Reva, reminding her of the families in the cavern and taunting Reva to not let Vader kill them like he did, in the Jedi Temple. As Reva orders the Stormtrooper to take Kenobi away, their plan begins, as Ben quickly dispatches the Imps. As Darth Vader makes his way to the ship, we see him using the Force to stop the ship from taking off! Pushing it down, Vader telekinetically rips open the hull, only to find that it was a decoy for another ship. Seeing the ship take off, Vader is visibly seething with anger. Sensing this may be the only moment, Reva sneaks behind Vader and…gets stopped right in her tracks!
Vader uses the Force to repel all of Reva's attacks and eventually takes her own Lightsaber from her. Snapping it in two, Vader tosses one saber to Reva. Engaging, Reva does everything she can, but it's no use, as Vader is toying with her. Barley deflecting her attacks, Vader rips her lightsaber from Reva and stabs her in the chest. Saying that Darth Vader always knew Reva was one of the survivors, the real Grand Inquisitor arrives. Adding insult to injury, he states that they will leave her where they found her, in the dirt like trash! As they leave Reva, still alive, discovers Bail's message for Obi-Wan. On the getaway ship, Obi-Wan senses that something is wrong, as we see the Lars homestead with young Luke sleeping.
Wow! While Part IV was kinda lacking in action (but making up with Lore and callbacks to Jedi: Fallen Order), Part V was peak Star Wars. It shows the rage of Darth Vader that we've only seen in recent games and comics, brought to live-action. This really hit home the fact that you can't really beat Darth Vader; you can only survive. (Unless you're essential to the plot, lol). Seeing a young Anakin, played by Hayden Christenson was also a treat, especially for Prequel fans! Plus, we got to see red-on-red Lightsaber action, live-action for the first time! It also humanizes Reva, as we see her go from Jedi youngling to Inquisitor. She wanted revenge for so long, only for it to escape her grasp. And what's even sadder, is that Vader knew the whole time, who she was and used her anyway! As the finale to the series comes ever so closely, I for one, am eagerly anticipating how it's gonna go down. 9 out of 10, for me! Till next time, fellow blerds!!!
The Force is definitely strong, with this new series, Obi-Wan Kenobi! Set 10 years after the events of Revenge of The Sith, we see Obi-wan still watching over a young Luke Skywalker on the planet Tatooine. However, this isn't the same Obi-Wan we last saw in ROTS. He's depressed, out of practice with his Jedi skills, and lives in solitude. The world has changed, and the Empire is still hunting any survivors of the Jedi Order. While Obi-Wan wants to begin training Luke, his uncle Owen forbids it, fearing that this decision will be exactly like what happened to his father, Anakin Skywalker. We also see some new antagonists, in the form of Sith Inquisitors, live-action!!! The Grand Inquisitor makes his live-action debut, along with companions Fifth Brother and Reva aka Third Sister (who clearly has a grind to ax with Kenobi!) Reva is the Inquisitor that stands out, due to her hunger for finding more Jedi and climbing up the ranks in the Inquisitorious. While both the Grand Inquisitor and Third Brother tell her to remember her place, Reva schemes to capture Obi-Wan.
Meanwhile, on the planet of Alderaan, Senator Bail Organa and his young, adopted daughter Leia (Luke's sister) share a father/daughter bond that is much appreciated. Even more, appreciated is young Leia's personality, as she often breaks the rules, sneaks away from boring meetings but still stands up to bullies, and rarely shows any fear. Leia is kidnapped by some bounty hunters (hired by Reva) who take her off-planet. Upon discovering this, Bail contacts Obi-Wan, begging for his help. Kenobi, however, is reluctant to assist, due to him "not being the man he once was". Plus, there's Luke to consider. He must protect Luke from any threats. Bail makes the argument that she is no more important than Luke is. He insists on Kenobi letting go of his fear of failure and urges Obi-Wan to help him. After hearing this, (and seeing a runaway Jedi dead by the Inquisitors' hand) Obi-Wan digs out his old lightsaber and travels off-world to rescue Leia. On the planet, Daiyu, it's a place where crime is commonplace. While there, Obi-Wan meets a drunken Clone Trooper, a scam artist who pretends to be a Jedi, and a spice runner. After doing some detective work, Kenobi discovers where Leia is held. After freeing her (barley), Leia trusts Kenobi and they make their escape. When Reva discovers the bounty hunters lost the girl, she is furious. But not as furious as the rest of the Inquisitors, with Grand Inquisitor childing her for her brash tactics. While she was right, in connecting Obi-Wan to Organa, Reva is admonished for her actions. After putting out a large bounty, we see Kenobi fight off several bounty hunters, and even using The Force for the first time after 10 years, saving Leia's life. The scammer Raja sees this and apologizes by buying Kenobi time to escape. Reva, hot on Kenobi's trail, does a mind probe on Raja, discovering Obi-Wan's plan of escape.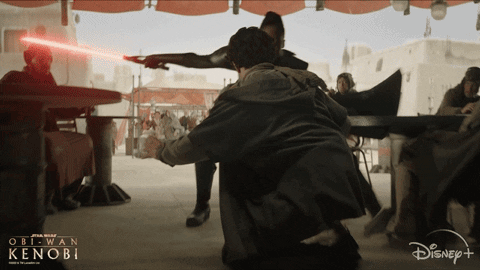 When reaching a platform with a ship that will take Leia and Obi-Wan back to Alderran, Reva confronts Kenobi, taunting him. She tells him that while she won't kill him, that is left for Darth Vader. This information shakes Obi-Wan, due to him believing that Vader died in their last duel. While Obi-Wan is still reeling from this news, he eventually sneaks onboard with Leia, and off they go. While Reva shouts at him, saying that he won't escape Vader, Grand Inquisitor is displeased with how things turned out. Reva, fed up with his lectures, stabs the Grand Inquisitor in the stomach with her lightsaber! As Obi-Wan and Leia travel in space, we see an unmasked Darth Vader in a Bacta tank (think a healing chamber with special liquid). As Vader opens his eyes, he can sense Obi-Wan's presence!
While not too much action going on, alot of lore is dropped on us. And while Obi-Wan is reluctant to get back into action, we see he has no choice, as both children of Anakin are threatened! Hope you enjoy this post , and get ready for more!! Untill next time fellow blerds!!!