Well, here we are! The season finale of Marvel's What If! This finale has plenty of action, humor, and some SPOILERS AHEAD!
We start off with The Watcher choosing select individuals from multiple universes, including Star-Lord T'Challa, a Gamorea who killed Thanos, Captain Peggy Carter, Prince Thor, and surprisingly King Killmonger, to join Dr. Strange to defeat Ultron! Gamora says that she and her Universe's Tony Stark created a device that will crush the Infinity Stones to dust! While they devise a plan, some are wondering why Killmonger is on the team, especially after the events of his universe (killing Tony Stark, T'Challa, and lying his way to the throne.) But now is not the time for infighting, as they travel to a world where they can engage Ultron without innocent bystanders. Dr. Strange casts a protection spell around them to assist with the battle. As the newly dubbed "Guardians of the Multiverse" prepare, Thor "summons" Ultron, and the battle is underway! At first, they put up a valiant effort, But Ultron is not amused, as he basically swats them like flies. But T'Challa takes one of the stones, starting a deadly chase of "Hot Potato"! Dr. Strange opens a portal, letting all the "Zombie Avengers" attack Ultron to create a distraction for our heroes to escape.
While they regroup, the team is joined by the Black Widow of Ultron's world, as she snatches the Soul Stone! Captain Carter talks her down, saying that in her world, they're the best of friends, and that's enough to get her to join the fight. As Ultron tracks them down, the team tries to keep the stone away, with Dr. Strange casting a spell to trap him! As the Guardians eventually get Ultron down, Gamorea uses her device to destroy the Infinity Stones! But the fight isn't over, as Ultron states that since they came from a different universe, he still could use them! But Dr. Strange has his own Time Stone! While he and Ultron battle, Widow and Peggy can shoot an arrow with a HYDRA virus into Ultron, rendering him defeated! Just when things are looking up, Killmonger uses an old Ultron helmet to create a suit with him possessing all the stones! Asking the rest of the team to join him in getting their own happiness, they refuse. But just as Killmonger powers up, Zola takes control of Ultron and a power struggle ensues, leaving Strange with the realization that the Guardians were never meant to win! But to create an opening for Killmonger and Zola to fight for the stones. Strange creates a pocket dimension, (much like the one he was engulfed in, in his own episode.) Agreeing to keep "watch", Strange stays behind, leaving the rest of the Guardians to their own universes. However, Black Widow's Earth is gone, and she refuses to go. The Watcher is accused of just seeing them as "stories" instead of actual people. Much to her surprise, The Watcher teleports her to the Earth Loki has almost taken over, with Nick Fury, Captain America, and Captain Marvel fighting off his army! Relieved to be "home" Black Widow joins the fight! Also, a mid-credits scene, with Captain Carter and her world's Black Widow finding Steve Rogers!
My overall thoughts on the show are mostly positive! The animation, voice casting, and storytelling are what makes this series work! Having multiple versions of characters only expands this already huge universe! Now, I will say that some of the comedy doesn't feel appropriate in certain moments (such as the Zombie episode). But I will rate the series an 8.5 out of 10. What did you think about it? Post your comments below, and till next time fellow blerds!
Well, one thing is for sure, Marvel certainly knows how to up their animation game! This post of Marvel's What If is another double feature! First, we'll cover "What If Thor was an only child?", and "What if Ultron won?". As always, SPOILERS AHEAD!!!
First, we visit our God of Thunder, as he goes out partying throughout the Nine Realms throwing some of the most legendary parties ever. As soon as his father Odin takes his rejuvenated sleep, Thor's mom Frigga warns her son to behave. But, of course, Thor takes the Warriors Three and Lady Sif to Earth. Las Vegas, of all places, where they create a party to end all parties. Numerous guest appearances from The Collector, Nick Fury, the Guardians of The Galaxy, even Loki makes an appearance (as a Frost Giant!)! When Jane Foster meets up with Thor, they fall for each other and share a night together! But S.H.I.E.L.D. gets wind of Thor's "fun", so they send in Captain Marvel to reign him in! When she tries to peacefully tell Thor to end these parties, Thor takes her for a joke. Then a fight ensues with Thor getting the upper hand! Labeled a party pooper, Captain Marvel goes back to S.H.I.E.L.D and they try to create another plan. Jane Foster, though, finds a way to communicate to Frigga of Thor's craziness. While a rematch with Captain Marvel occurs, Frigga makes her son know that's she's coming! Thor then begs everyone to help him clean up the mess he made on Earth. While everyone laughs at first, Thor gets serious eventually, everyone cleans up the planet. Frigga is "surprised" that Thor is working with the people of Earth, trading knowledge. As the Watcher looks on, we expect a happy ending, but we're met with a version of Ultron who not only has merged with Vision but also has the Infinity Stones!
Alright, now for this week's episode. After a brief battle with some Ultron drones, Black Widow and Hawkeye are the last of Earth's Mightiest Heroes, after we see that Ultron won! Merging his "consciousness" with Vision's body, he fulfills his goal of bringing peace through destruction. Killing most of the Avengers, Ultron then kills an arriving Thanos with the Infinity Gauntlet! Combining the Stones with his Vibranium armor, Ultron goes to other planets, destroying them! The Guardians of the Galaxy, even Captain Marvel aren't enough to stop him. Achieving his goal, Ultron is left without a purpose, with The Watcher looking on. But to our surprise, Ultron senses The Watcher's presence. Panicked, The Watcher flees the scene! Going to where Widow and Hawkeye, he prays that they find the solution to ending the true Age of Ultron. (See what I did there?) Using the analog system of former HYDRA scientist Zola, they infiltrate Ultron's HQ. While Clint sacrifices himself, they succeed in wiping Ultron's system clean. Or do they? Ultron finds The Watcher hiding in various universes, and a fight breaks out between the two! As they fight through the multiverses, The Watcher eventually escapes and finds Dr. Strange who ended his own universe. As The Watcher begs him to help, Steven agrees and that's the end of this episode!
Wow! Some heavy action happening in these last two episodes! And the last episode really felt like a true Age of Ultron! With them continuing the story, what do you think will happen next?! And who can stop this version of Ultron?! Well, till next time, fellow blerds!
Zombies…we know them, we hate them. Especially the ones who can run faster than Usain Bolt. But, What If…Zombies?! And, since I've been gone a minute, I'm adding another review...featuring Killomonger! Welcome back to my review of Marvel's What If. As always, SPOILERS AHEAD!!!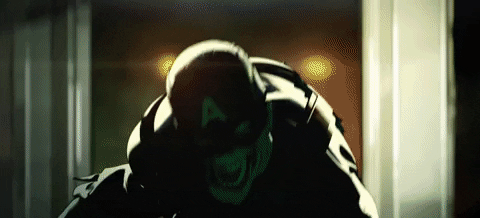 We start out with Bruce Banner falling to the Sanctum Santorum, just like he did in Infinity War, but this time there's no one to great him. No Iron Man, Wong, or Dr. Strange. In fact, the entire city of New York seems quiet and empty. When Bruce walks outside, we see Cull Obsidian and Ebony Maw arrive and give their usual speech about being the "children of Thanos". Before they can finish, however, familiar portals appear, and we see Iron Man, Wong, and Dr. Strange defeat the two invaders. At first, Tony is relieved. But when we see that the heroes are really zombies, they turn their attention to Bruce. Since Hulk won't come out, Bruce is about to be eaten, when Wasp and Spider-Man save the day! When asked what the hell happened, The Watcher explains it all. When Hank Pym went into the Quantum Realm to search for his wife, Janet Van Dyne, she was infected with some sort of virus. Janet infected Hank, then both went back home to their lab. While Hope was able to escape, Scott Lang wasn't so lucky. From there, the Avengers responded to the call in San Francisco. But all but Black Panther were overrun by the zombies.
Back in their safehouse, Bruce is met by Sharon Carter, Okoye, Winter Soldier, Happy Hogan, and Scott's friend (insert name here.) Okoye says that someone has left a message claiming that they have created a cure for the virus, but it's in Camp Leigh, New Jersey. As the team travels to the train station, Okoye orders them to split up and get a train started, while the others guard the entrance. While Peter, Bruce, and Hope start the train, the rest are ambushed by a zombified Falcon and Hawkeye. While they lose Happy in the fight, Sharon kills Happy and Hawkeye. Okoye saves Bucky by splitting Falcon in half! Eventually, they get the train moving. But a zombified Captain America eats Sharon, turning her! Bucky kills Steve with his own shield, and Hope shrinks then expands out from Sharon! Bur Bruce notices a cut on Hope's arm. The team desperately wants to save Hope, but she knows that she's too late. When the train runs out of fuel, Hope enlarges her size and gives the team a final ride to Camp Leigh. While at the camp, the zombies don't follow them! As they enter the camp, the team sees Vision and a bodyless Scott Lang! According to Vision, his Mind Stone sends out some sort of frequency that keeps the zombies at bay and can even reverse the effects of the virus! When Bucky looks for transport to Wakanda (the only safe place left on Earth), he finds a legless Black Panther! Weakened, T'challa tells them that they've got to get out of here. We also see a zombified (and starving) Scarlet Witch. When asked, Vision reveals that he was feeding flesh to Wanda, out of some twisted sense of love! Damn, Vision!!! Vision, however, atones by sacrificing himself, ripping out the Mind Stone from his head! But without the Stone, the zombies can freely enter the compound! Bucky, Bruce, and Okoye give the survivors enough time for them to fly out in a Quinjet! With Hulk fighting Scarlet Witch, the team fly off to Wakanda to create a cure. But we then see a zombified Thanos with the Infinity Gauntlet coming to Earth!!
OK, this episode was surprisingly violent! While I did enjoy the episode's premise, the jokes were a bit too much. Especially since we see Earth's Mightiest Heroes die one by one, and they still find time to a wisecrack. But I do love that we see Peter become the soul of the team, even mentioning Uncle Ben for the first time in the MCU! And another Chadwick Boseman performance as Black Panther is always welcome! I give this episode a 7 out of 10. Now for part two!
What If…Killmonger saved Tony Stark?! Well, calamity ensues, for one! We start off in the familiar setting of Iron Man, where Tony's Humvee is attacked by the Ten Rings! But just when a missile is about to explode in Tony's face, Eric Brooks aka Killmonger, complete with his own theme song and everything! After he saves Tony, we see the Watcher explain that since Tony was saved, the events of him being Iron Man and making the ultimate sacrifice in Endgame wouldn't come to pass! At Stark Enterprises, Tony holds a press conference, saying familiar things from the first movie, however with a twist! He intends to make more weapons! And, he promotes Eric to Head of Security! Eric, however, has some points to add! Eric exposes Obadiah Stane as the man responsible for Tony's attempted kidnapping! Grateful for the assist, Tony helps Eric on a special project he once had but put to the side. All while this is going on, Pepper is side-eyeing Eric as if he's up to something. Tony also makes Eric COO of Stark Industries, giving him even more access to advanced tech.
While the two get "close" Eric drops that he needs Vibranium for what he calls the "Liberator" drones! While suggesting repulsor tech, Stark says that Ulysses Klaw has the Vibranium he needs. Meanwhile, Pepper asks Rhodey to investigate Eric, but his record comes up clean! Curious. Rhodey sets up a meet with Klaw, but someone interrupts the deal! None other than T'Challa, the Black Panther! As he stops the buy, Killmonger uses a sonic taser (the same one used in Iron Man) to incapacitate both Rhodey and T'Challa. They both warn Eric not to go through with this, but Eric is all about bringing down the system, burning it down! He kills them both! But the body count is only rising. Eventually, Tony discovers what happened, and sets the "Liberator" drone after Killmonger. Using the Vibranium staff from Klaw, he kills Tony but says that he wishes he didn't have to. Wiping JARVIS's memory banks clean, Pepper suspects but she doesn't have proof! With the U.S. Army now using Stark Industries to make the drones, Eric travels to Wakanda to give Klaw up as a peace offering (just like the movie.) When he announces that he is the heir of TChaka's brother, the Royal Family is shocked. While Shuri and Queen Ramunda have doubts, T'Chaka welcomes him in. But, there's no time to waste, the Americans are sending in more drones to attack Wakanda (all part of Killmonger's plan.) On the night of the attack, he suggests that they drop the shields, letting the drones in. Shuri protests, but the King allows it. At first, the "plan" goes accordingly. But Killmonger activates them, causing a battle to ensue. Fighting side by side with the Border Tribe and the Dora Milaje, Killmonger aids in "defeating" the drones. As a reward, he even becomes the new Black Panther. But as he goes into the Ancestral Plane, T'Challa awaits him, saying that his ways will eventually catch up with Eric. While Eric claims that it was all a means to an end, Shuri and Pepper meet, and Shuri gives Pepper proof that Killmonger killed Tony, Rhodey, and T'Challa!
Wow! I'd never thought I'd be this interested in a possible scenario, with Killmonger "winning". The voice work was well done, and this was an overall good episode! Very rare that we see the "villain" overcome the odds, even rarer when that person has legitimate grievances with the world. But that's all for this post! Tell me your thoughts below, and till next time fellow blerds!