Updated: Jul 27, 2021
Well, it's finally here! The finale to Loki is here, and not only will it change how you see Loki, but some fan theories may come true and the future of the M.C.U. will be changed forever! There are some SPOILERS AHEAD, so continue at your own risk! So, let's go!
This episode begins right after the last episode, where we saw Loki and Sylvie enter the Citadel at the end of The Void, we see Ms. Minutes (who gave us the best M.C.U jump scare since The Incredible Hulk in The Avengers), and she comes with a deal for the two. Everything that Loki and Sylvie could ever want, they can have, so long as they obey the creator of the TVA! Ms. Minutes only calls him "He Who Remains". As it turns out, "He Who Remains" is actually Kang the Conqueror (or at least a variant of Kang) played by Jonathan Majors! "He Who Remains" gives us his backstory about his life, including going to war with his other variants across the multiverse. As he is tired of controlling time and warring with other versions of himself, Kang presents an offer to the Loki's; take over the TVA or kill him and unleash multiversal war! Loki believes him, but Sylvie doesn't, letting her rage and thirst for vengeance drive her. Loki tries to reason with her, but she's beyond listening, as a swordfight ensues.
Meanwhile at the TVA, Renslayer, and Mobius share a tense moment, with Mobius calling her out on all her b.s. Renslayer, while not apologizing for her actions, somewhat agrees with him, and opens a portal "in search of free will". Hunter-B15 convinces all the other Hunters that they're all variants, stopping them from ambushing Mobius back at the TVA. Back at the Citadel, Loki pleads with Sylvie, begging her to trust him, but Sylvie can't or won't allow herself to trust him. While Loki and Sylvie are fighting, Kang is just sitting, enjoying the show (and I LOVE it!) As they fight, the Sacred Timeline is being split into multiple parts (just like The Ancient One warned Hulk about, in Endgame!). As the fight continues, Loki begs one final time for Sylvie not to kill Kang, and the two share a kiss (aww…). Sylvie, while moved by Loki's attempts, sends him through a portal back to the TVA, and Kills Kang! He only stares awestruck, saying "See you soon…" to her, insinuating that other Variants of Kang are coming!! Dang, Sylvie! You pulled a Star-Lord on us!
As the Sacred Timeline is split into multiple directions, Mobius and Hunter B-15 watch it happen on their screens back at the TVA. Loki is in disbelief about what just happened, and this is one of the few moments where I actually felt sorry for him. For once, he didn't want to rule, but to save people. Loki noticed the multiple branches in the Timeline and meets with Mobius and B-15. He warns that they can't stop what's to come, but Mobius doesn't even recognize Loki! As Loki sees a statue of Kang in the background, he realized that it may be too late to stop Kang from coming!
So, that happened! While there was quite a lot of exposition in this episode, it was warranted, due to the direction the MCU is about to partake. Throughout this series, Loki has shown us that everything we've seen so far is nothing compared to what's coming. Thanos? Please, he's becoming more of a punchline. The Infinity Stones? Paperweights. Loki as a villain, well, as he said in a previous episode, "No one is ever truly bad. And no one is ever truly good." This series made me excited for the future of the MCU! All in all, I give season one of Loki, a 9 out of 10. What did you think? Post your comments below and till next time, fellow blerds!
I thought last week's episode was the and the show couldn't get better. but then this episode dropped! This week's Loki episode dropped more information about the TimeKeepers, the backstory of the different Loki's, and the various easter eggs! As always, Spoilers Ahead!!! Continue at your own risk!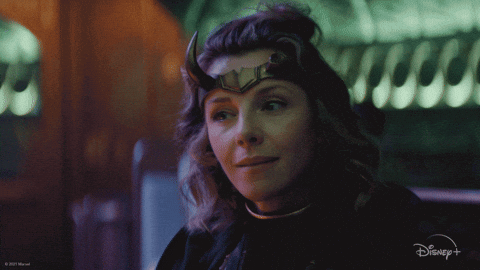 We pick up right where we left off, with Loki meeting other variants in what's now described as The Void! And, as it turns out, the black gentleman is actually a Loki, not a Thor! So, just to recount, we have an Alligator Loki, Classic Loki, Boastful Loki, and Kid Loki. But before proper introductions are made, the Lokis are on the run from some sort of cloud spirit called Alioth, which destroys anything in its path. While escaping, Classic Loki tells our Loki not to disrespect the Kid Loki because he killed his version of Thor! (Damn, how powerful is he?!) Meanwhile, at the TVA, Sylvie, and Renslayer go through the archives thanks to Ms. Minutes, to see how to get where Loki is. They come to the conclusion that he's in the Void, but it's actually not the end of time! But before they can come up with a plan to travel into the Void, more agents come trying to rescue Renslayer from Sylvie! Betrayed and without many options, Sylvie "prunes" herself, sending her to The Void! Out-running Aliloth, Sylvie manages to escape with Mobius *(yay, he's not dead!), and search for Loki.
At the Lokis' hideout, the different versions of Loki share their backstories, including Classic Loki actually surviving the events of Infinity War and Boastful Loki claiming that he killed the Avengers. Trying to form some sort of alliance to escape The Void, Loki attempts to rally the others to go back to the TVA and rescue Sylvie and find the Timekeepers. Initially uninterested, Loki goes it alone, but is met by a President Loki with his army! Upon finding out that Boastful Loki made a deal with President Loki, a fight ensues, and Classic Loki, Kid Loki, and Alligator Loki create an escape! Loki and the others reunite with Sylvie and Mobius, and they devise a plan. Sylvie and Loki will kill Alioth to escape. Classic Loki and Kid Loki want no part of it. Mobius bids farewell to them, leaving to "burn the TVA to the ground", for lying about the truth of all of the agents being variants Loki distracts Alioth for Sylvie to enchant the spirit. At the TVA, Renslayer interrogates Hunter B-15, asking why she helped Sylvie. She responds that she was lied to and that Renslayer wants to find the Timekeepers; Sylvie needs to find them. Back in The Void, Sylvie and Loki struggle with Alioth, but with help from Classic Loki (he created an illusion of Asgard, to distract Alioth). Succeeding in the enchantment, Sylvie and Loki travel deeper into The Void to gain answers.
From the cool easter eggs, (Frog Thor, Thor's hammer, Yellowjacket's Helmet, and Avengers Tower, to the epicness of Classic Loki (who may be my favorite version of Loki), this episode left a lot to take in! Where this show is going, I don't know! Some say that Mephisto will make an appearance, others say that Kang will (more likely, in my opinion.) But that's it, for now, my fellow blerds! Leave your thoughts below, and till next time!
I may have been a bit harsh on this series in the past. From the slow burn of the story to Loki's entertaining but ultimately fruitless speeches about power, But with this episode, it actually kept my interest! Episode four has action, surprises, and some interesting events that make us question what we've seen so far! But, as always, Some Spoilers Ahead!!!
We start on Asgard, or another version of Asgard with a young Sylvie just playing with her toys when The TVA comes and arrests her resets the timeline, and processes her! I mean, why? She didn't do anything! Like, Ravonna arrested her for crimes against the Sacred Timeline, but what evidence does she have?! As she processes Sylvie, Sylvie escapes with a TemPad and jumps to a different timeline! (can't say I blame her!) We flash forward to Ravonna and Mobius discussing the Timekeepers' disapproval of recent events and how stressed she is with capturing both Loki and Sylvie. She also blames Mobius for even believing that another version of Loki can catch the variant they're looking for.. They also talk about how Sylvie enchanted one of their own teammate's minds, leaving her in a catatonic state. She swears Mobius to this secret. Meanwhile, on the doomed moon, Loki and Sylvie contemplate how she was taken as a child and she went to Nexus Event after Nexus Event, staying one step ahead of the TVA. Back at the TVA, Mobius and Hunter B-15 search frantically for the Loki's. B-15 asks if C-20 is ok, and Mobius lies to him (not cool). But with a temporal lock, the TVA actually finds the two Loki's and sends two portals bringing them back. Mobius sends Loki to his punishment, but not before Loki tells him that the TVA is lying to him! Loki is now caught in some sort of time loop, with a returning Lady Sif kicking him in the balls for a prank, and saying that he will always be alone!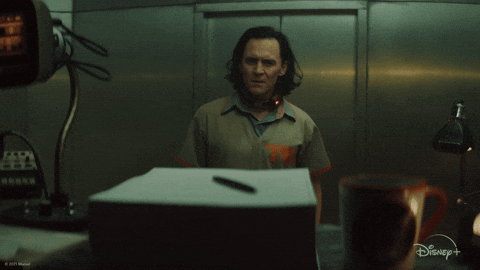 Ravonna and Mobius talk about interrogating Sylvie, to which Ravonna forbids him to talk to her. While talking to Hunter B-15, Mobius namedrops taking down some Kree, Titans, and even vampires (Blade reference?!), but Hunter b-13 wants to know what Loki said to him, curiously. In his prison, Loki finally admits why he does these little "tricks" which catches Mobius' attention. From there, the two talks about recent events in the past episode. Mobius also catches the vibe that Loki and Sylvie have, calling him out on falling in love with a version of himself! Mobius says that Sylvie is already dead, and that creates a response from Loki. Loki is trying to explain the truth to Mobius, that they are all variants and that the Timekeepers created them.
Meanwhile, Hunter B-15 interrogates Sylvie. She teleports them to a different timeline to get some answers. Mobius and Ravonna close the case of the two Loki's, to which Mobius asks why he couldn't question Sylvie. Ravonna says that it's too dangerous and asks what's with all the questions. She says that she trying to protect him. C-20 lost her mind and she didn't want him to suffer the same fate. Mobius slyly steals her TemPad. B-15 and Sylvie discuss her life before the TVA. At first, B-15 doesn't believe her, but she believes Sylvie; that the Timekeepers stole their lives from them and that they're variants! Mobius does some digging on C-20 in the archives and confirms what Loki has been saying the whole time! Mobius breaks Loki out of his prison cell, but Ravonna and some Hunters stop them. Ravonna orders Mobius to be "pruned", or killed, which is some B.S! He's my favorite character on this show! Ravonna puts out an alert for Hunter-15 and sees Sylvie in her cell. She takes both Loki's to the Timekeepers, themselves! Sylvie asks what her Nexis Event was, to which Ravonna coldly responds with "I don't remember...". Cold-Blooded!
The Loki's are face to face with the TimeKeepers and they just want their punishment to be swift, rather than listening to them rant on. Just then, Hunter B-15 shows up and helps Sylvie break free! the Loki's fight off the Hunters, in a cool fight scene with the Timekeepers watching on. Sylvie throws a sword at one of them, killing...a machine?! This whole time, they're machines?! While both Loki's figure out what's happened, Ravonna stabs Loki in the back!!! Sylvie takes Ravonna hostage, demanding to know everything! And, there's even a very interesting post-credits scene, with a young Loki, an older Loki in a comic-book accurate costume, and a Black Thor?! Yes, an actual Black God of Thunder!!!
Quite possibly, the best episode yet! Now, consider me invested in the story! It was the longest episode yet, being 45 minutes, but I didn't even notice! What did you think? Post your comments below, and till next time fellow blerds!