The Hawkeye Season Finale has finally come, and some characters make their presence known to our heroes! Before I get underway, SPOILERS AHEAD!!! So, with that out of the way, let's get into it!
We start by getting a flashback of the Kingpin himself, Wilson Fisk, making his official MCU appearance! He has a meeting with Eleanor Bishop, who is discovered to be working under Fisk after her dead husband had an enormous debt to be paid. When she plans to leave Fisk's organization and details that she has evidence of his involvement as a backup plan. Fisk is furious. And if you've seen the Netflix show, Daredevil, then you would know he is not a person you wanna piss off. Flash forward to today, we see Kate and Clint form a plan to stop Eleanor. Clint says that it's gonna be dangerous and suggests that they build new trick arrows and enlist the LARPers to help with their mission.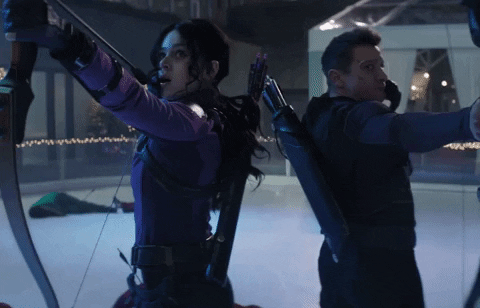 At a Gala hosted by Eleanor, Clint and Kate go undercover to blend in, along with the LARPers' who're providing crowd control when the time comes. We also see Jack, out of jail brandishing his sword in public. In the building opposite, we see Kazi with a rifle, trained at Eleanor. As Kate confronts her mom, stating that she knows about Eleanor's dealing with the Kingpin, the shooting starts. Clint and Kate deal with Kazi and the Tracksuits, while the LARPers handle evacuation. Jack also joins the fray with his rapier. As Kate tries to stall Yelena, who drops by, Clint makes short work of Kazi but gets stuck in a Christmas tree! Yelena is clearly too much for Kate to handle, easily dispatching her, but missing her shot at Clint. Kate makes her way down to the ground level outside and frees Clint. From there, we get a cool montage of the two archers using new trick arrows to deal with the Tracksuits. Kate leaves to deal with her mom, Yelena sneak-attacks Clint, demanding answers about her sister Natasha. We also see Maya aka Echo back in the picture, fighting her own cousin Kazi. At first, she tries to reason with him, but Kazi is too afraid to go against t Kingpin, forcing Maya to kill him. After Eleanor tries to escape the madness, Fisk rips off the car door and grabs her. Kate arrives and shoots an arrow into his chest, but he barely feels it! She tries everything, from hand-to-hand to trick arrows. Nothing is fazing him; Fisk even breaks her arrows. Kate, somehow, pulls it out, though. Using the same trick that Clint taught her, she activates all the explosive arrows and finally brings him down, Meanwhile, Yelena is battering Clint, demanding why he let Natasha die. He tries to reason with her, but she won't listen. When Clint uses the sisters' special whistle, she then stops as she listens to Clint tell her what really happened. Breaking down upon hearing the truth, Yelena relents and lets Clint go. Kate gives her mom up to the police, and Fisk escapes police custody, only to be shot in the head by Maya! (off-screen, of course.) From there, we see Clint take Kate home to his family, making it on time for Christmas! Clint also gives his wife the Rolex that the Tracksuits were looking for, which has the S.H.I.E.L.D logo on the back, confirming that she was an agent! Clint also burns the Ronin suit, putting that part of his life behind. (There's an after-credits scene, with the Rogers Broadway play, it's kinda cool, if not underwhelming.)
So, with Hawkeye, that wraps up a whole year of MCU shows! As a show, it wasn't as bad as I expected it to be. It definitely made me care more about Hawkeye, although I still won't say that he's my favorite Avenger. The addition of Kate Bishop was welcome, but the real scene-stealer was Florence Pugh as Yelena! Every time she appeared, things got more interesting. The brightest spot is the inclusion of Wilson Fisk into the MCU! They kinda nerfed his violence, but it's Disney! They won't show us having Kingpin decapitating a guy with a car door! But now, it can be put to rest that all the Marvel Netflix shows are indeed canon! (I already thought they were, give us season 3 of Luke Cage!). Here is my official ranking of the Disney MCU shows;
1. Falcon and The Winter Soldier
2. Loki
3. Hawkeye
4. Wanda/Vision
Post your thoughts below, and till next time fellow blerds!
Wow…just, wow! This episode of Hawkeye really made fans glad to watch the show1 Before we get into it, however, SPOILERS AHEAD! READ AT YOUR OWN RISK!!!
After the events of the last episode, with Yelena Bulova entering the fray, Clint cuts off Kate and goes on his own. But from the start of this episode, we get some flashbacks into Yelena's dealings. After trying to save one of her fellow "sisters" we see that Yelena was "Blipped" out of existence. What felt like five seconds for her was five years! After Kate checks in with her mom she goes to her loft, only to find Yelena waiting for her! After some surprisingly polite chat, Yelena tells Kate that she's hired to kill Clint and that she believes Clint is responsible for Natasha Romanov's death. As she questions how Clint is absolved of his crimes as Ronin due to him being an Avenger, Yelena makes it absolutely clear that she is going to try to kill him and for Kate to stay out of her way.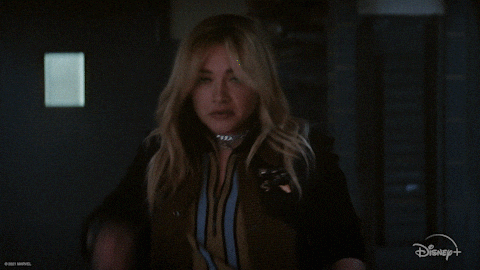 Clint, in the meanwhile, is forced to put on the Ronin suit one last time. After he explains to his wife Laura about the situation, she understands and tells him to do whatever he needs to do to keep his family safe. After visiting a memorial honoring The Battle of New York, Clint contacts Maya and the Tracksuits, telling her to come to the place where Ronin killed her father. Maya and her crew try to set Clint up, but Clint is true to his ninja skills, taking them down one by one. Eventually, Maya and Clint have a brief hand-to-hand fight, with Clint gaining the upper hand and revealing his identity. He warns her that if she comes after his family, then his face will be the last thing she ever sees. Clint also tells Maya that there was an informant who tipped him off, about her father's dealings. When Maya tries to sneak attack, Kate comes in with the save. Escaping, Clint and Kate reunite and head to Grills' place. Maya, on the other hand, meets Kazi and asks him why he wasn't there that night. Kazi gives some b.s answer, putting more suspicions into her head. After resting up, Kate gets a text from Yelena, revealing that Kate's mother hired her, and sends a picture of a man talking to Eleanor. Kate looks terrified, asking Clint who her mom is talking to. Clint dreadfully confirms that it's the man he was worried about; the Kingpin of Crime himself, Wilson Fisk!!!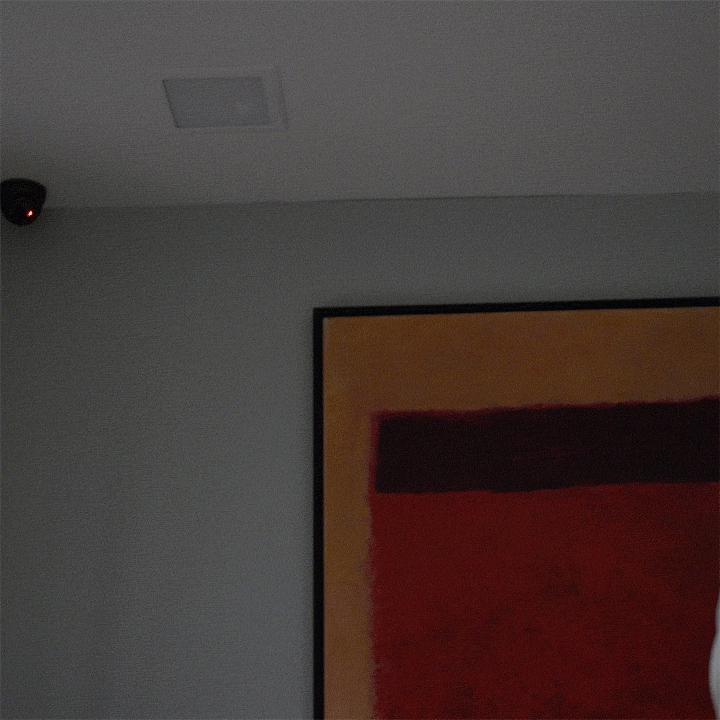 I'll say it again…WOW! Marvel and Disney are really going H.A.M, into bringing back fan-loved characters! So many questions, so few answers. How is Fisk out of prison, after the events of Daredevil season 3?! Did he get blipped? And will we see Fisk's nemesis, Daredevil make an appearance in the finale?! Only time will tell, but I'm here to tell you folks, the MCU is about to be lit! Post your thoughts below and till next time fellow blerds!!!
Episode 4 of Hawkeye is on Disney Plus! You know, Marvel and Disney must be onto something, because throughout their TV shows, it's episode four that changes everything! Hawkeye is no different! But before I get into the details, SPOILERS AHEAD!!!
So, this episode picks up where the last one left off, Clint and Kate are at Kate's mother's, trying to find more information on Echo, Kazi, and the Tracksuit Mafia. Then Eleanor's fiancée Jack tries to spot Clint with his own Ronin sword. (Love the swords around the loft, btw. Great Easter Eggs for Swordmaster appearing later!) After some clearing up, Eleanor and Jack thank Clint for, you know, saving the world and keeping Kate alive. Eleanor walks Clint out and reminds him that Kate isn't a superhero and that even the best can get killed, bringing up Black Widow (Low Blow, lady!) John and Eleanor have a tender moment that almost changes Kate's opinion of the man. Kate, worried about Clint being alone during the holidays, visits Clint and it's here we see their chemistry shine. After teaching trick shots to Kate, they talk about Clint's best shot. He replies that it was the one he didn't take, implying that he was ordered to kill Natasha aka Black Widow, but didn't. Kate also puts together that Clint was the Ronin, and we see that Clint still regrets becoming that persona. Some real character developments here, and I love to see them. What this show does make up for in their failures in the movies when it comes to Clint's motivations and background.
Later, Kate and Clint need the trick arrows back, so Kate regroups with the LARPers, who are all apparently part of local law enforcement, and makes a deal with them. If they can help with the trick arrows, the LARPers can get material for new costumes. Clint surprises Kazi and tells him that Kazi's boss (who may or may not be a certain Kingpin of crime) can't be too happy with the recent attention their organization is having. Clint advises Kazi and Echo to let this one go, or it may get worse from there. Once they get the trick arrows back, Clint and Kate travel to what appears to be Echo's apartment, where Kate stumbles onto a silent alarm! As Echo surprise attacks Kate, someone else is fighting Clint, over the next building opposite. Echo and Kate end up on the same roof, and a quick but cool fight breaks out. After a brief but terrifying scare with Kate almost falling to her death, Echo escapes and it turns out that the mysterious assailant is Yelena aka Natasha's sister! Once seeing her, Clint gets worried, and cuts Kate off their partnership! He claims that it's way too dangerous now since a Black Widow is in the mix now!
One of the best episodes in the series, so far. While we get more personal with Clint, I certain characters are introduced and/or hinted at. The real question is, will we see Yelena try to kill Clint for being misled, about Natasha's death? Or will they team up? And what about Kate? (We already know that Kate and Clint will reunite, due to the trailers.) But what about the meantime? Post your comments below, and till next time, fellow blerds!