Halloween Kills is out now, on Peacock and in theaters. Starring Jamie Lee Curtis, Andi Matichak, Rohan Campbell, Will Patton, and more, we finally see the final chapter of Haddonfield survivor Laurie Strode and Michael Myers! SPOILERS AHEAD!!! CONTINUE AT YOUR OWN RISK
The film mainly covers the main characters, Laurie Strode, who's a writer now and living with her granddaughter, and newcomer Corey, a former babysitter who accidentally killed a child one Halloween night. Ever since, the entire town has turned on him, giving Corey grief for what happened. Laurie happens to befriend Corey and even sets him up with her granddaughter, Allyson. Also, with the exception of a local DJ whose style is still in the 70s (Keraun Harris), the town of Haddonfield is trying to either forget about Michael Myers or pin any murder that happens in town on him. The overall theme of this film seems to be overcoming fear and the PTSD that came with the massacres of the previous films. As for Michael aka "The Shade", he's hiding in the sewers. Apparently, he's still injured, from the town's beating during the last movie. But, when Corey stumbles across Michael, he's still the same killer he always is. A sort of team-up is formed between Corey and Michael, as Corey descends into madness, becoming a killer in his own right. Michael still has a score to settle with Laurie, and the killing begins again!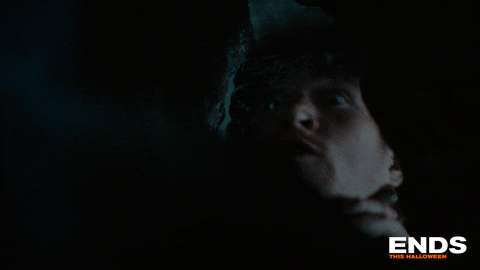 Alright, let me get this out of the way…this movie is bad. Not "so bad, it's good" bad, just bad. Not "so bad, it's un-watchable", but…bad. A great idea was created, but they failed to execute that idea. The characters' grief and pain were truly felt, in the performances, but I feel they spent too much time on Corey, and not enough time on Laurie (who, by the way, was barely in Halloween Kills!) Corey's pain was certainly shown and well executed, and while I can kind of see him go off the deep end, it was poorly written. With four writers attached to this picture, I feel it's a case of "too many cooks in the kitchen". What I did enjoy was the final confrontation with Laurie and Michael. Laurie has always been expecting Michael to come back. During the confrontation, Laurie, at one point, actually wants Michael to just end it, and kill her. All the pain and loss she's suffered can be seen, through her face. Losing friends, family, and time, Laurie just wants it to end. As Laurie and Allyson finally kill him, they decide it's not enough to just kill him. They want the entire town to not be afraid of him, anymore. So, the cops escort the body to a junkyard, where everyone is watching, and put Myers in an industrial shredder.
While I won't say this movie is the best in the franchise, it's not the worst. That honor goes to Halloween: Resurrection! Remember when Busta Rhymes fought Michael Myers? And WON?! Insanity!!! Anyway, I give Halloween Ends a 5 out of 10. While the performances, iconic score, and gore are there, the setup to it is lacking and serves as a weak end to the trilogy. What did you think? Post your comments below, and till next time fellow blerds.
Entergalactic is streaming on Netflix, and I have to admit, I ALMOST slept on this special! I damn near slapped myself, for thinking about passing on this one! A love story, with beautifully animated melanin-blessed characters, animation that reminds one of Into The Spider-Verse, a soundtrack by Kid Cudi, AND an all-star cast?! Yeah, I'm gonna watch it.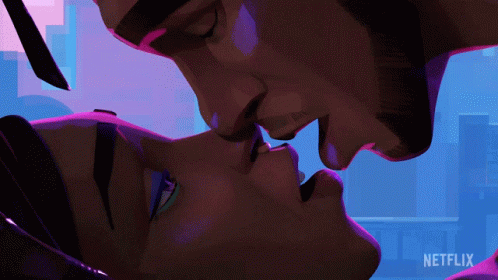 Entergalactic follows the main character Jabari (Kid Cudi) an upcoming comic artist who just moved to Brooklyn, after being dumped by his ex-girlfriend Carmen (Laura Harrier). While trying to move on, he meets photographer Meadow (Jessica Williams) at a house party, and the two have an instant connection. Jabari's friends, Ky (Ty Dolla $ign), Jimmy (Timothee Chalamet), Jordan (Jaden Smith), and Downtown Pat (Macaulay Culkin..yes, that Macaulay Culkin!) all share their opinions about love and life in their own unique way. As does Meadow's best friend, Karina (Vanessa Hudgens), who's in the midst of having a baby. The two eventually hook up, letting love take the wheel. However, an unexpected text from Jabari's past messes up his potential future and sets him and Meadow in a whirlwind of emotions as they both figure out what love means to them.
While I'm not a die-hard Kid Cudi fan, I do feel his music hits hard when you're in a certain mood. And this film seems to capture every mode with certain songs, from stress to being in love, to wondering about where life takes you. As I said before, the animation reminds one of Into The Spider-Verse, if it were greenlit by HBO cause they're some…" pleasure moments" in the film, lol. The banter between friends is funny and realistic, as co-writer Kenya Barrris delivers. Subtle guest appearances from Keith David, Teyana Taylor, and Luiz Guzman deliver, the embracing of smoking Marijuana being a message, and the classic "boy meets girl" love troupe being reinvented for black and brown people really set this apart from other romance projects this year. While the ending may be a bit cliché, I'm not mad at it. After finishing this movie, it left me wanting more in this particular style of animation and storytelling. Animation can be more than animorphic characters, superheroes, or mechs. The animation department, headed by Robh Rupeel, really nailed the aesthetic and I hope to see more. I'm giving Entergalactic a 9 out of 10.
After decades, fans have finally gotten a sequel to one of their most beloved Halloween classics. Hocus Pocus 2 is available on Disney Plus, just in time for the Halloween theme! But the question is; will the sequel be any better than the original? But first, SPOILERS AHEAD!!!
29 years have passed since the Sanderson Sisters wreaked havoc on Salem, and now, three high school teenagers have accidentally resurrected Winifred, Sara, and Mary back from the grave. This time, however, Winifred isn't using potions anymore, to achieve her goal of eternal life. She aims to be the most powerful witch of all, no matter how many children's souls she must consume! The teenagers, Becca and Izzy find the Black Candle (from the first film,) and since the ritual needs a full moon and a virgin, they accidentally bring back the Sandersons. While enamored by the new century, the Sandersons' goal is to live forever and settle a personal score; exact revenge on a descendant of a Reverend who banished them from their home when they were children. As the girls try to stall the witches, a witch-themed shop owner, Gilbert, is helping the Sandersons perform the Magicae Maxima spell. It's up to Becca, Izzy and a still resurrected Billy Butcherson (the good zombie from the first movie) to put an end to the Sanderson Sisters!
First off, it's great to see the original sisters, Bette Midler, Sara Jessica Parker, and Kathy Najimy reprise their roles again. They haven't lost their chemistry together. Having more of their backstory explained, also humanizes them a bit, showing that they weren't always out for children's souls. Quite the "face turn" from the child killers they used to be in the first movie. Yup, they definitely killed a little girl to rejuvenate themselves in the first Hocus Pocus! But I suppose they were going for a lighter theme, this time around. Whitney Peak and Belissa Escobedo co-star as Becca and Izzy, bringing youthful flair to the film. Doug Jones, a famous contortionist, returns as Billy, who is given some character development this time. Sam Richardson as Gilbert brings some comedy. Also, stars from RuPaul's Drag Race make their guest appearances with, Ginger Minj, Kahomora Hall, and Korbread Jete, dressing up as the Sandersons. While nostalgia and fan service certainly give the sequel flair, I was kinda disappointed with the slight lack of adult humor that was present in the first film. Different times, I know, but it would have been nice. And the film, itself, felt a little rushed. Overall, this was a movie that both cast members and fans have been waiting for, and it put a spell on us all. I give Hocus Pocus 2 and 7.5 out of 10. What are your thoughts about the film? Post your comments below, and till next time, fellow blerds!